Business stands and grows on how one communicates with their clients and how quickly they respond to customers queries. Whether it is a small company or huge organization, correspondence is major task one must follow to achieve goals. You can improve your business productivity by getting feedbacks from your customers and correct the issues with the products or services offered by you as well. TeamWox Groupware is a collaborative software developed for businesses to accomplish collaborative tasks, correspondence and overall management of business. Whether it is small scale business or a big tycoon, TeamWox is the best solution.
Overview
TeamWox cloud solution is designed to optimize the efficiency of company. It helps to construct an active management to make the decisions in times on queries on a collaborative workspace. TeamWox Groupware is a platform for managing the work-flow of the company as well as clientele. TeamWox comes up with 14 /featurestabs to accomplish different tasks including a home tab where you can see the preview of other tabs.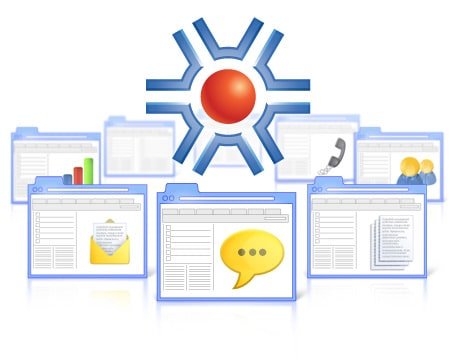 Installation
TeamWox allows you to install this software either on your own server or a free subdomain provided by MetaQuotes. Installing TeamWox is seamless that hardly takes some minutes to complete the process. You can avail a free SaaS version for 2 months and "free-of-charge on-premises" version for small businesses.
TeamWox Groupware interface
Multiple tasks can be accomplished with TeamWox cloud application. It mainly has 14 tabs namely Team, Tasks, Service Desk, Documents, E-mail, Calendar, Organizations, Contacts, Board, Chat, Accounting, Products, e-Bank & Administration. Let's have a look at the most important features provided by TeamWox.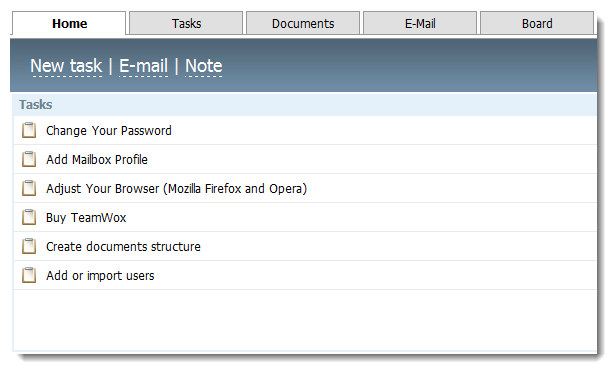 Team: This tab consists of teammates of company who work with this software. Details of each and every user could be retrieved from this pane including department, designation and communication details etc.
Tasks: Tasks tab is used to create new tasks for the company and manage them. In this pane you can also view events, open and closed tasks. It simply works as "To-Do" list but with collaboration.
Service Desk: This tab is used for service related tasks. Using service desk you can quickly and effectively respond to customer's queries. Assigning a query for specialist or groups could be possible here.
Documents: Document tab allows you share documents with you teammates. You can also know whether a shared document has been seen or not.
E-mail: In this tab you can have a look at e-mails sent by your clients and respond to them. Not only you can correspond here but also assign permissions for employees to correspond with your clients.
Calendar: Here employees can create personal as well as collaborative tasks for meetings and events etc.
Organizations: In this tab you can add the detailed information of contact persons and communication details associated with your organization.
Contacts: Here it is possible to get the contact details associated with your company in a neat list. Also you can create new contacts using this pane.
Chat: Live Chat (Online Assistant) & Service Desk public components in TeamWox which you can integrate to your websites for customer feedback.
Board: This module is used for conducting discussions for teammates. This feature is dedicated for board directors to accomplish their monitoring tasks.
Accounting: Accounting tab handles financial task of your company. Here you get in-depth details of income, expenditure and balance amount of the company.
Products: This module is used for handling products and services manufactured & consumed by your business.
e-Bank: e-bank is used to manage bank accounts associated with the business.
Along with these modules mentioned above you can also use IP PBX Phone System module in TeamWox for secure voice communication.
Conclusion
TeamWox is the best online team collaboration software which can handle all the major tasks of the company including human resource management, documents, emails, customer queries and accounts. One can seamlessly improve the efficiency of business by using these advanced tools and features provided by Teamwox Groupware.
Website: http://www.teamwox.com/en