Nvidia is a popular tech company known for developing high-quality graphics processing chips. Pick any gaming laptops and you'll find Nvidia driver's chips installed in it with Nvidia drivers being used. This testifies its innovation in the video gaming segment. ShadowPlay is a big part of its innovation. Introduced to the world in 2013, it allows gamers to capture priceless in-game moments and share them with the world. If you're new to ShadowPlay, you've landed at the right place. Here we'll explain what and how Nvidia ShadowPlay works and how to start recording your gameplay with it.
What is Nvidia ShadowPlay?
To avoid confusion, let's get something out of the way. Nvidia ShadowPlay is now renamed or rebranded to "Nvidia Share." But because gamers still commonly referred to it as ShadowPlay, we'll prefer to use the old name.
ShadowPlay is a hardware-accelerated display recording utility. It utilizes GeForce GPUs or Graphics Processing units to record in-game screen and save the video retroactively. It captures frame by frame and processes (or encodes) them using a H.264 video encoder. It can record at rates up to 130Mbit/s resulting in 4K display.
Before you start using it, you need to check compatibility which you can do here. If you're using Nvidia GTX 650 or a newer graphics card, then you should have no problem using ShadowPlay.
How to record with Nvidia ShadowPlay?
By default, ShadowPlay is turned off. Before you let ShadowPlay record your gameplay, it needs to be enabled inside of the GeForce Experience. If that's the case, you'll be notified and a link to the page will appear. To set up everything, follow the following steps:
Update the GeForce Experience along with all the drivers
Open the cog Setting icon. You can find it in the main window, at the top right corner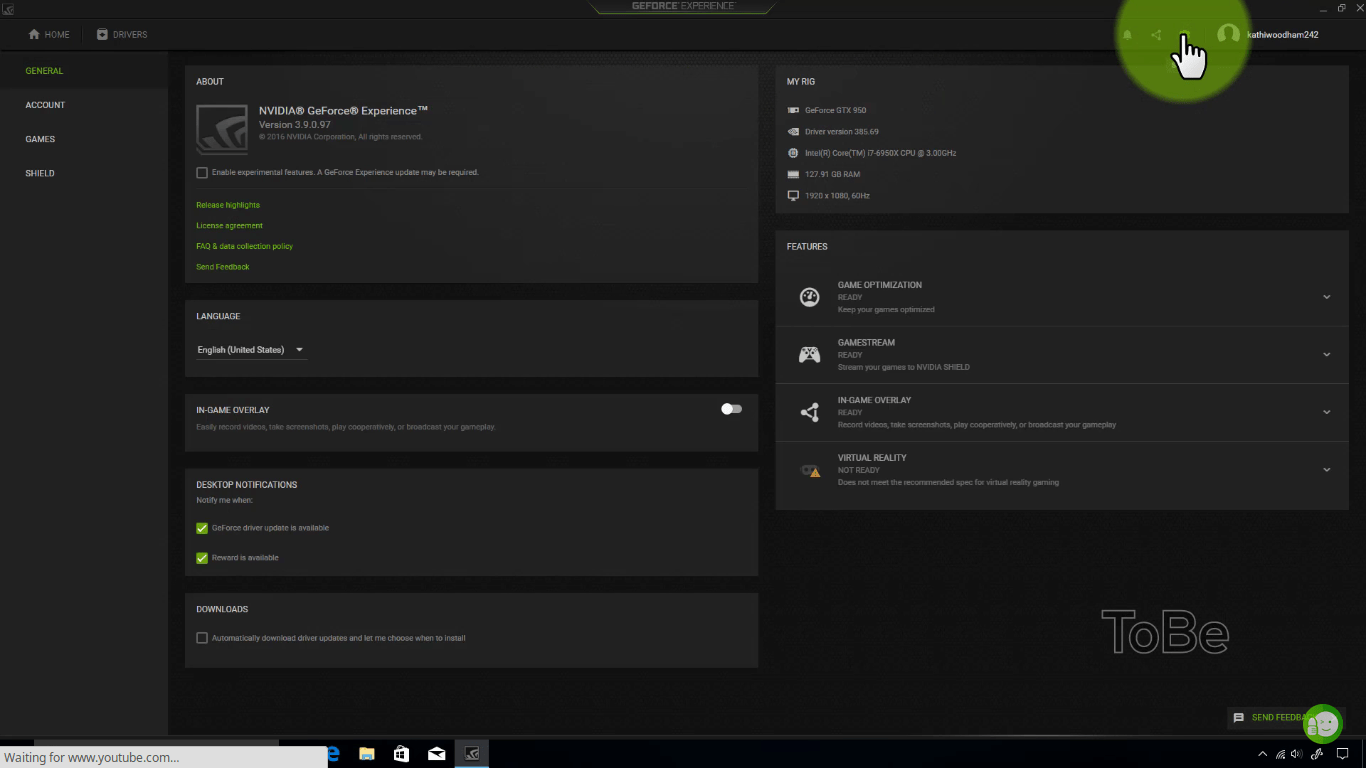 Under features, click on the "In-game Overlay." Ensure all the hardware are check-marked. This means your device is capable of running ShadowPlay.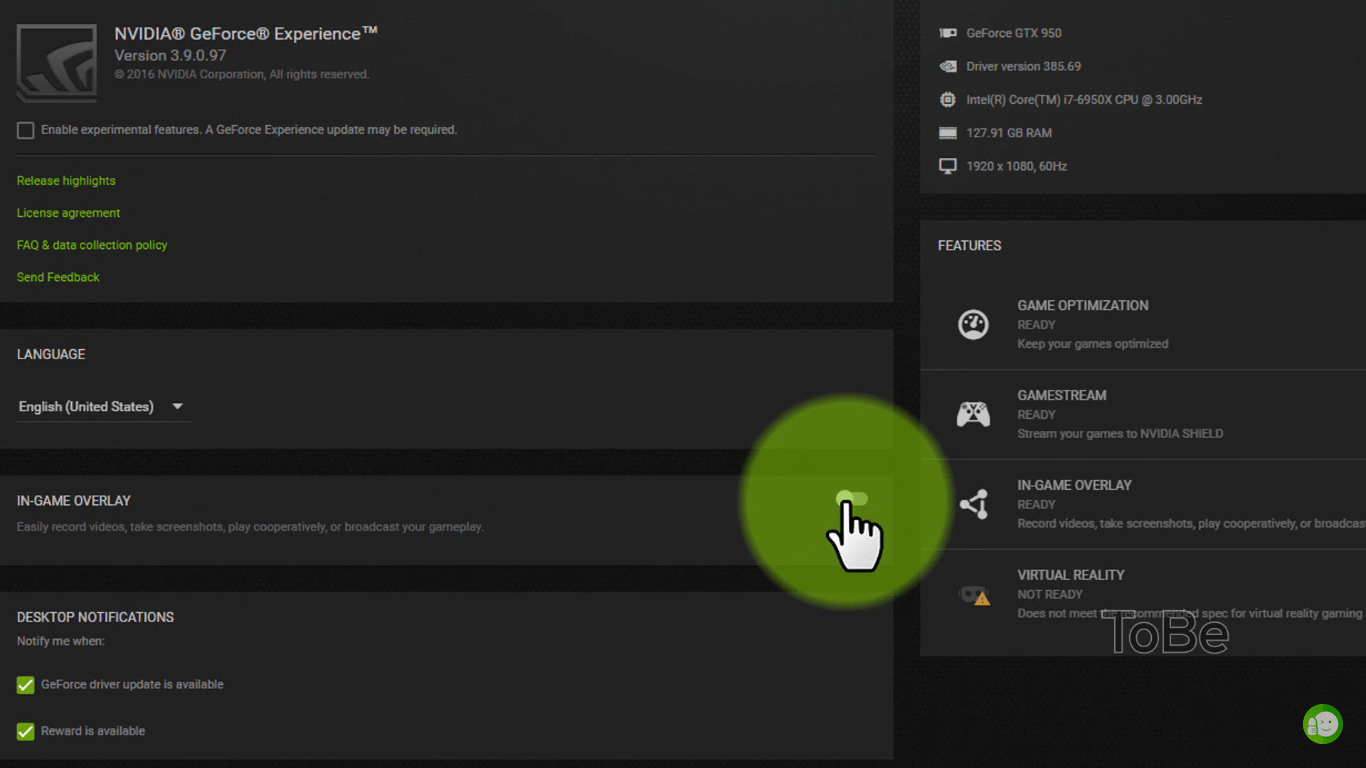 Toggle the In-game Overlay to "On."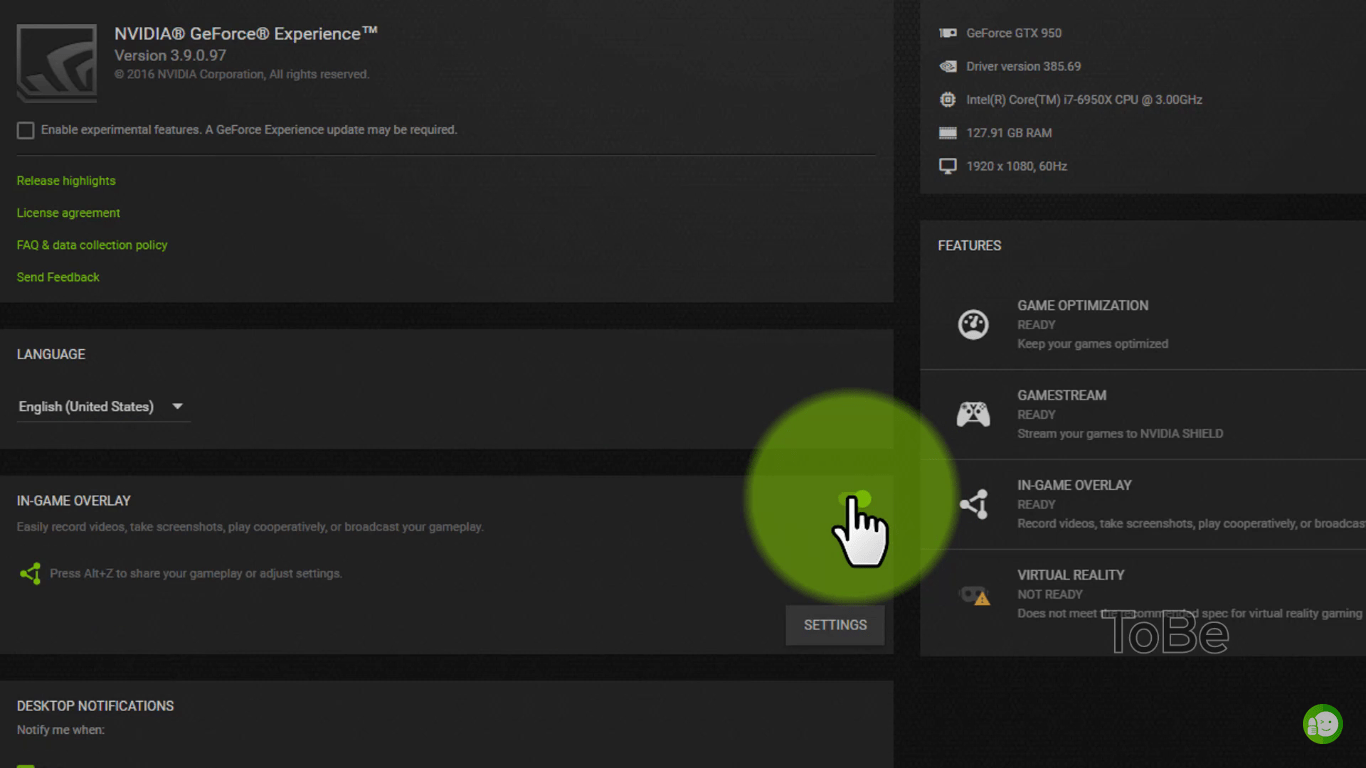 Within the same segment, opt for "Settings." This will take you to the section where you can make the necessary changes.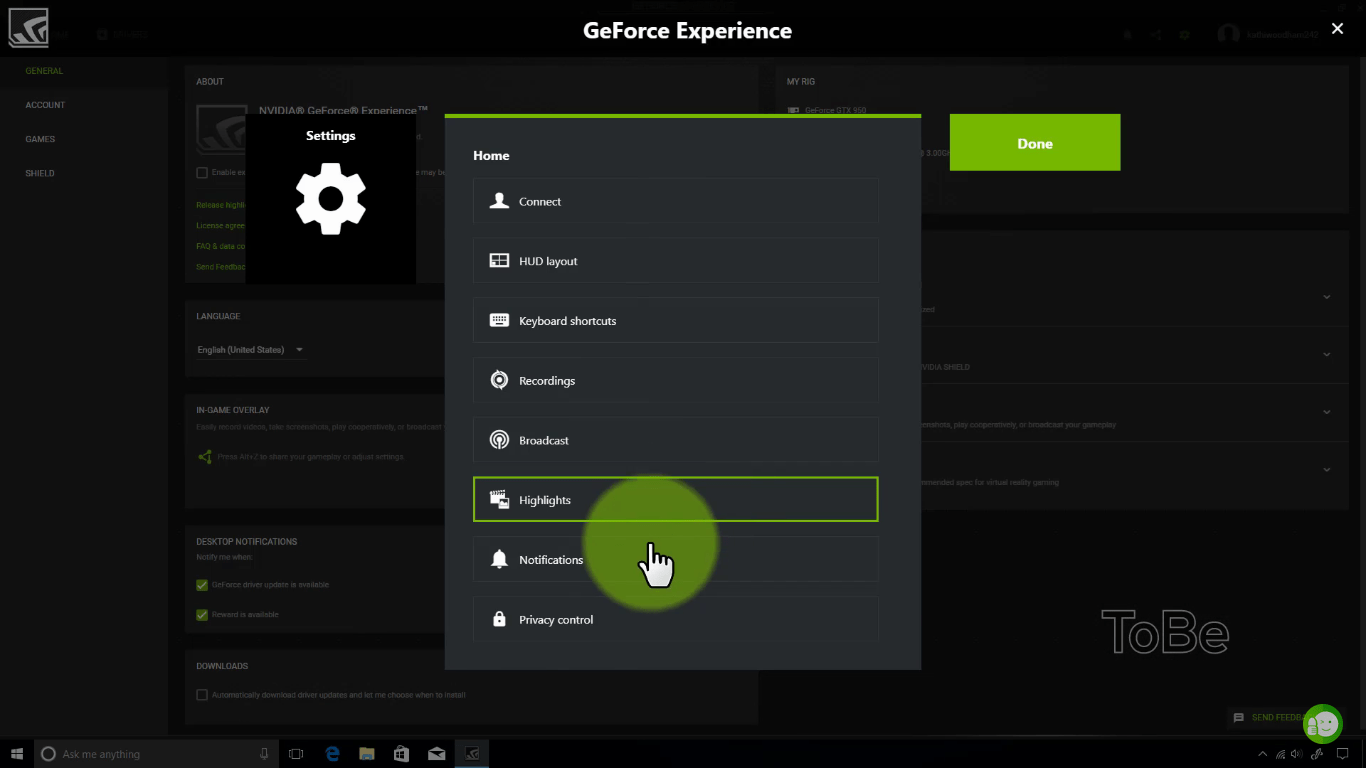 To alter video quality, select "Video Capture."
For sound, select "Audio" from the menu.
To specify what duration the ShadowPlay should save in its buffer, you can set that in "Shadow time" option. It can be anything from a minute to 20 minutes.
For storage, select "Recordings."
To bring changes to the ShadowPlay UI, click on "HUD." This is where you can find FPS counter which informs you of the exact number of frames were used in each instance of the gameplay.
To bring the changes made into effect, make sure to Save.
After you've made all the changes, you can start recording your favorite gameplays. You just need to make some further changes. Just follow the following steps:
Launch the game you want ShadowPlay to record. Minimize it momentarily.
Now, we need to make some further changes in GeForce Experience.
Access the GeForce panel and enable sharing. You can find it in the General section. Click on the toggle and you should see it turn green, which means sharing is enabled.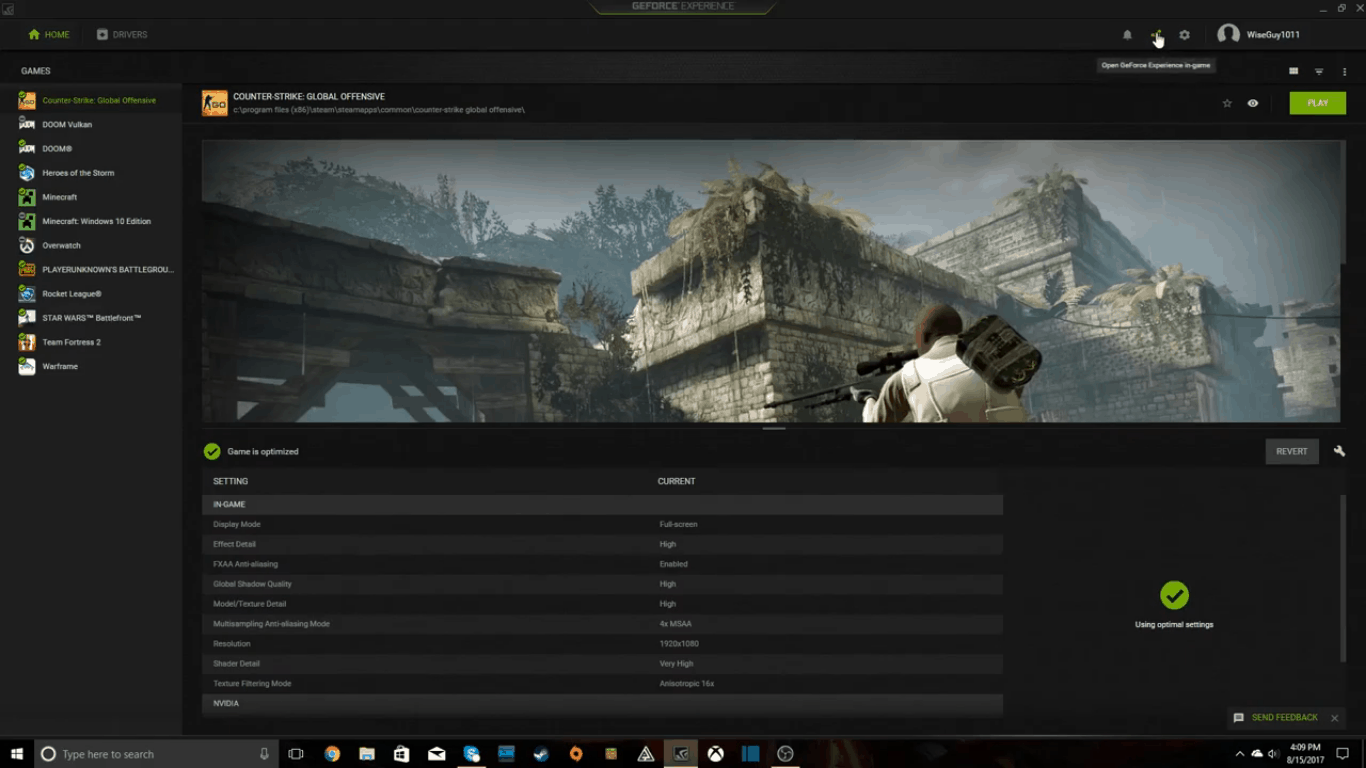 Once done, you'll find a share button in the upper-right corner. It is prefixed with a triangle. Click on it.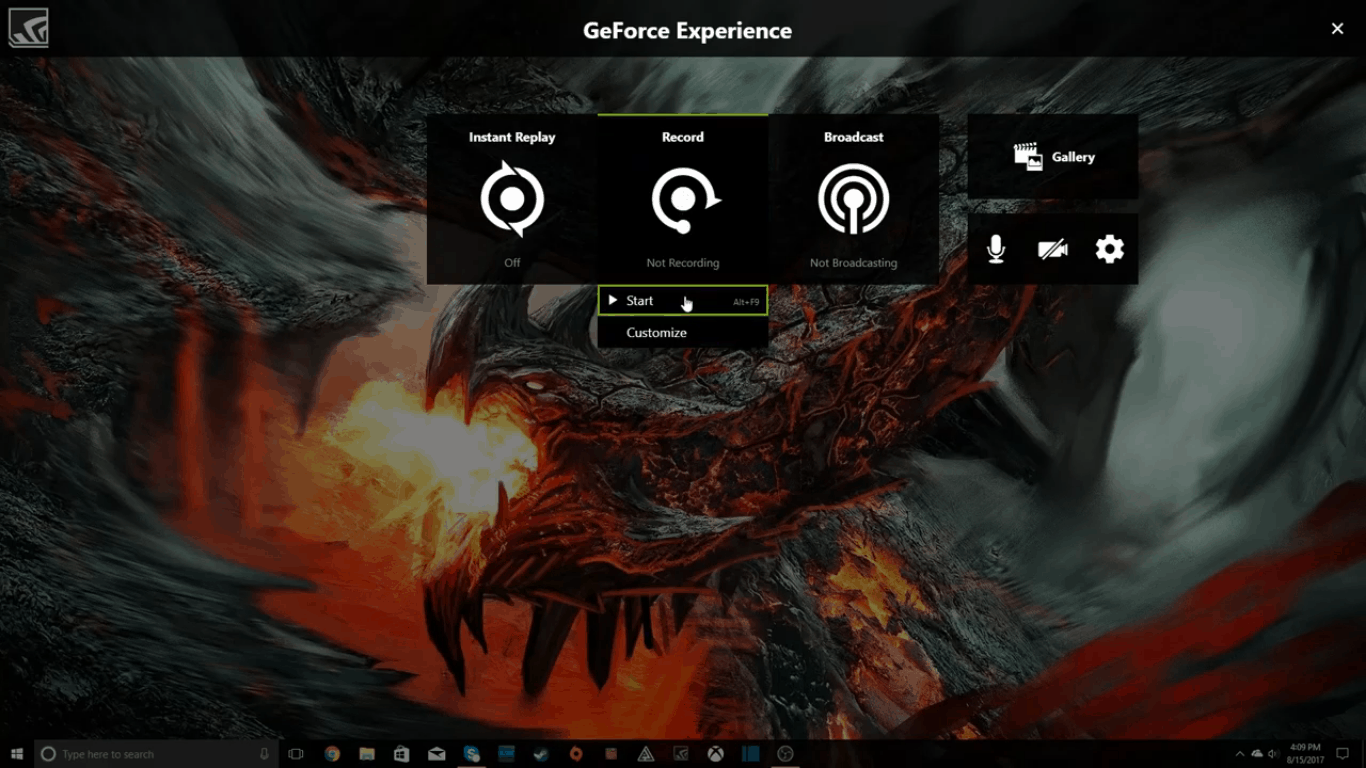 Modify the quality of the recording by customizing FPS, bitrate, and resolution. The higher you set the numbers, the better will be the output.
Click Record>Start once you're ready. This will start recording the gameplay screen. Alternatively, press Alt+Z for starting and stopping the recording.
If this is your very first time using ShadowPlay, then it'll ask you via a Pop-up window to make changes in your "Privacy Control." All it'll be asking is to enable desktop capture. Select "Yes" unhesitantly.
There's a record status indicator located at the bottom of the screen, on the right-hand corner. If it's green, it means that everything is fine and the gameplay is being recorded. Left to it is a "mic" icon. If it's green too, it means that a microphone is in use and the sound is being recorded as well.
Record the footage you wanted to. Once you're done, select the toggle (or press Alt+Z) and it should stop recording. By default, the hotkey for stopping and saving the recording of in-game footage is At+F9. But this can be customized.
You can then access your recorded footage by visiting the default pathway, C:\Users\Username\Videos. This is the default storage location used by most apps for recorded media. But you can change this by visiting the overlay we mentioned earlier. As the footages are stored in MP4, you can edit the videos before uploading or sharing.
Record OpenGL Games
By default, not every game is supported for recording by ShadowPlay. It only supports Direct3D games, but not OpenGL. So if you've gone through the setup process mentioned above but still don't see your recorded footage, then chances are the game is developed with OpenGL API. Minecraft and DOOM are some of the common examples of games using OpenGL.
But the good news is you can still record those games using Nvidia GeForce's ShadowPlay. Just use the following stratagem
Open Nvidia GeForce Experience.
Go to Preferences and then to ShadowPlay
Click on the "Allow Desktop Capture" option which will activate it.
Now Nvidia ShadowPlay will directly record your Windows desktop screen and record anything running on the screen. But in this mode, the "Shadow" recording and FPS counter will get disabled.
Besides recording, you can stream the in-game screen too. In the recording tab, you may wish to enable streaming (or broadcasting) which will stream the game simultaneously to your viewers. You also have the option of including your cam feed.
Nvidia Driver's ShadowPlay is the ideal alternative to Game Overlay from Windows or Twitch. You just need to have a graphics card and you can easily share the recorded footage with the world. But as a downside, it is reported that Nvidia GeForce slows down gaming performance by as much as 10% depending on the hardware. With more development coming in, we can only expect the service including the Nvidia Control Panel to get better.