Local SEO
With more than a third or all searches on the Internet looking for local results, if your business services local customers or has a brick and mortar store, your potential customers may go to your competitors if your website is not set up for local search engine optimization (SEO). It is worth your time and energy to find local SEO services and get your site optimized. Services will optimize your content, repair your broken codes, build links and track and report how your website is doing.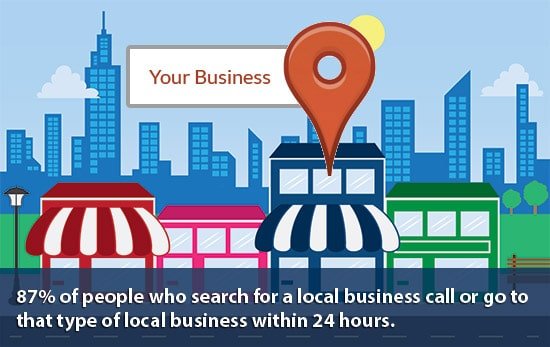 Search Engine Ranking
Google and other search engines are becoming more and more aware of user's search intentions, so if they ask for cheapest housewares, the search engines will give users local businesses along with organic results. Geo-targeted terms include the location such as housewares San Francisco. This will give users local results in a Google Carousel of photos at the top of the page. You can get your business in that carousel. A website-building company such as web.com can make you ready for the carousel by:
Completely filling out a G+ page
 Getting customer testimonials on your G+ page
 Getting high-quality photos on your G+ page
 Building local citations
Alos read: SEO Ranking Factors Infographic
How to Ensure Local Ranking
Make sure your name, address and phone number is on each page of your website. Each page should also give unique detail of a product or service. An SEO service can make sure your site is listed at the top of local directories. It will also make sure you have all the local citations that your competitor has. It is important to have links from other quality sites. This boosts your authority, and the easiest way to do this is to have guest postings on other websites. Make sure you have social sharing buttons on your site. Most searchers look for this and Google knows it.
Recommended reading: Infographic – 10 Tips to Help You Choose the Right SEO Keywords
What to Avoid
If you do the above suggestions, you will get higher local rankings, but there are a few things that could lower your rankings. It is recommended to avoid an 800 number. A local number allows you to use your local area code. It is also better to avoid a virtual address. These can be used by many companies, so it is always better to use a physical address even if it is a warehouse. For a good page ranking, you site should load quickly. Since most people may access you on their smartphone, speed is everything. A website building company will make sure you use the right keywords. This means to use the terms that searchers use. Finally, keywords should be used properly and not stuffed into content.
Today, more than 50 percent of all searches online are done on smartphones, and of those searches, 30 percent result in purchases. When a person looks on his or her phone for the best Thai restaurant, the results will be restaurants in their location. This is the main reason your website needs to be optimized for local SEO.