Today we have several softwares in the form of toolbars, add-ons etc.. available for viewing a website from different parts of the world as it benefits Media Agencies, Publishers and Advertisers as well. For advertisers and marketers, it is a great tool since they have to keep note of whether their advertisements and marketing ideas are working on a larger scale that is globally so these proxy network softwares are very crucial for them.

Let me give you folks an example of how these proxy network softwares work, so if you own a website which is based in India and you wish to see how the ads you have planted look when the website is viewed in other countries and this is what's the main use of these softwares. Today we are going to talk about one of the premium proxy network service that is GeoEdge. GeoEdge is the perfect tool to help you view your website globally without any of those security hassles you get from some other tools which may inject malware and viruses to your system.
Firstly, What is GeoEdge?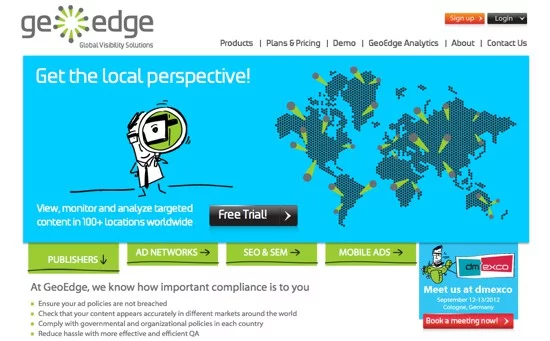 Yes this is a basic question and i guess many of you might already have got an idea as to what GeoEdge is but for folks who have no idea about this proxy network service am happy to help.
GeoEdge is a very powerful, strong and reliable network proxy service which lets you view your website from different parts of the world, to be more specific, you can view your website from 110 countries in the world. You just need to install their great toolbar and you're ready to view any website from all the popular countries you know.
And no need to worry about the browser you use as GeoEdge supports all the major web browsers such as Internet Explorer, Firefox and Chrome. It even has an application for Android smartphones running Android 4.0 Ice Cream Sandwich and above.
The folks at GeoEdge also offer another powerful tool that is the GeoEdge Analytics feature which is a popular tool among publishers, media marketing people and advertisers. It combines two great technologies together, the proxy network service and the BI engine which will help you capture and analyze any of the ads and campaigns you have been running on your website from different parts of the world.
Features of GeoEdge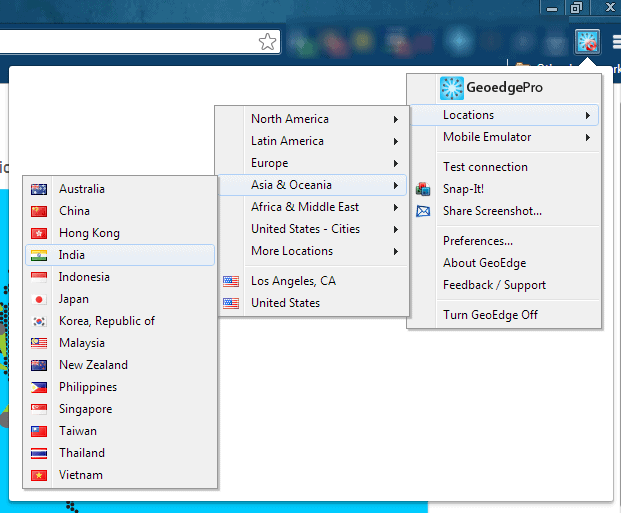 GeoEdge comes with a lot of great features but the important features are:
You can view your website from over 100 countries worldwide so basically what this means is all the popular countries you might like to view your website from are covered. GeoEdge cover all the popular countries from Asia, Europe, Africa and America.
With GeoEdge, you can easily view geo-targeted ads, campaigns and search results which will be of great help ehn planning to make your campaign a successful one worldwide or when targeting your ad towards a larger audience.
You can even track your competitors websites geo targeted activity thanks to GeoEdge which should let you know as to what your competitors are planning.
The GeoEdge service is reliably fast and hassle free and you don't need to worry about GeoEdge's servers uptime since they use advanced technologies and promise you 99.99 % uptime.
It is the largest premium proxy network in the world as it not only includes over 100 countries, it also lets you browse through various regions or city.
The ease of use which GeoEdge brings is matchless since you have toolbar and you can change locations, disconnect the GeoEdge proxy with ease.
GeoEdge also provides Mobile Emulation which lets you view your website as you would see on a mobile web browser. It supports all the popular mobile platforms that is Android, iOS, Symbian, BlackBerry and Windows Phone. So this should let you place ads in according to your mobile site as well.
GeoEdge Analytics lets users to analyze an ad on any website and obviously in any part of the world.
GeoEdge also offers a VPN client which directs the user's desktop traffic through its global proxy network and is a great feature for viewing and monitoring contents on a website and ads.
There is also a special featire called Snap it which creates a condensed micro version of the website pages and ads you are viewing from different locations around the country.
You can also share the screenshot of the website or ad you are viewing from the location you've choosed directly from the toolbar or add on.
Benefits of using GeoEdge
So you must be thinking why use GeoEdge. Well if you are from a Media Agency or a Publisher, Marketer or Advertiser then this is must have for you. GeoEdge lets you truly take advantage of your ads, it lets you research how your website is performing on a global scale or how your website is performing.
Online marketers should surely benefit from GeoEdge as they can target their ads based on a more global level. SEO companies and professionals can use GeoEdge to optimize their ad campaigns and check out how well they are doing.
Many affiliate marketers who use pay-per-click on ads can see how well their ads are performing in other parts of the country. They can also see if the keyword they are targeting show up often and what other competitors they have for the same keyword.
There's another service other than the awesome toolbar that is GeoEdge Analytics which we mentioned above. It surely gives it an edge over other competing services. It basically adds and an ad scanner that understand the ads based on the particular location and analyses them.
Ease of Using the GeoEdge Toolbar

I used the GeoEdge add on on Chrome and my experience with it has been truly satisfying. The ease of use is great and it works like a charm. It is truly fast and it doesn't bring any llag with it. Everything works perfectly quick.
When you click on the GeoEdge icon which is presented on the upper right corner in Chrome with other add ons, you get a list which contains the basic features like the location you want to check the web page on, you can use the mobile emulation feature, you can snap a webpage or send a screenshot as well and other basic features.
The add on or toolbar is very well organized and the locations are categorized in continents. You can go into a specific continent and you will be presented with the list of counties available for viewing your website.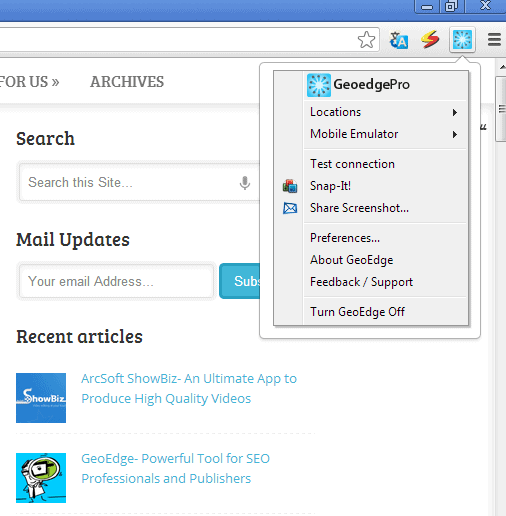 I used GeoEdge and have to use it really is very accurate and i have had no problems whatsoever.
GeoEdge Analytics- Monitor and Analyze your ads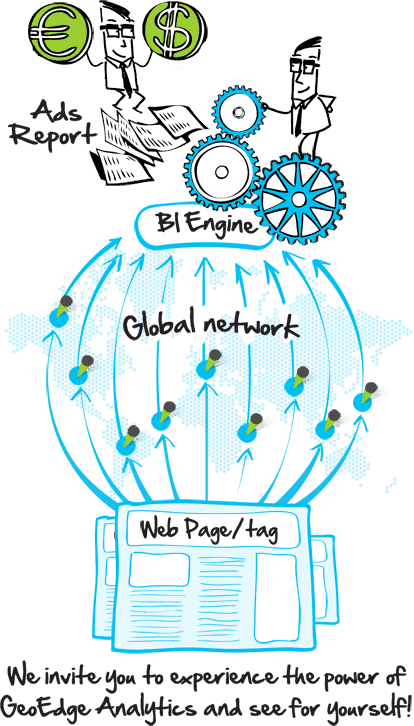 The GeoEdge toolbar is great but thats not all from the folks at GeoEdge. GeoEdge Analytics is a great service which lets you understand your ads, monitor the =m and analyze them with ease.
With GeoEdge Analytics, you can get complete control over your ads. You can improve your ads visibility, compliance, performance  and revenue. It combines the premium proxy network the GeoEdge toolbar brings with the Business Intelligence engine to allow the publishers, marketers and people from the various media agencies to capture and analyze any ad on their website from anywhere in the world.
It constantly monitors the ads and regularly captures and analyzes those ads in order to check if they are breaching any compliance rules. It also analyzes a webpage to see if any changes take place and how the ads are presented to different users.
GeoEdge also assures that the quality of the ads are intact. If a malicious ad comes over it immediately alerts users of the advertisements through screenshots and data about it.
It helps in incresing revenue from the ads by helping the users discover the best performing and most appropriate media for their ad inventory.
GeoEdge Plans and Pricing
If you are not yet convinced about GeoEdge then you can try for yourself, you can get a free version which lets you view your website from eight different locations but the version is fairly limited as it lets you view from 8 different locations but you will only be able to use these locations on the search engine rankings page. You will not be able to utilize it for an exact URL although you 'll be able to see how you rank on a certain location.
The Pro package is the real deal where you get all the features which start at $59 per month. You can check all the plans and pricing in the below picture.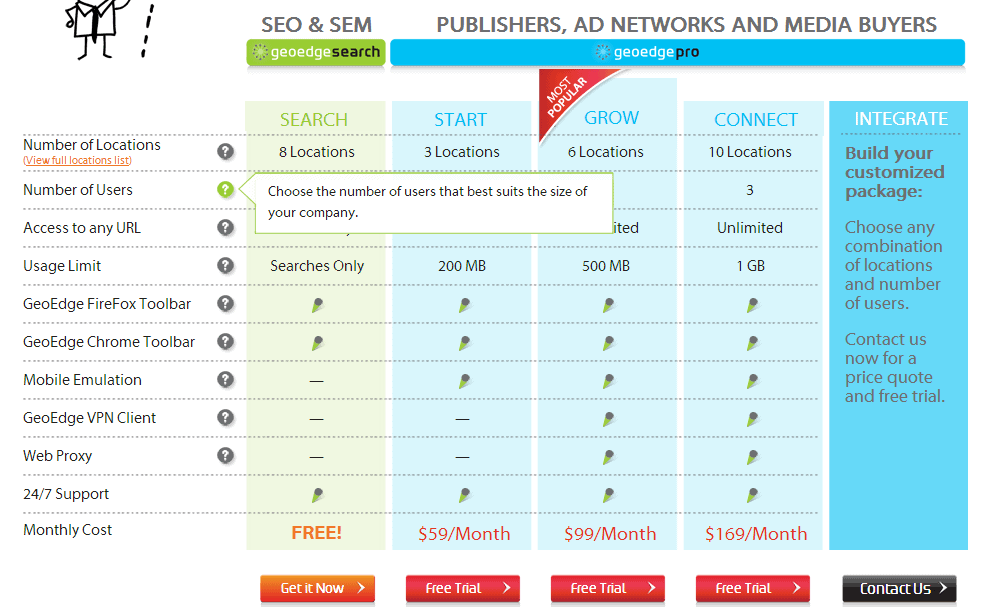 You can also check out the demo here:
Conclusion
GeoEdge is certainly a great service who is into online publishing, marketing or SEO, this will surely be a great investment for you if you are into these. It is highly recommended and the GeEdge Analytics service surely gives them an edge over other competing services. You can get GeoEdge here.