With the evolution of the digital world, networking with professionals is now everyone's cup of tea and is gaining some variety. A platform – Levo – goes up and beyond to bring people together and is playing matchmaker for networking nomads.
Everyone may hear and tried matchmaking apps, dating apps. But here comes an app exclusively for business travellers. With the help of this platform, passengers can connect with co-passengers and meet them on the flight or at the airport. If a startup founder happens to visit any airport, then they can utilise their travel downtime to expand their social and professional links even when on the move. The professionals just have to download and install Levo app on their smartphones. The Levo app is available for iOS and Android platforms. The app allows the travellers to discover profiles of professional co-passengers online, chat with them via the app, and meet them who have similar travel itineraries.
Levo is moving forward to set up a dedicated offline networking lounge at the airports to demonstrate the potential value in networking with air travellers. The first Levo networking lounge is going to set up at the Bangalore Airport departure terminal in partnership with HMS Host. Travellers who are open to networking and want to meet other co-travellers can enter the lounge after security check. The tagline of Levo app is "Make the most of your travel time", seeks to matchmake people who have similar travel itineraries, things in common and would be interested in meeting".
Co-founders of Levo | Tarun Lala(Left) | Rahul Maheshwari(Right)
Levo by Levo Innovations is a Bengaluru-based startup and is co-founded by Rahul Maheshwari with his childhood friend Tarun Lala in October 2016. It was launched in late January 2017. The company is putting efforts to build its network across 96 airports in India and planning to take it global eventually. The co-founder of Levo Innovations – Tarun Lala says "Most networking platforms are over social media. Nobody really meets each other. But when you use our app, you get to meet real people and figure out business interests".
Levo will soon expand its community beyond the airports and flights and will reach to locations like Hotels, Professionals Events, etc. Currently, Levo is partnering with investor circles, corporates, mentorship networks, other communities of entrepreneurs and business folks to provide them with an additional avenue for networking.
How Does Levo App Works?
When you book a flight to travel, send Levo your itinerary. The app will analyse and match with itineraries of other travellers who will be at the airport at the same time or having similar destinations. The app will present the profiles of other co-passengers with information including education, work information, mutual backgrounds, interests and other information to let the users meet people according to their interest.
User-Interface of Levo Mobile App
You can select and pick the profile of the travellers with whom you want to meet. If they pick you too, a chat box will open to let you chat with them. You can make plans to meet at the airport lounge. You can also ask to be seated next to them on the flight if the meet sounds promising. The app will oblige. Rahul Maheshwari said, "The online to offline connect normally takes a lot of effort, and people just end up connecting virtually".
How Levo Started?
Both Rahul and Tarun completed their undergraduate and masters from abroad. Rahul went to US and UK for his studies and Tarun went to the US. After completing their education, they moved back to their hometowns, and they met in Bengaluru in 2015 through common friends. They started began to meet regularly and to discuss and share ideas that can turn into a real-life business. Levo was born when homed in on the ideas of building networks for people within social centers. Tarun says "The common strand for both of us was becoming entrepreneurs, although we had worked in corporates for a year or two".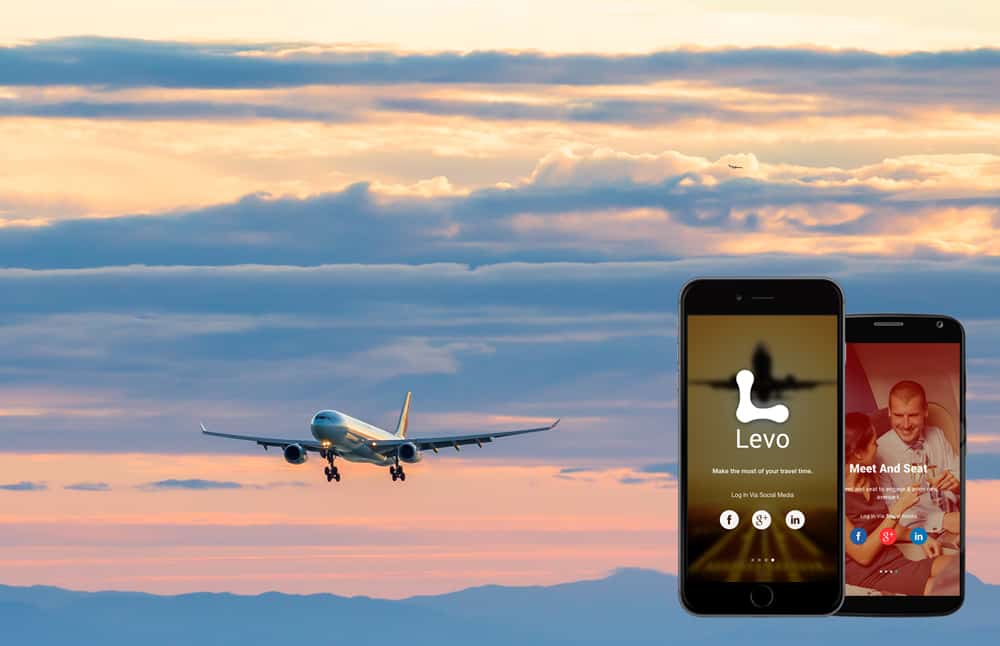 They spent about Rs. 8 lakh so far and currently they are investing in acquiring airports. The idea of this networking app was born when the co-founder Tarun Lala was travelling in the flight. He said, "I have been to the airport several times, and every time, I end up talking to people next to me. Most of the time, these people are an interesting bunch, and some even became friends and business associates,"