The Delhi Metro Rail Corporation (DMRC) inaugurated on Friday a free Wi-Fi service across all the six stations of the premium Airport Express line. The facility is launched at the Shivaji Stadium metro station. And to this, DMRC Managing Director Mangu Singh said that the stations on the Blue Line, stretching between Dwarka and Noida/ Vaishali, will be the next to equip with the free Wi-Fi service.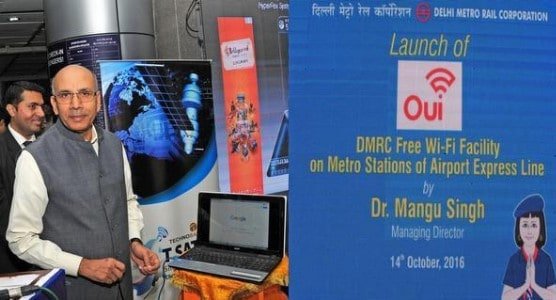 A speed of 2 Mbps has been rolled out which may go as high as 50 Mbps. This is actually a great speed for public access and one can easily download a movie within minutes.
This service will be provided to all the commuters throughout the 22.7-km stretch of the Airport Express line (including all six stations). Mangu Singh inaugurated the free Wi-Fi facility which is named as "Oui DMRC Free Wi-Fi". "Oui" is a French word meaning "yes."
What all can be accessed with the free wi-fi facility? 
Commuters will just have to search for the Wi-Fi connections on their smartphones & select the "Oui DMRC Free Wi-Fi" from those available. Once logged in, users can access all the popular internet apps like Facebook, email, and Google. They can also make video calls as well as watch the live streaming of cricket & football matches etc. And all this will be inside the station premises.
Tie-up for the free wi-fi facility
DMRC has tied up with Techno Sat Comm to bring up the free wi-fi facility. The company presently runs India's first on-train Wi-Fi service on the Delhi-Howrah Rajdhani Express. Techno Sat Comm has been awarded a 10-year contract by the DMRC in this regard. They also plan to extend the free wi-fi facility across other corridors of the metro network.
Amit Mohan, Assistant Vice President of the Software and Mobile App, Techno Sat Comm, told IANS:
"We have entered an alliance with DMRC to provide internet connectivity across their whole rail network. It is likely to complete by sometime next year."
Earlier this year, a limited WiFi facility has also been launched on the DMRC's Yellow Line. The metro stations include Rajiv Chowk, Kashmere Gate, Central Secretariat and Hauz Khas. This move is in association with the Rail Tel Corporation.