Web applications are one of the most widely used ones, and you would need to have access to cross-browser compatibility for your applications. Checking the web applications for a cross-browser performance and compatibility is quite essential to check the functionality of your apps.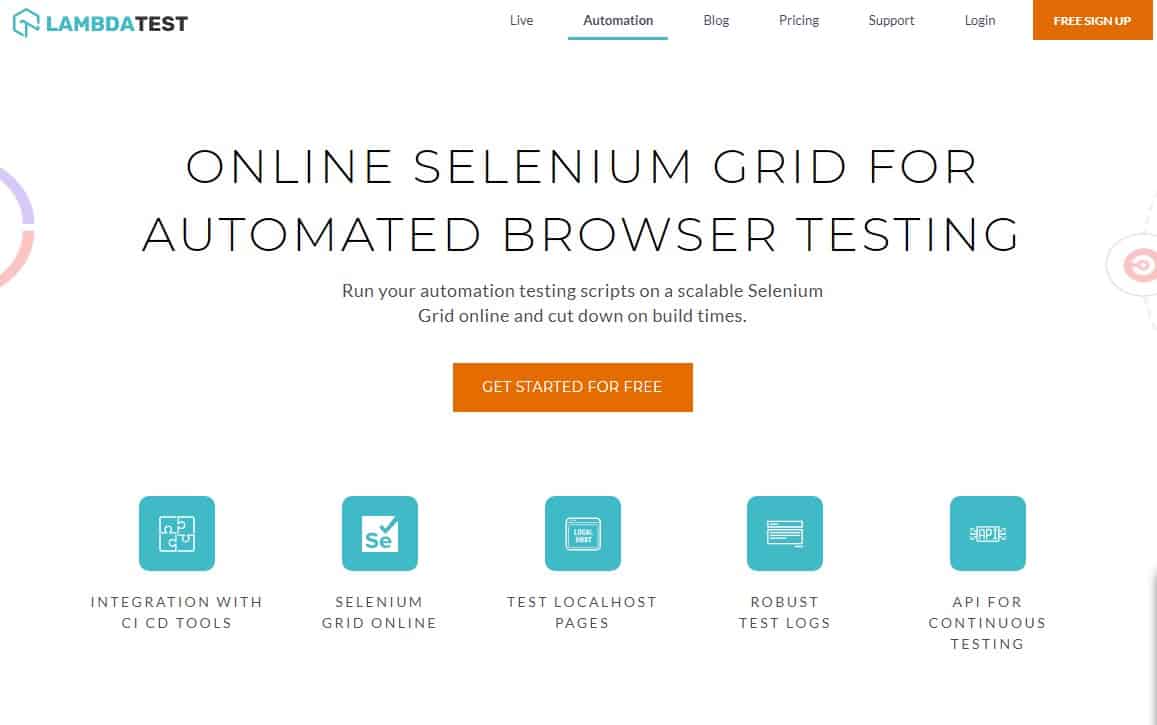 So, is it so essential to check the cross-browser compatibility of the web applications? LambdaTest Cross border testing platform is one of the best options that would be helpful for your needs.
What is LambdaTest?
LambdaTest is a powerful cloud-based cross-browser testing tool that lets you check the cross border compatibility of your web applications. The application lets you check the compatibility of your web applications across 2000 browsers and operating systems. The tool lets you perform both manual and automated cross-browser testing with ease.
In fact, manual cross-browser testing may not be an easy task. You cannot go on installing thousands of browsers on your local machine. This is exactly where a tool like LambdaTest Selenium Automation comes to your rescue. This will help you execute a remote and automated cross-browser compatibility test in the cloud.  
The LambdaTest Selenium Automation Grid is a cloud-based selenium testing platform that should assist you in running your automation scripts across 2000 browsers and operating systems.
Also Check: Mount Cloud Storage Like Local Drive With CloudMounter Reviews.
What makes it a good option for cross-browser testing?
Well, there are several features that would make it a great tool quite one too many. We will outline a few of them here in this compilation.
Browser Compatibility testing
LambdaTest lets you perform the cross-browser compatibility test with the use of live selenium grid. The automated testing with the help of selenium grid can be achieved across multiple areas of interest. The testing can be conducted across multiple platforms that include browsers, browser versions, resolutions and operating systems. You can even have real-time browser compatibility updates through screenshots and recordings.
A Reliable Support channel
Enhanced technical support is what would make it a perfect choice for all your needs in a reliable cross-browser compatibility testing. You can be assured of a 24 x 7 support for any of your queries and doubts. The level of expertise of the support team is evident enough in the form of the support services provided by them.
Issue Tracker
The LambdaTest cross-browser compatibility test comes with an issue tracker that comes built within the software. If your web application does have any issues, the software can easily detect it and list out the bugs effectively. The Issue Tracker can perform a host of tasks with the bugs found in the web applications. It can export them to the PDF format, send it to the users specified, assign and track the issues and manage them efficiently.
Chrome Extension
The software also comes with an exciting degree of performance enhancement through several easy to use applications. One of the best examples of this functionality would be the Chrome Extension that comes as part of the software. The extension lets you take a full screenshot of the web pages across multiple browsers. This can be quite helpful in fast-tracking the compatibility and resolve any issues you may be having with your applications.
Collaboration during testing
Unlike other options for cross-browser tools which may not allow you to collaborate while on the browser compatibility testing, you should be able to have a complete collaboration even while on your test. In fact, it is a cloud-based tool, you would find it extremely useful and practical for most of your needs. LambdaTest lets you log and share the issues if any via multiple applications like email, slack and other tracking tools.

Apart from those specific improvements and enhancements observed on the LambdaTest cross-browser compatibility testing tool, a few other features that should interest you should include integration with high-end integration tools like Jenkins, Buildbot, Circle CI, Codeship, Continua, Cruise Control, and Bamboo, compatibility with over 2000 browsers, testing of locally hosted web pages and support for multiple frameworks that include  Python, Java, Javascript, CSharp, Ruby, and PHP.
How is LambdaTest Selenium Grid help you in Cross Browser tests?
Well, while there may be a handful of browsers that most of the users may be using. Prominent among them include Chrome, Firefox, Opera and IE. However, there are plenty of other browsers that are being used by hundreds of users across multiple operating systems on mobile, desktop, laptops and a host of other devices.
With that background, your visitor can visit your website from any of those 2000 odd browsers. So, what if even a handful of those browsers fail to launch your web applications? That is where a cross-browser compatibility test assumes importance. This ensures that your website is accessible on any of those browsers.
LambdaTest is a cloud-based online selenium grid and can help you perform those browser compatibility tests across its list of over 2000 browsers and operating systems. In addition, to help you check your web applications for cross-browser compatibility, it can also double up as a debugging tool for your application across mobile and desktop platforms. You can opt for the debugging version for any of your preferred browser and browser version.
The Parting Thoughts
Cross-browser compatibility tests are what you can term as a necessary evil and thus having the ability to running selenium scripts can assist you in an enormous manner. This can go a long way in helping you save both time and efforts to a greater extent. In fact, the manual option of cross-browser compatibility test can be both expensive and time-consuming beside being prone to errors.
LambdaTest offers you a simplified and easier option to go with the task without having to worry in any manner while performing your browser compatibility tests across multiple browsers and operating systems. The automated test platform that it provides you should make it extremely enchanting option in more ways than one.