Even though downloading movies, images, music, games, shows, and more from the internet is a common practice, still few of us are using the browser to download such files. Well, if you are one of those who are using this conventional and ineffective method, then it's time for an upgrade to an efficient and best download manager for pc.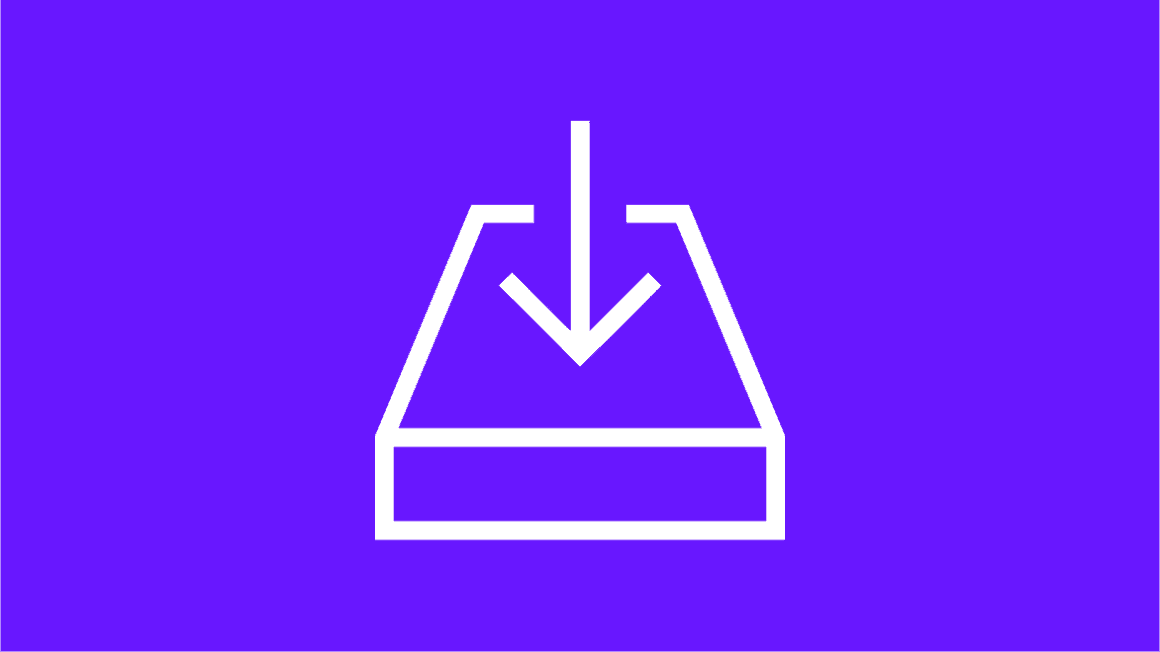 Here best download manager for pc can help you accelerate the downloading process and allow you to pause and resume a download whenever you want. Moreover, if you have a weak internet connection, then the download will continue from where it was left off. You get a plethora of options with the download manager and you can choose any depending on your preference.
Here, we have listed some of the best download manager for PC (Windows), iOS and Android
BEST DOWNLOAD MANAGER FOR PC (Windows)
JDownloader

Loaded with lots of features, JDownloader is an open-source best download manager for PC which is available for free. The tool has a massive developer community. It supports over 300 decryption plugins, automatic RAR extraction and password list searching. The user interface may appear a little dull but it is very easy to use.
One of the best features of this best download manager for pc is that it changes the IP address while a certain files is being downloaded which is helpful if the downloading service has blocked the original IP address from downloading at high speed.
The only downside of the tool is that the installation process includes adware. Otherwise, JDownloader is a fantastic option for power users who are looking for best download manager for pc to speed things up.
Pros:
Supports 300 plugins for advanced features
Option to download multiple files at once
Free without ads
Cons:
Installer has adware and bundleware
Internet Download Manager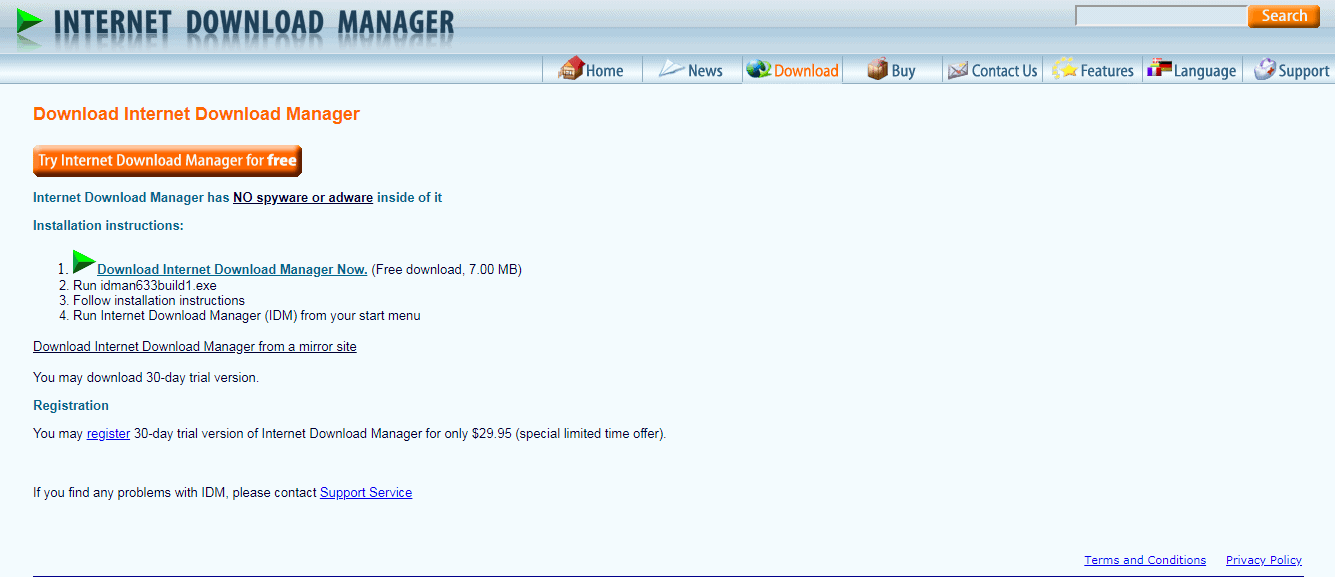 One of the most in-demand and best download manager for pc, this tool stands out as it can be easily integrated with almost all the browsers. The Internet best download manager for pc easily intercepts the download links which allows you to download a file using the tool's service instead of the browser's default downloader. You can download big files with ease, download torrent, and pause/ resume any download as per your convenience. This best download manager for PC comes with a smart download logic accelerator which allows multipart downloading to increase the speed of the download. It supports FTP and HTTP protocols, cookies, proxy servers, firewalls, and more.
The only downside with this tool is that it is not available for free. You can use it for a free trial period of 30 days, post which you need to pay a small amount to get lifetime licence for the software.
Pros:
Support for multiple file download
Fast download speed
Cons:
Ninja Download Manager

Ninja best download manager for pc is a relatively new application in the download manager category and has a rather modern-looking user interface which blends seamlessly with the Windows. Apart from the good looks, it is also one of the fastest and best download manager for PC available at the moment. The application is really simple to use and comes with various features such as a scheduler, pause/resume, multiple downloads, a download accelerator, queuing downloads, and more. The tool uses multiple connections at a time which splits a big file into small parts and uses various server points to download those small parts which speed up the download exponentially.
With the video preview, you can check the quality of a video before downloading it which is very helpful if you are using an unknown source for the download and ends up with you saving a lot of data.
Pros:
Video preview mid-downloads
Fast downloads
Cons:
Media parsing for non-popular websites is not supported
Free Download Manager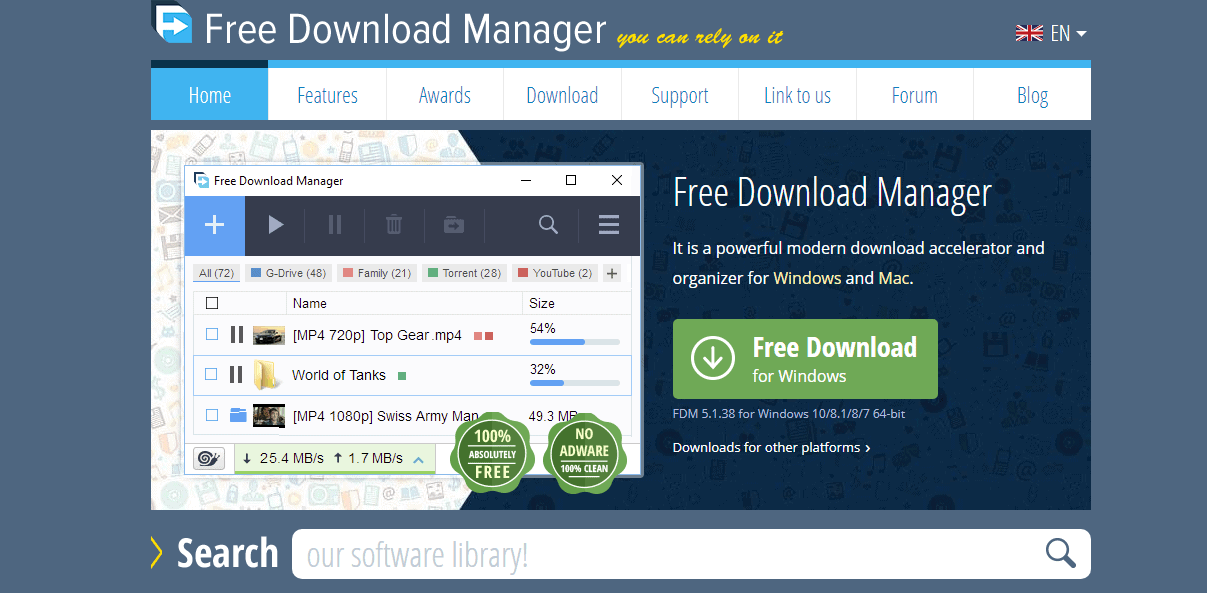 As the name suggests, it is a free best download manager for PC especially for Windows is exclusive for those who like to download a lot of movies and music. Additionally, this tool includes its own torrent client which comes really handy at times.
Free Download Manager is also one of the best looking best download manager for pc with a modern and clean user interface. The best thing about the tool is that you can schedule your downloads for quiet periods so that you do not consume all the bandwidth. With the smart file management, you can pretty easily organize all the downloaded files by their types. Also, you get to remote control all downloads using your phone when you have an active internet connection. Similar to another download manager, this tool too helps in downloading the files faster by splitting those files into various parts. FDM also supports pause and resume of downloads in case if there is an interruption. It is indeed a powerful, best download manager for PC and the fact that it absolutely free to use without any ads makes it worth giving this tool a try.
Pros:
Modern user interface
Smart file management
Bandwidth monitoring
Torrent download support
Remote control
Free to use and has no ads
Cons:
Often gets slow to parse the links
Eagleget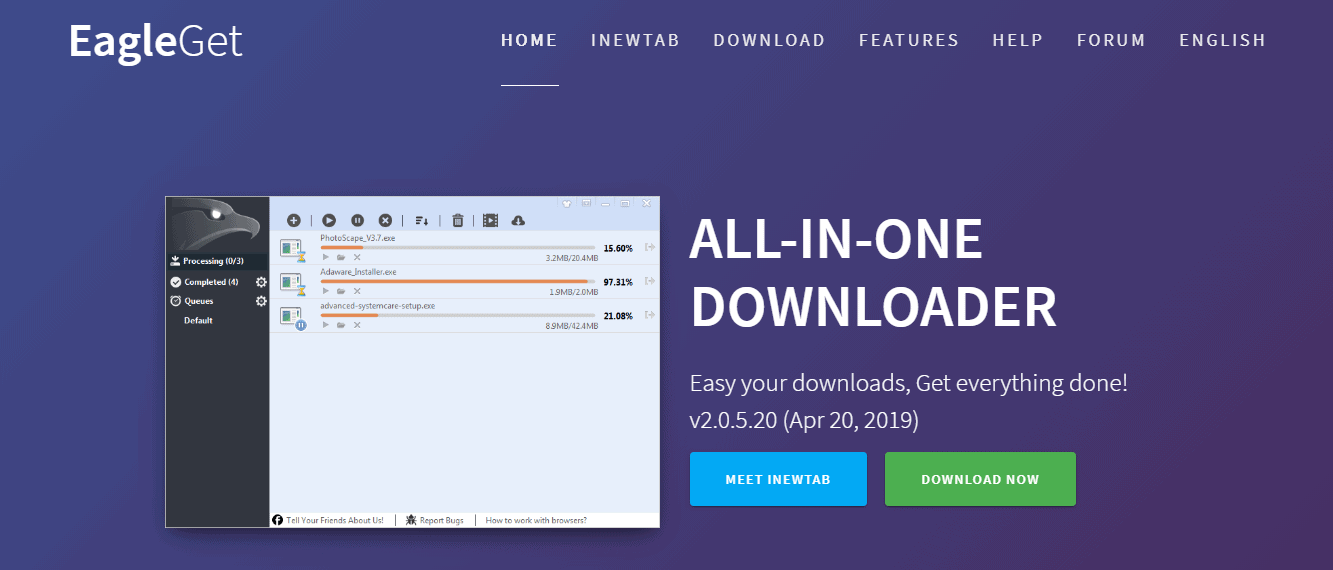 Yet another best download manager for pc that use Windows, Eagleget is rather new in the category but does a good job in handling downloads. It can integrate with most of the browsers including Chrome, Firefox and supports HTTPS, FTP, MMS and RTSP protocol.
This best download manager for pc can split files into smaller chunks, pause/resume, check downloads for any kind of malware, prioritize downloads, allocate bandwidth, and use multiple download sources. The tool features a multi-threaded technology to accelerate the connections for even speedier downloads.
Even though the application is free to download, however, the only issue is that you have to give consent to see ads or share your bandwidth with other users. For those who are looking for a lightweight and best download manager for pc with a customizable user interface, Eagleget would be an ideal choice.
Pros:
Check malware
Speedier downloads
Cons:
BEST DOWNLOAD MANAGER FOR MACOS
iGetter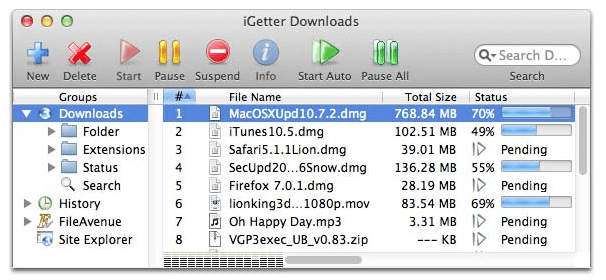 A powerful and fully-featured download manager, iGetter provides Mac users high speed of downloads by using segmented downloading. The Application is completely free and integrates easily with the device. Even though the user interface isn't that modern but in comparison to other free download manager, iGetter offers more features and does a decent job.
The tool allows resume on broken downloads, schedules download for low traffic periods, auto redials on broken connections, and a lot more.
The application is available for free download, but you will get a splash screen for a few seconds whenever you launch the app. In order to get rid of this splash screen, you have to buy the full version.
Pros:
Easy integration
Fully-functioning basic version
Cons:
Not a very intuitive user interface
Splash screen in the free version
Download Shuttle

Download Shuttle is another free download manager for Mac which is a remarkably fast download accelerator and manager. The tool splits each file into smaller segments which are later downloaded together. This makes sure that the download speed is fastened and your bandwidth is maximized. The tool has browser extensions for Safari and Chrome which add on some additional options in the browser's menu. Download Shuttle may not be extremely feature-rich download manager out there, but if you consider support for web browser integration, it would be an ideal choice for people who are looking for a simple yet intuitive user interface.
Pros:
Supports URLs that require authentication
Drag and drop for download links
HTTP/HTTPS support
Cons:
Doesn't support YouTube download
Can't download multiple files at once
Folx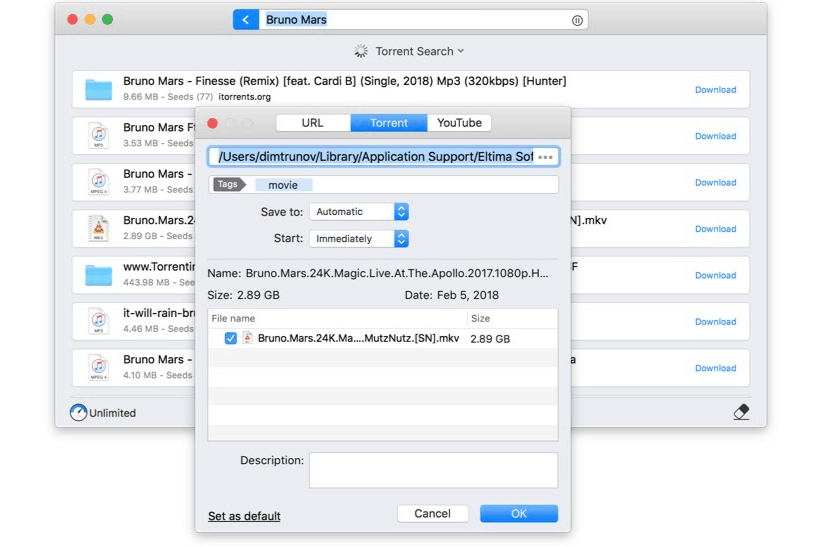 With a user interface that easily blends with MacOS, Folx is another free download manager that allows easy downloads with flexible settings.
The tool supports resume of interrupted downloads and speeds up the downloading process by downloading simultaneously from various connections at a time. It can easily integrate with Chrome, Safari, Opera, and Firefox by using Folx Agent and browser extensions.
You can download a file using magnet links which means that you don't need a separate file before you begin the actual download. Also, you get to control the speed of downloading either manually or letting Folx do it on its own for optimal traffic allocation. With the Pro versions, users get access to torrents search directly from the app and download videos from YouTube. The free version offers most of the standard features, however to get all Pro features you have to pay $19.95.
Pros:
Supports torrent
Catches download links in a page automatically
Cons:
Need to but Pro version for advanced features
Progressive Downloader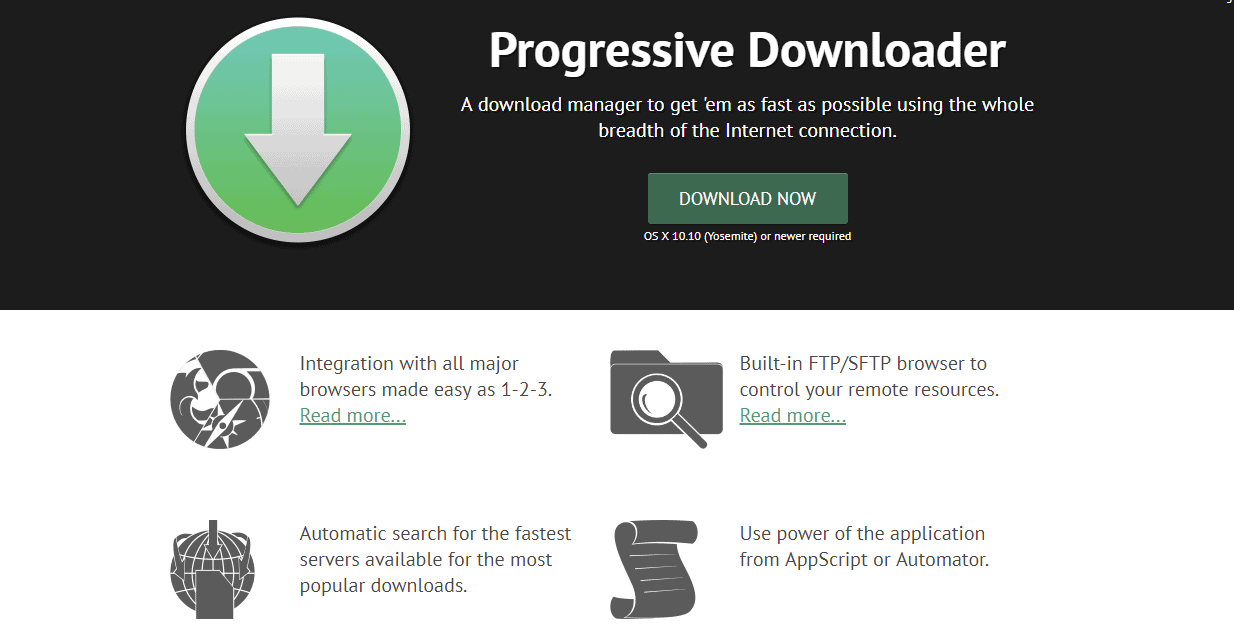 Progressive Downloader is a full-fledged tool with almost all the features that you can think of. It supports resume of interrupted downloads, download sorting, multi-threaded downloading, browser integration, and more. The built-in mirror features allows the application to search for mirrors for larger files. Progressive Downloader supports integration with all major browsers including Chrome and Safari.
However, the drawback of the application is that it can only download a specific file from three simultaneous threads which is why download acceleration is not as good as other similar download managers. You can download the app from the official website for free and if you want to support the developer than you can buy a copy from the Mac App Store.
Pros:
Easy integration
Full-featured and simple user interface
Automatic search for the fastest servers
Cons:
Speed acceleration is a bit disappointing
BEST DOWNLOAD MANAGER FOR ANDROID
Download Accelerator Plus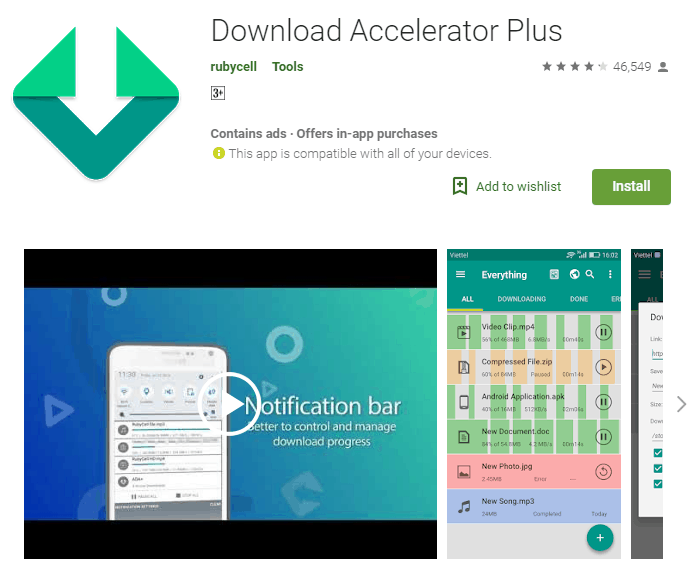 Download Accelerator Plus gives you more of a clean and up to date user interface. It features auto-resume for interrupted downloads, multi-threading support, auto-caching of links, and has a built-in browser. You will be able to download anything that you want from videos to documents and all the downloaded files can be accessed from the sidebar. You can also login to your Google account and back up your downloaded files.
The app is available for free download; however you will get a lot of ads. In order to get rid of them, you can buy the premium version which will also let you schedule downloads.
Pros:
Smart error handling
Supports all major browsers
Cons:
Free version contains ads
Advanced Download Manager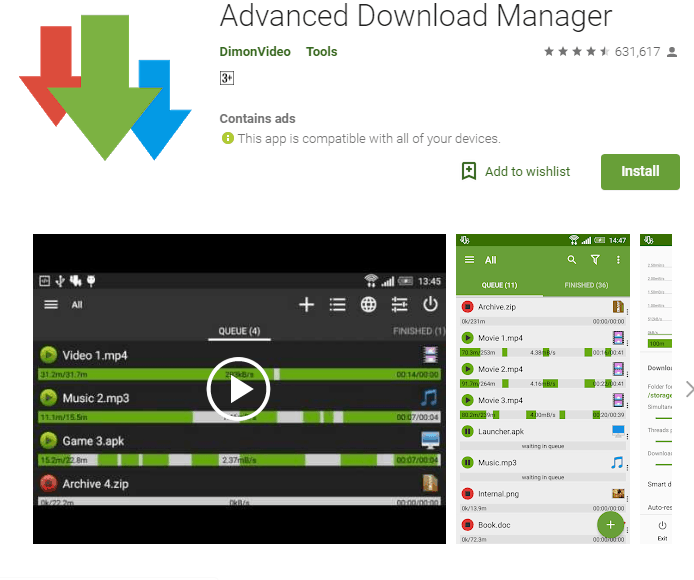 Advanced Download Manager allows you to download any type of file and up to three files at once in your Android device. The application recognizes the download links from the default browser automatically and increased the download speed by using a maximum of 9 multi-threading instance.
It supports all the major browsers including the OEM browsers that come with the Android phones. The app has a built-in browser named ADM which supports multiple tabs and provides advanced media download options. In comparison to other similar apps, Advanced shows lesser number of ads, but if you prefer a completely ad-free interface, then you can purchase the Pro version which offers better control too.
Pros:
Automatic recognition of downloadable links
Supports all browser
Cons:
Have to buy pro version to get rid of ads
Wrapping up
There are plenty of download managers available out there for different operating systems. To increase your productivity and the download speed, getting a specific download manager is no brainer. The best part is that most of these best download manager for PC are available for free. You can pick any app depending on personal preferences.