Fixing Inkscape on Windows
Fixing Inkscape on Mac
Inkscape not opening is a common problem, that many Inkscape editors have been reporting, lately. We have devised the best solutions for the same. Please keep reading and find the best solution.
Inkscape is a popular vector graphic editing software chosen by many crafters. What makes it stand out in the image editing software list is that it is an entirely free, open-source application. It is compatible with Windows, Mac OS, and GNU/Linux. Once installed properly, you can immediately start editing images using it. You double-click on its icon to open it, but suddenly there is no action for a long time. Is Inkscape not getting opened? Are you getting some error messages? Puzzled about what suddenly went wrong with Inkscape? Stop worrying! This article will walk you through possible reasons and give a simple solution to fix the 'Inkscape not opening' issue.
Possible reasons for Inkscape not getting started in your system.
Whenever you click on Inkscape to open it, have you encountered error no. 0xc0000005 with the message box given below?
This error usually appears when the application you are trying to open abruptly crashes and fails to start. Let's check the reason behind Inkscape not starting appropriately.
Some other software running on your system might be interfering with the Inkscape leading to its failure. E.g., Adobe Dreamweaver, Ghostscript, etc.
The Inkscape version on your system requires to be updated.
The operating system running on your system needs to be updated.
Wrong registry modification might be the culprit.
Virus or malware running on your system might be affecting Inkscape. In some cases, the security software itself obstructs the Inkscape app from launching.
Multiple processes of Inkscape running in the background might hamper its functionality.
Your BCD(Boot configuration data) might be corrupted on your PC and needs repair to fix this issue.
The list can go on as there is no single definite reason for Inkscape not starting. There is nothing to worry about because we have a few efficient workarounds to regain Inkscape's standard functionality.
What to do when Inkscape won't open in Windows 10.
1. Temporarily uninstall other software that might be affecting Inkscape
Many users have reported on the bug launchpad forum that Inkscape stopped regularly working after installing the following software.
Adobe Dreamweaver
Scribus
Ghostscript
There can be more on this list. Try to check on your PC, which software you have recently downloaded or modified. Try to roll back the settings by recovering your PC or uninstalling the software mentioned above manually(If they are present in your system).
Restart your PC once done and now check if you can start the Inkscape application.
2. Scan your system to clean viruses and malware
A fix for many problems, this tends to be the best fix for Inkscape not opening, too. You should try to run an antivirus on your PC to clean all the viruses and malware in your system, and check if Inkscape's functionality is resumed. Try the next method if this didn't work for you.
3. Reboot your PC
Simply restarting your PC might be all that is required to open Inkscape. Rebooting your system might kill the multiple instances of the Inkscape process running in the background. Many a time rebooting the PC gives a fix to the Inkscape not opening, just try!
4. Update Inkscape's version that is running on your PC
Most users have noticed that updating the Inkscape version on their system helped them overcome all the Inkscape issues. You can also try this method to start Inkscape without any problems. An important thing to keep in mind is that you should remove or uninstall the previous version of Inkscape completely before updating it on your system. You can follow the steps given in the uninstalling guide to ensure that all Inkscape traces are removed from your system. You can check out the detailed steps to update Inkscape on Inkscape's manual website.
5. Update Windows10
You can try to update Windows 10 and check if it helps you to fix Inkscape's error. The quick steps to update Windows 10 are as follows.
Click on the Windows icon present at the lower-left corner.
Go to Settings -> Update & Security -> Windows Update.
Click on Check for Updates button in the right panel.
If updates are available, then it will automatically start downloading on your computer.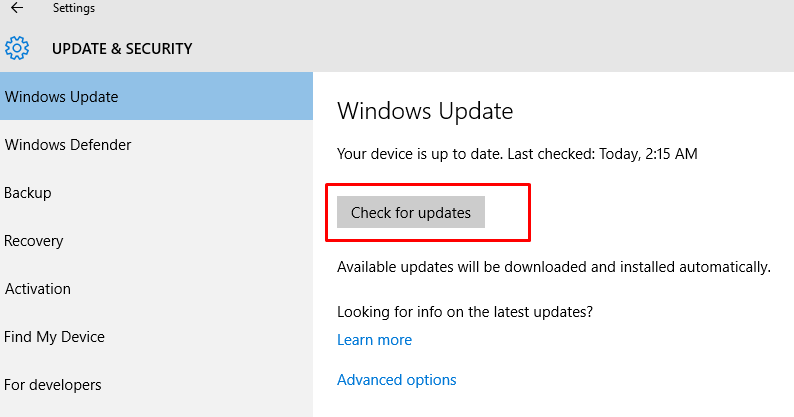 Restart your PC once the update is done and now check if you can open Inkscape. Try the next method if this solution didn't help you. If you see that the Inkscape is still not working then consider jumping onto the next solution.
6. Close instances of Firefox
Some users have reported that if the Firefox browser is opened before opening Inkscape, it fails to launch. Closing all windows of the Mozilla Firefox browser before starting Inkscape helped them to fix the issue. There is no perfect logic behind this solution, but it helped many users, so you can all give it a shot.
7. Replace DLL for Inkscape
Inkscape uses liblcms-1.dll. If it is not loaded at its default location, then Inkscape might not work appropriately. Some security fixes might have tampered with this dll file. So replacing it can help to resolve the issue.
Warning: It is not entirely safe to download dll from the given link. It can give way for viruses to enter your PC.
Steps:
Download liblcms-1.dll from the following link.
Copy and paste downloaded dll file in C:\Program Files\Inkscape folder.
Press yes if prompted to replace the file liblcms-1.dll
Restart your PC and now check if you can launch Inkscape without any problem.
I hope you would have fixed your Inkscape not opening issue, by now. Still if by 2% chance, if you fail to do it then please try the last fix as well.
8. Repair Boot Configuration Data(BCD) via command prompt
In Windows, you can solve any start-up related issue of the application by repairing BCD. It will help to fix the corrupted configuration boot files and resolve the application initializing problem. You could try this method if none of the above methods worked for you. Follow the steps given on Microsoft support to repair boot configuration data accurately.
What to do to resolve Inkscape not opening in Mac OS?
The earlier versions of Inkscape required a helper program like Xquartz to run on Mac. For Mac version 10.11 and above, no such supporter program is required, and you can directly use it.
Many Mac users have reported on a discussion forum that they are unable to run Inkscape on their system. We will discuss two solutions to resolve Inkscape, not working problem in Mac.
1. Enable download from anywhere option
You might have noticed that sometimes when you try to open Inkscape by clicking on its icon, it just bounces up and back but does not open or gives the below error that unidentified developer.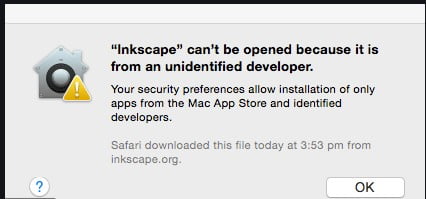 To solve this, we need to make minor changes in system preference.
Requirement: If you are using Inkscape version 0.92, make sure that you have Xquartz installed on your Machine.
Warning: There might be security issues if you permanently enable the Download from anywhere option.
Steps:
Click on the Apple logo present in the upper left corner.
Choose System preference from the pop-up menu.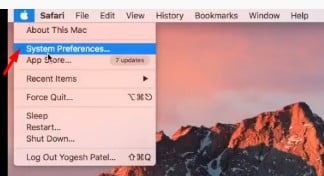 A new window will open. Click on Security and Privacy option.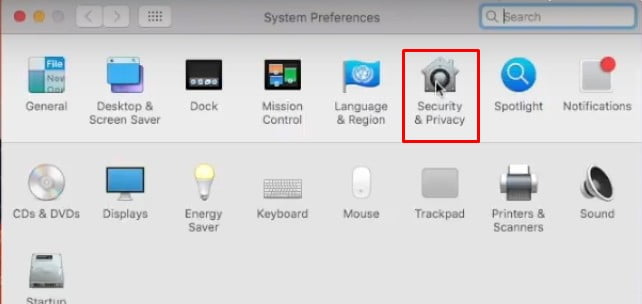 Click on the lock option and enter your Mac password to complete the authentication process.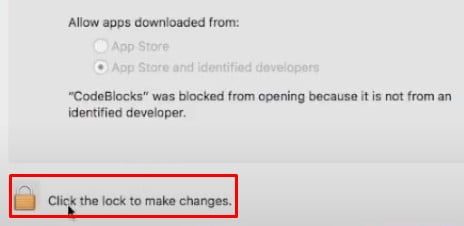 Once authentication is done, you can now make changes. In the 'Allow apps download from' section choose the Anywhere option.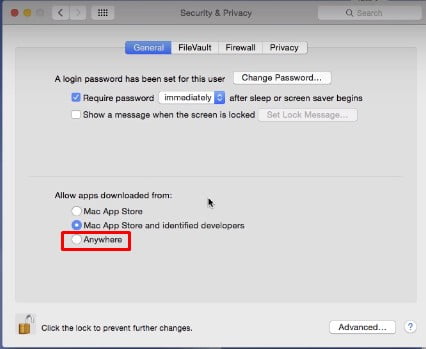 Now try to open Inkscape again and check if the issue persists. Once you can open Inkscape, you can revert changes in system preference. Try the next method if this doesn't fix your Inkscape not opening issues on Mac.
2. Install an updated version of Inkscape.
If you are using Mac OS 10.11 or newer, you can try to use an updated version of Inkscape, which doesn't require XQuartz.Follow the detailed steps to install Inkscape on your Mac machine given in the Inkscape manual.
After installin g the updated version of Inkscape again, check if you can open Inkscape.
Wrapping Up
I hope our solutions helped you fix Inkscape not opening issue, successfully!
Inkscape is the fabulous open-source, free software for editing vector graphics but might not open some time. We have tried to sum up all the solutions discussed on forums that helped other Inkscape users to fix the issue. This article has offered you methods to answer your question 'What to do when Inkscape won't open' on both Windows and Mac platforms. If you want to deep clean your storage you can use duplicate file finder windows 10. Let us know which solution worked for you and contact us if you find difficulty implementing any of the methods discussed above.