Many a times we receive PDF files which remains locked and many of the functionality remains locked like printing editing etc. These are done so that the receiving party cannot modify anything of the file, or take a printout of it. However, it really becomes a problem many a times, and we are left out with no other option other than hammering our head. However if you really know were to look, no problem is really a problem. Today am going to present you few such  website which can remove all such restrictions from the PDF files . The website FREEMYPDF.COM does the perfect job of removing the restrictions from the PDF files. What you need to do is just upload, your PDF file to their server and it will give you the restriction free PDF for download and you are ready to go.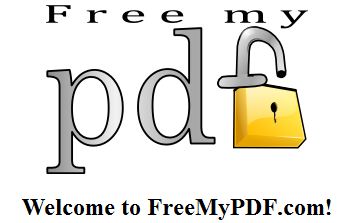 PDF UNLOCK.COM is another similar kind of website which provides the similar features to unlock your locked PDF . Here too you just need to upload your restricted PDF file to the remote server and after uploading it will send you the unlocked PDF file.

You can also try your hand on www.unlock-pdf.com which provides similar, restriction removal services from PDF files. This site is also chose by most of the Stumble upon visitors for its performance.

How Do I Use It?
To unlock your files just follow the below instructions:
1. Click "Browse…" and select the PDF file you would like to unlock.
2. Agree to the Terms of Service by checking the appropriate check box.
3. Click "Unlock File!" – and you're done!
Notice: However I would like to inform you that, it would be better for you to first confirm that you are allowed to do what you are doing in case of any sensitive material.
Website: http://freemypdf.com/

         http://www.pdfunlock.com/

         http://www.unlock-pdf.com/