Nowadays, social media videos are an invaluable asset in any marketing strategy. 
Regardless of your business' size or niche, they help you connect, impact, and interact with your audience like never before. So much so, that most social media platforms are getting more video-centric as days go by. Ramping up on new formats, tools, and features to drive even more engagement and yield new opportunities for brands.
However, creating content that performs well and delivers results on social networks presents many challenges. Even if you team up with an experienced video company and produce high-quality pieces, there are still plenty of factors that can affect engagement rates dramatically.
So, let's go over some fundamental social media videos tips that can help you optimize your content and improve your engagement numbers all around!
Key Elements to Enhance Your Social Media Videos Performance
If you feel like you are putting out awesome content, and still people seem unresponsive to it, chances are one (or more) of these key areas can use some improvement.
Understand your audience
This is Marketing 101, but it's worth refreshing it: You need to know your audience like the back of your hand.
No content will ever work unless you develop it with your target audience in mind, video or not. To engage viewers, your message needs to resonate with them and make them feel that your brand speaks directly to them.
So, the very first thing you need to do is research your audience to shape your video's message and style. Take the time to analyze who they are, what triggers them, what interests they have, where they like to go to consume videos, and even how they speak!
Only then you'll be ready for the next step: defining your topic.
Social-media-worthy topics
You probably know this, but social media is a very dynamic landscape – Trends, subjects, and people's interests are constantly changing.
The million-dollar question then is: How do you know which topic is going to catch your audience's attention? Sadly, there's no secret formula. But there are a few things that can help you decide what's video-worthy and, maybe more importantly, what isn't.
To start, it's vital to keep your content fresh. These days, people get bored easily, especially on social media, where content has a rather short lifespan. So, make sure to keep track of what's happening around you and develop trendy content!
Another thing to keep in mind is that your social media videos topic needs to be relevant to your target audience. Like we said a minute ago, your content is purposely created to engage them – or at least it should! It's going to be much easier to connect with your audience if your videos deliver value and cater to their interests. 
Lastly, originality pays off. Online audiences love to be "wowed" and like to consume things that inform or entertain them in the most innovative ways. Avoid using the same old, repetitive patterns.
Think outside the box and create edgy content that sparks curiosity!
Social media videos friendly length and structure
Our attention spans are shrinking by the day. So, if you want to improve your engagement rates on social media, create short content.
Now, "short" is kind of a vague term, and it's going to vary from social media platform to platform. According to Hubspot, the recommended length for videos on Instagram is 26 seconds, while Twitter's sweet spot sits around 45. On Facebook, you can post one-minute long explainer videos or How-to tutorials and still get high engagement rates.
You also need to remember that, on social media, people expect instant gratification. If you don't deliver value quickly – be it useful information or something entertaining – they'll move on to the next thing. Hooking them from the beginning is paramount on some body else social media videos.
So, when you start designing your video's content, structure it in a way that your core message is conveyed within the first 10 seconds. Then, focus on delivering value to keep viewers interested.
Upload Natively
Native videos perform far better than those shared from other platforms. This is mainly related to the fact that social media algorithms favor content that encourages users to stay in their ecosystems rather than sending them to visit external pages.
What does this mean? That these videos will rank higher on feeds for longer periods of time and also appear more often on suggested sections. Helping them reach and connect with more people.
Plus, native videos start playing automatically on most platforms, which organically improves your exposure and increases your view count. Not to mention that it leads to better user experience because people don't need to click to watch them!
All in all, we highly recommend you to upload your social videos directly on the platform – they are going to engage viewers much more!
Your video's copy matters!
Even though high-quality visual delivery matters (a lot!), your video won't reach its full potential on its own. It should be accompanied by useful and persuasive text – that is, its copy or caption.
A well-written copy gives extra context to viewers and helps you to reinforce the message you are trying to convey with your video. It can include titles, descriptions, hashtags, and even emojis – whatever suits best with your brand and video!
Writing solid copy is important because it can generate much more conversation with your audience – hence, better engagement. Besides, if you use relevant keywords, it's also going to help your content perform better through SEO.
Keep in mind that every platform is a different ecosystem, and maybe a copy that works perfectly on Facebook won't do on Instagram or Linkedin. But the bottom line here is that you should always take the time to write informative and enticing copies to enhance your social video's message and convince people to watch it!
Optimizing thumbnails & video beginning
Ok, remember what we said about the importance of conveying your message within the first 10 seconds of your video? Well, that goes for its visual design as well.
Most users – if not all – are going to decide whether to watch your social video or not based on what you show them in the first few seconds. So, to engage your audience, the first frames should be eye-catching and deliver relevant information.
On the other hand, thumbnails are a big part of what makes a video successful. It's the presentation letter and what's going to appear in people's feeds. Enticing them (or not) to click and find out more about your piece.
By default, a video's thumbnail is an image selected from the first frame. However, we suggest you customize your thumbnails manually. Create a fitting image with high-quality design to catch viewers' attention more quickly – You can add to it persuasive text, animation, emojis, you name it!
Captions & text overlays
People tend to check social media on their phones while doing other things or being with others. Think about it; you've probably done it yourself. In the subway, in bed before going to sleep, or even while you are at a very boring meeting or class.
Whatever the case might be, what all these scenarios have in common is that people can't or won't turn the sound on. So, you have to make sure that your message is clearly conveyed even without sound!
One of the best ways to achieve that is by adding captions or subtitles to your social video. This is going to make your content accessible and give your audience the possibility to enjoy it regardless of the environment they are in.
Text overlays are also a great tool to highlight the most important parts of your message. Plus, they will give dynamism and interactivity to your piece, making it way more fun to watch!
CTAs
For a video to get results, you need to include clear and easy to understand calls to action. That is, to indicate to your audience what they need to do after watching your video.
Now, CTAs are strictly related to the goals you are trying to achieve with your social video. So, to create a solid call to action, you need first to identify your marketing plan's objectives.
For example, let's say you are a cook, you want to promote your new recipe book, and you produce a short how-to using one of your recipes. It makes sense then to add a CTA to encourage viewers to act on that, such as Learn More or Shop Now.
Remember: Your audience is going to expect an indication at the end of your video, so tell them what they should do!
The Takeaway
Social videos are a "must-have" in your marketing strategy. They help you connect with your audience and boost online presence in the most original and fun ways.
But it's not all cream and peaches. Like we've just learned, it's more than just sharing them on social media. If you want them to perform, there's plenty to do before even producing them, like finding the right topic, adding subtitles, and including an engaging copy.
The most important thing is you need to know is that social media is a very unique environment. So, you can't forget to tailor your video to its rules and trends.
Luckily, now you know which elements you'll need to pay attention to improve your social videos' results! 🙂
About the guest author.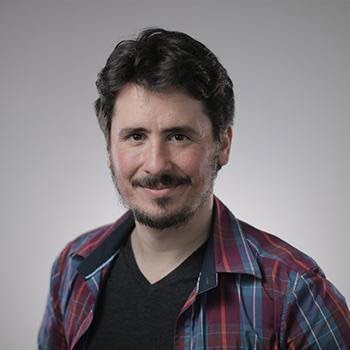 Victor Blasco is an audiovisual designer, video marketing expert, and founder/CEO of the explainer video company Yum Yum Videos. Besides running the business, he's a lifelong student of Chinese philosophy and a passionate geek for all things sci-fi.