Holla to the Steam Community!
If you've been searching for "How to add friends on Steam", you are on the right page. It takes me back to the critical point where I found myself badly stuck in the peak of Counter-strike Global Offensive, one of the most popular games on Steam. Yes! That's somewhere when you feel the need of your besties in the team to understand the game and move ahead with all speculations under steady control. So, how many Steam friends do you have?
So in this article, we've explained how to add your friends on steam in few easy steps. I hope you would be equally benefited with this.
Steam demands a minimum of 5 dollars'  worth of purchase or addition of 5 dollars to your account to grant permission to add friends. Hence, you get stuck and can't find a direct way to add friends. But don't worry, I have figured out the simplest solution to all the Steam user's search for How to add friends on Steam?
I will be sharing 2 approaches. One for Mobile Users and another for Windows or Mac (laptop or PC). Choose which platform are you using for Steam and let's get started and find an answer to – How to add people on Steam to pacify game?
Now, if you are using a System, you may directly leap to the explanation below in Approach 2. Or else continue reading.
Bonus Tip: Did you know you can also appear offline on Steam in just 3 simple steps.
1. How To Add Friends On Steam Mobile App.
Approach 1: For all mobile users pondering – How to add people on Steam?
If you are not already logged into your steam account, then log in with your respective credentials, as in your username and password. After logging in, when you try to add friends, you would find the message asking you to add 5 dollars to your account or make a purchase for $5. At the login page, you would also receive a 5 digit number in your mail as an OTP to confirm your identity.
Now, in the aforementioned email account, you might have initially received a mail from Steam support, which usually every player receives when the initial login setup is done. Just search in your email for a mail from Steam support.
Once, you find it, just check the five-digit number that you might have received in that mail below the lines –
"Here is the Steam Guard code you need to login to account [your account name]:".
You need to check that number and put it in the space for authentication OTP that you just received.
Now tap the three lines on the extreme top left corner of your screen. That will open a drop-down for you.
Find the Friends tab there and click on it to find Steam friend code.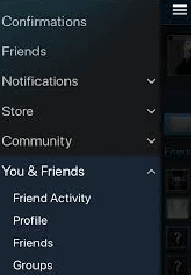 If you have an android phone, then you will find a chat option in the drop-down list. Click that chat tab.
Now, in the Steam friend search tab, enter the Steam friend code. Start typing the name of the friend or group, you are planning to add. As you type, a list of all the Steam users with similar initials will start popping up on the screen. Identify your friend and send them a friend request. Thus you find a solution to the common query- How to add people on Steam?
[Note: Apple Users: Select the All Players tab that you may see below the search box.
Android Users: Select the Search All Players tab that you may see below the search box.]
Add them by sending a friend request. But you have to wait for them to accept the request and add you back.
And that's how you resolve your 'can't find a friend on Steam' issue.
So, that was way too easy for mobile users on Steam, add friends to find a solution to the typical question – How to add people to Steam. So, everyone is in a Steam Friend search. Add your friend now!
2. Adding friends on Steam On Windows PC or Mac.
Approach 2: PC or Mac Users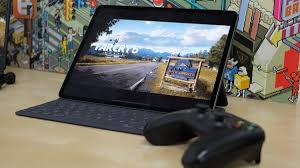 On your web browser type http://store.steampowered.com/. This is the Steam website that is a standalone software client, a destination where you can create games, play unlimited games, and discuss them with your friends and playmates.
Now, If you are in Steam user search, and when you try to add friends here, unfortunately, you will find the same error stating add 5 dollars to your account or make a purchase for $5. you can also get a Refund for Steam games easily if you are not interested to continue further.
So, how to add friends on Steam?
If you are logged in to the Steam website using your account then you would find your name on the top of the page.
Right-Click to view a drop-down list with multiple tabs. Choose the Friends tab.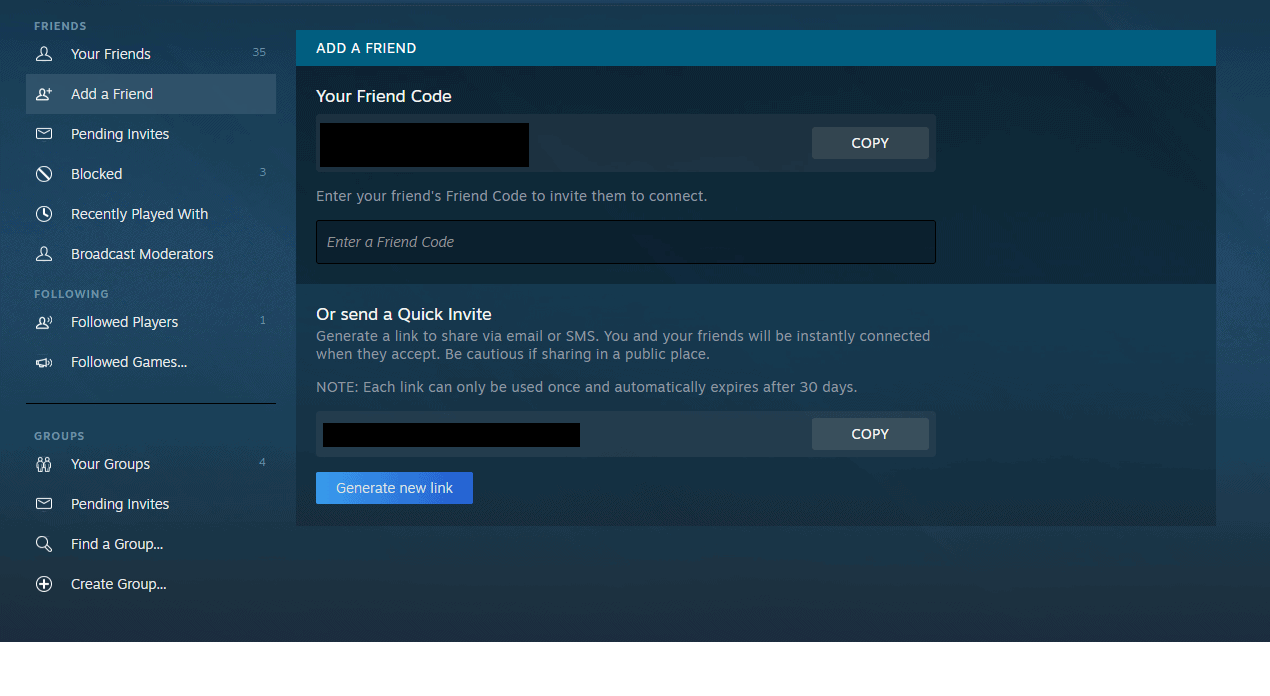 You would now see a button on the right side corner +ADD FRIENDS
Click it to find the Steam search tab.
Enter the name of the Steam user, name that you like to befriend on Steam.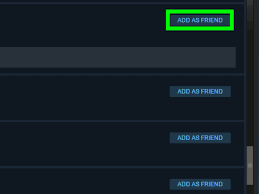 Click the ADD AS A FRIEND tab and wait for your friend to respond.
That's how you can easily add friends on Steam.
Conclusion
Steam is such a powerful platform where millions of people are connected just like that in the haste of playing games and discussions related to these games. No wonder, you are looking forward to getting connected to your steam friends. Just try and add the Steam friend code in the Steam friend search tab and add them from your end. Waiting is part of the excitement. So here ends your steam user search and now you know How to add people on Steam?
The best part of the Steam free account is that you can participate in the Steam community, wherever you go. So spread the word about How to add friends on Steam?
Stay connected and enjoy playing.