Are you one of those who buy a game impulsively and later regret it? Well, if that happened with a Steam game, then fortunately there is an easy way to get a refund.
Steam is a storefront where you can buy and organize thousands of games for MacOS, Windows, and Linux. It comes as a desktop application where you can make purchases and chat with other active users.
As a community, Steam allows you to connect with your friends where you can play multiplayer games, share videos, and see what others are playing. You also get access to several game forums where you can explore new games and chat with players.
What is the Steam Refund Policy?
With over 90 million active users worldwide, people do buy quite a large number of games. And, with so many unique titles available in the database, there are a few games that may not work with your system or simple don't seem fun once you try them.
The good news is that Steam follows a plain and fair return policy. If you are not happy with the game you bought or have any other reason for dissatisfaction, it's pretty easy to request a refund for your purchase within a time frame of 14 days and less than 120 minutes of playtime after logging in for a particular game. As per Valve's policy, you will get a refund without any questions asked if you follow these parameters. 
Also, in any situation if you are not able to meet these parameters and still want to place a request for refund; the company will still consider your case based on the reason for the request.
Which purchases are covered under the Steam refund policy?
You can claim for a refund on downloadable content bought from Steam by following the same above motioned parameters. But, the DLC should not be customized or transferred.
To get your money back for any in-game purchases for the Valve-developed games, you need to make a request within 48 hours post purchase.
You are eligible to claim a refund for any pre-purchase game as long as you make a request before the title is released by the developers. Otherwise, if the title gets released, you need to follow the 14days/2 hour's standard to refund the game.
To get a refund on any Bundles bought on Steam, you need to ensure that it hasn't been transferred and the overall usage doesn't exceed more than 120 minutes.
If you do not like any hardware purchased on Steam, you can claim a refund within a time period of 30 days. Once a refund request has been placed, you have to return the hardware to Valve within 14 days. To know more about the Steam Hardware Refund Policy, click here.
Is it possible to get a refund for a gift on Steam?
In case if you are wondering whether you can get a refund for any game which has been gifted to you by other user, then yes, you can definitely request for a refund if you follow the standard parameters. However, the refunded money will be credited to the original buyer. You also need to know that once delivered, any gift has to be redeemed within 30 days period to subscribe it to your own account.
Similarly, if you are the one who has gifted a game to someone else on Steam, then it is possible to claim for a refund if the other person hasn't redeemed it yet.
To know more about the Steam refund policy head over here.
Is there a limit to steam refunds?
Now, if you are making a refund request within fourteen days and haven't played the game for more than two hours, then here is what you need to do to get a guaranteed money-back for your Steam purchase: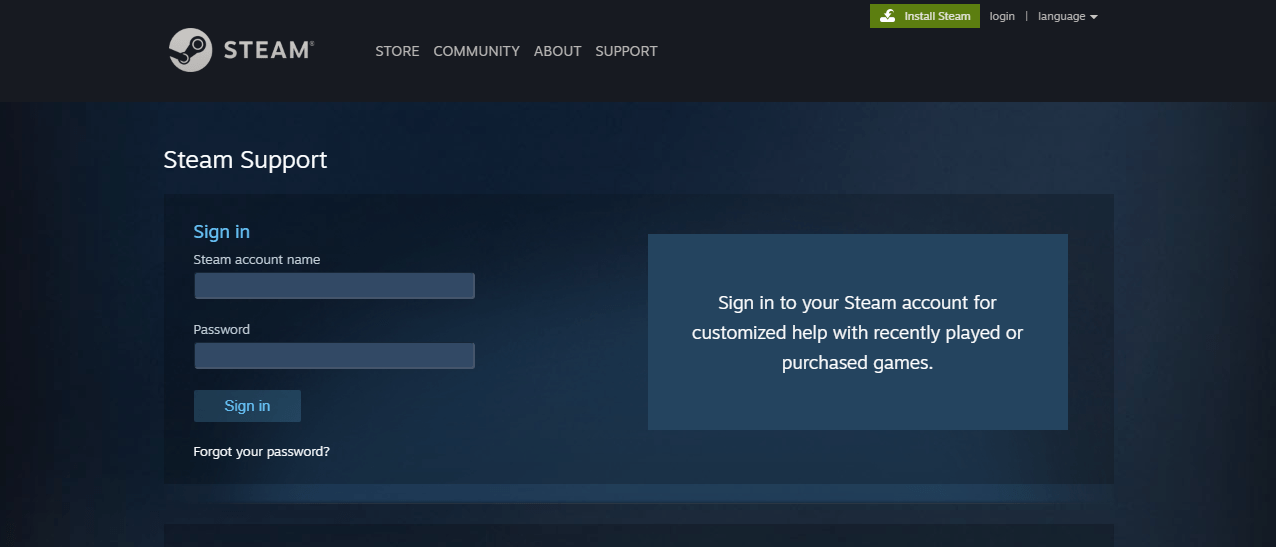 Head over to "Purchases" and select the game that you want a refund for.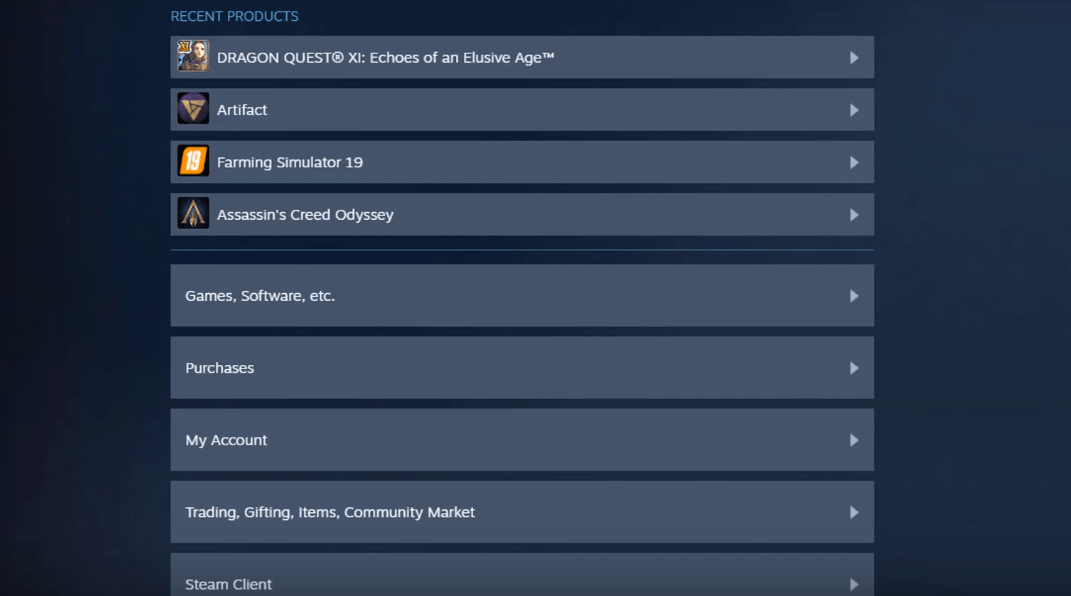 Click on "I Would Like a Refund"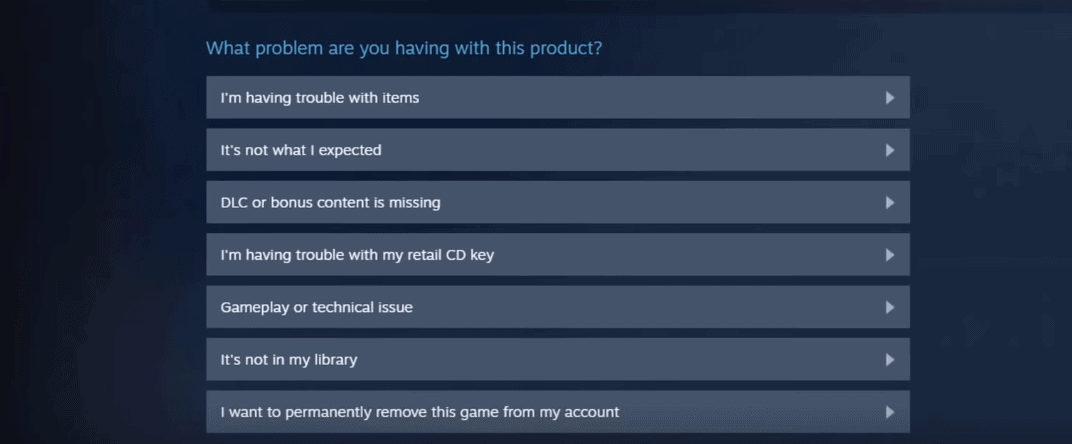 Here, you will be asked if you need any assistance in fixing technical problems instead of refunding the game. If you are sure about the refund then click on "I'd like to request a refund"

You will now be taken through the refund procedure. The team will verify if your are eligible for a refund first. Post verifying, you can select the desired payment method where you want your money to be credited.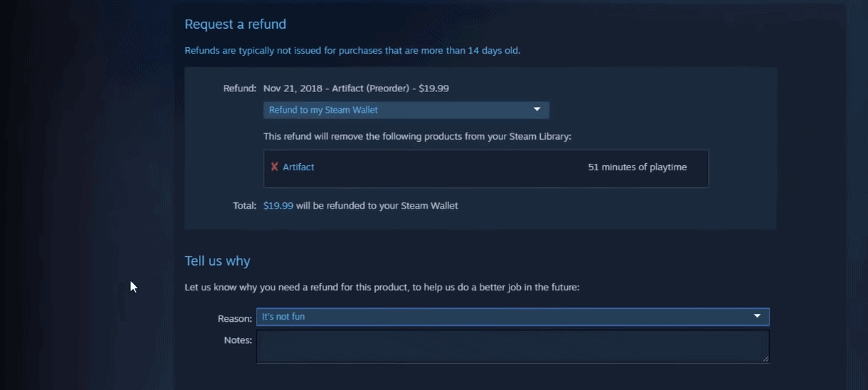 Finally, you will be asked to specify the reason for the refund. Select a reason from the scroll down box and leave a note to make the team understand your thoughts on the refund request.
Once done, click on "Submit request" at the bottom of the page.
How long does it take to get the refund from Steam?
Once done, and as your refund request gets approved, you can get the full refund for your purchase within a week's time. In case if your refund request doesn't fall under the 14 days/120 minutes standard, then it will be manually assessed by the Valve Team.
The refund will be initiated according to the payment method that you had used at the time of purchase. However, if in any condition, if Steam is not able to make a refund in the original payment method, then it will credit your wallet with the entire amount.
To make sure that your payment method is supported for refunding through Steam in your particular country, check here.
What can be done if the refund request has been denied?
If you think that your fair request for refund has been denied, then you issue a new request which will be evaluated by the Valve team again. A different team member will go through the request and ensure that the right decision is taken.
You should know that even though Steam follows a generous refund policy, but it is not designed for any user to get free games.
If the Valve team observes that you had been making a lot of money-back requests, then they may stop offering any further refunds to your account as it will be considered as abuse of their policy. If you are found abusing the refund policy, then Steam has the authority to revoke your refund rights. There is no certain limit of how many games you can refund for, but typically if you had claimed for a refund of more than five refunds in the last six months, then Steam will send across a warning message.
However, if you have bought a game before a sale for a higher price and wish to claim a refund in order to make another purchase at lower price, then Steam will approve your request as long as you have played it for less than 120 minutes.
That's all! We hope this guide gave you enough information on how to successfully get a refund for your Steam purchase. As long as your request is authentic and falls under the parameters given by Valve, you will not face any issues in getting your money back.