Hero electric popularly known for its high-speed two-wheelers revealed its new electric two-wheelers at the Auto Expo 2018. The company launched three electric vehicles in all – Two electric cycles and an electric scooter. The company claims to introduce these new vehicles with the other vehicles launched.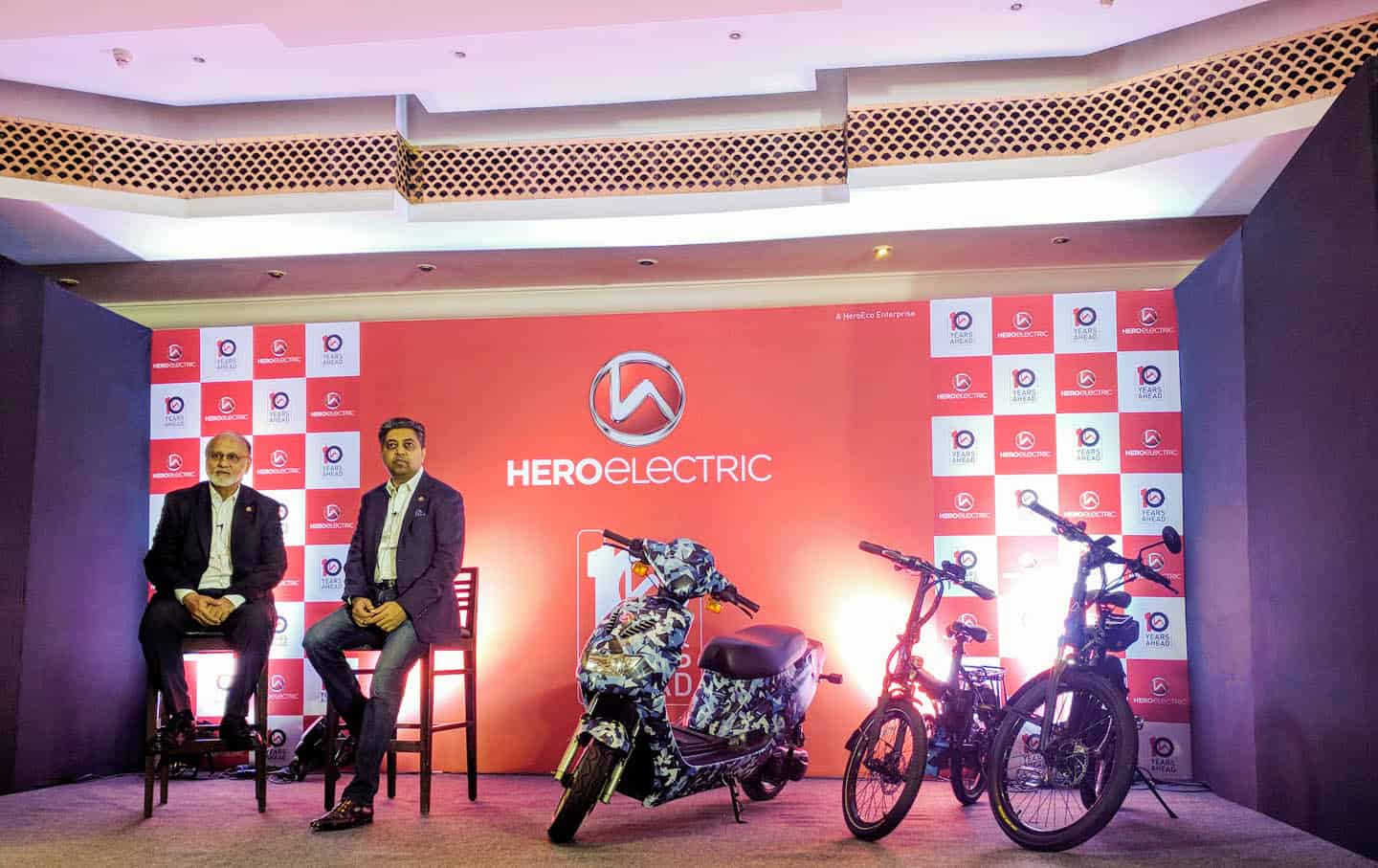 The e-cycle models are introduced as A2B Kuo Boost and A2B Speed and the e-scooter model is introduced as AXLHE-20.
Naveen Munjal, the managing director of Hero Electric quotes, "The AXLHE-20 is a high-speed e-bike that promises the perfect blend of performance and efficiency. On the other hand, A2B Speed and Kuo Boost are premium electric bicycles that cater to upwardly mobile youth who value adventure and fitness."
The company released its '10 years ahead' campaign as they have been a manufacturer of e-bikes for 10 years. Hero Electric is known to launch 15 electric two-wheelers in India till date with around 65% of shareholdings.
The CEO of Hero Sohinder Gill said, "Hero Electric has been India's leading electric mobility revolution over a decade now. Our commitment to sustainable mobility is manifested in the consistently superior products that we've launched over the years. Our new product range is an extension of this commitment."
Hero Electric e-Vehicles:
1. AXLHE-20
The AXLHE-20 scooter runs on a 4000W motor which provides the driver with a pick-up of 6000W. The highest speed of this scooter goes up to 85 kmph which travels about 110km after charging it for once.
The design of this vehicle provides the best performance and efficiency. Customers will get the option to unlock their vehicles with an application. Moreover, this app also assists to find your vehicle in cluttered parking spaces and gives access to navigate your directions.
2. A2B Kuo Boost Electric Cycle
A2B Kuo Boost electric cycle powered by a 500 W motor and has a 36 V battery. The lifespan of the battery lasts up to 700 full charge cycles covering about 70 Km in a single charge. The e-cycles can gear up to a speed of 45 kmpH.
3. A2B Speed Electric Cycle
The A2B Hero Electric Speed Cycle derives its energy from a 350W motor, covering up to 60 Km in a single charge. The top speed of this cycle is 32 kmpH with the same battery lifespan of 700 fully charged cycles.
There's an aluminum frame created for each of these cycles to give them a lighter weight and provide more control for the rider. The vehicles sport an eight-speed Shimano Derailleur gearbox. A2B Speed consists of a Tektro Dorado hydraulic disc brake system while Kuo Boost has an average weight of 20 kgs and is also foldable. Hero Electric associates itself with A2B, which originates from the UK making electric vehicles and Hero, on the other hand, manufactures it.
(Featured Image Courtesy: inc42)