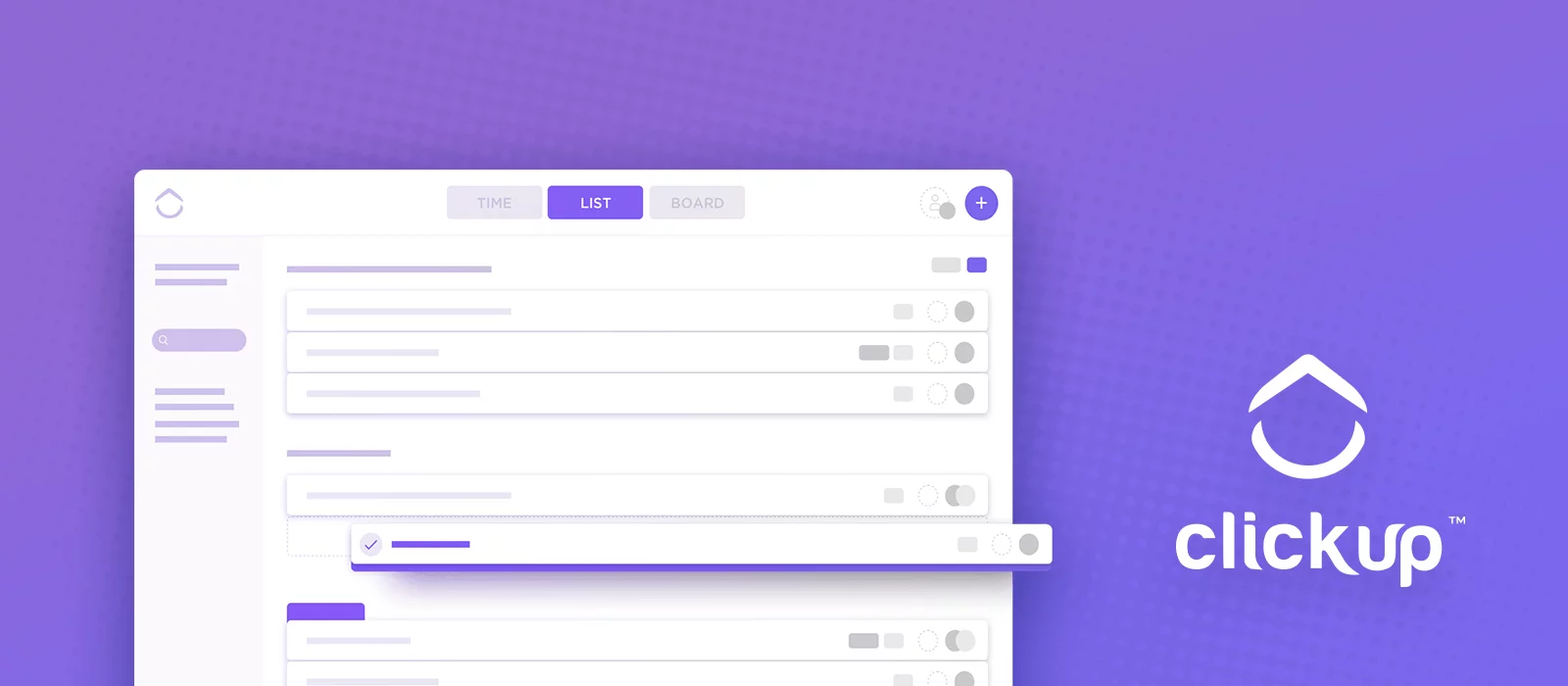 ClickUp is all-in-one project management tool and a major substitute for a collection of software that can decrease your productivity. Here you can get all the features that you want in your business management, project management, and other purposes. It is also regarded as the best software for Resource Management. Besides that, it is also valued as Planning Software, Task Management Software, Workflow Management Software, Collaboration Software, Project Management tool and for Team Management. The main agenda of the ClickUp application is to make the world more productive by using single software that can fulfil the requirements of the features that are vital for a particular task.
Why you should use ClickUp?
ClickUp can be used for Team Management or as a Project Management App. Not only this, there are so many reasons for which you should try out this software, discussing the main ones are:
For every kind of team, there are available special proprieties specifically used by them
It even allows the user to create custom views that can be saved and shared with anyone.
Along with assigning tasks you can also take the advantage of assigning the comments.
ClickUp Features:
Here comes the most awaited discussion part of ClickUp review where you will finally be able to get a better understanding of the software proprietary features:
Simple Task Hierarchy:
These features make it easier to find and organize team activities. The intuitive structure: Workspace > Space > Folder > List > Task > Subtasks > Checklists.
Multiple Assignees:
This allows you to assign tasks and sub-task to a particular person in the team as well as after tagging the person they will get notified in their inbox and makes team management easier.
Viewing the box:
It helps you to keep track of the members that what tasks they are assigned, how much they have completed and is loaded with pending tasks. Clickup can be used as a project management app too.
Gantt Chart:
You can drag and drop the tasks along with duration.
Kanban Board:
With this feature, you can drag and drop tasks in relevant columns. You can also customize the columns as well as arrange the tasks by Assignees, Priority, Tags, Status, and others
Sprints:
You can choose the first and last date of the sprints and also the number of sprints, the sprint lists will be created.
Agile Dashboards:
Here you can customize the dashboard via widgets like Burnup charts, Burndown Charts, Velocity Charts, etc.

Annotations:
You can easily add up the comments on images and PDFs by simply clicking on the place where you want to add.
Pulse:
The feature will help you to know that how much time your team member is spending on work.
Documents:
ClickUp helps the user to create documents for reports, marketing plans, and even more. This will all be stored in one place in ClickUp. Even you can collaborate with team members in editing Google Docs. This feature makes team management easier.
Recurring Tasks:
You can create a recurring task for making payments. Once you close the task, then another one will automatically be generated and scheduled.
User Interface:
Since it has lots of features available it may appear quite complex to beginners but at the same time, it is the best software required in business and other task management. Clickup is also considered as one of the best project management app. In ClickUp it is very important to understand the hierarchy which basically starts as Workspace > Space > Folder > List > Task > Subtasks > Checklists. You can customize your workspace by adding color, icons, avatar, the status of the task, default settings of vows. After that, you will be able to see your workspace where you can add tasks, subtasks, checklists, set due dates, and others.
Pros:
It is a versatile software to use.
Customization is the prime advantage.
The managers can easily assign the task to a number of members at the same time
The dashboard provides an agile view for SCRUM methodology
The software keeps updating itself which makes it more useful.
You can easily communicate with the team members
Availability of flexible views
The automation and schedule of recurring tasks is designed well
It is easy to assign tasks.
Cons:
It may seem to be a bit complex to the new user since it has a lot of features
It takes time to get accustomed to the software.
Lack of pop up notifications
The time tracking feature is not so perfect to use.
ClickUp alternatives:
Airtable can be considered as a good alternative to ClickUp. It is best for small businesses and teams under big organizations.
Features:
Powerful integrations are available
Inspiring templates available
Brand and Budget Management
The client portal is also present
Backup and Recovery
Pricing:
Free Version
Plus Version: $10 per seat per month
Pro Version: $20 per seat per month
Enterprise: Contact salesman
Monday.com can be considered as one of the best alternatives for ClickUp. It is used worldwide by numerous industries for Team Management.
Feature:
Customizable templates
Tracks down milestone
Agile Methodologies
Budget management
Expense Tracking
Integration with existing tools
Visualize map, calendar, timeline, kanban, and others
24×7 Customer Support
Pricing:
$29 per month with a free trial
The free version of the software is also available
Trello is made best for team works and it is infinitely flexible. It can be used by companies of all sizes. The supporting platforms are Windows, Mac, Android, iPhone, iPad.
Features:
Tello is available as a Chrome extension
Keyboard shortcuts are also present there for adding new cards, accessing the boards, viewing the cards, and many more
Advanced Checklists are available there for aligning the teams
Automation for building better workflow
Pricing:
Free
Business Class: $10
Enterprise: Contact salesman
It is one of the top project management application software which can streamline, centralize, modernize work operations. It is available for Mac, Windows, iOS, and Android.
Features:
Real-time collaboration
Time tracking
Availability of Gantt chart
A discussion portal is available for sharing ideas
Centralized docs and files
Pricing:
Starter Plan: $39
Pro Plan: $79
Business Plan: $124
Enterprise Plan: contact salesman
Unique Selling Point:
It has many unique features that make it more selectable than other software. It often becomes difficult to keep track of the tasks done by several members. The features which make the Clickup unique are:
Box View: This allows the managers to see who is working on what projects, who is over; loaded with tasks, and who requires more tasks.
Integrations: It has a long list of external integration.
Task Tray: It allows you to minimize the task in the tray so that you can visit back again easily.
Slash Command: With the use of "/" you can get access to all the keyboard shortcuts.
Use Cases:
Development
Marketing
Project Management
Finance
Education
Design
Event Planning
Health Care
Human Resource
Law
Non-profit
Business operations
Personal project
Media
Resource Management
Website Management
Product Management
CRM Construction
ClickUp Pricing:
Free Version
Unlimited Version: $5 per member per month
Features in Free Version:
100 MB storage
Unlimited tasks
Unlimited members
Two – Factor authentication
Features in Pro Version:
Unlimited storage
Unlimited list, board, and calendar views
Unlimited integration
Unlimited dashboards
Guests and Permission
Goals, portfolios, and custom fields
Can it be used for an infinite number of use cases?
If you want to use it for infinite cases then you can buy an affordable plan named Unlimited plan. It costs around $5 per month. After that, you can work unstoppable.
Is ClickUp really free?
Yes, ClickUp does offer a free plan with no time limit, offering unlimited projects and unlimited users.
Is ClickUp safe?
Yes, ClickUp is a safe project management tool. In fact, All ClickUp web application communications are encrypted over 256 bit SSL, which cannot be viewed by a third party and is the same level of encryption used by banks and financial institutions.
Verdict:

UI Ratings: 9.5/10
Features: 10/10
Pricing: 9.8/10
ClickUp is an all-in-one productive app and can help you in various activities such as Business Management, Team Management and many more. It is also a great project management app. We listed many features of Clickup. We hope the information was useful to you. Let us know in the comment section.