Remember what a fascinating childhood memory is was to highlight text in our notebooks with those florescent coloured markers? It used to be an important practice to ensure that the critical facts aren't left out and you can reach them out later. But now as we are technologically advancing and everything is going on the web the practice of highlighting text is also becoming significant. People highlight text to emphasize specific lines over a web page to later use it according to their needs.
So here I'm going to analyze three popular online highlighting tools (based on their Chrome extensions).
Let's find out the best one to highlight text on the web.
HIGHLY
MAIN FEATURES
Ensures a beautifully designed "highlight" experience
Showcases a beautifully designed "sharing" experience
Easily manages your highlighted text
Manages an easy to follow social network as apart from your own, you can even track other users to note their highlights
Quick access to various options right on the page of highlight made.
View highlights made by other users on the same page.
Pocket app integration showing your "read-it-later" articles and pages.
Has an application available for both iPhone and iPad users
Lets you conveniently explain the specifically highlighted points
USAGE
Highly is such a tool that it provides most of the required options right on the page of your highlighted text. Just press "Shift+1" and the highlighter shows up. You also get access to its taskbar for sharing the highlight, checking the summary and finding what part of the page your highlight is. You can also take note of the shortcuts mentioned on the same taskbar.

Highlights made by other users can also be seen clearly on the same bar. The "Summary" option is to only read the highlighted text as one. You get a quick share option when you make a highlight. Re-highlighting text highlighted by someone else is also an available option. All the highlights show up in your feed.

Highly has a "pocket" integration that shows you all your saved pages and articles under the section "Reading List." Just open the link from here and read it, nothing else is required.
SHAREABILITY
Highly does this task really beautifully. I give it full marks for its sharing ability as well as its presentation. Sharing can be done promptly with the available shortcuts and buttons on the page.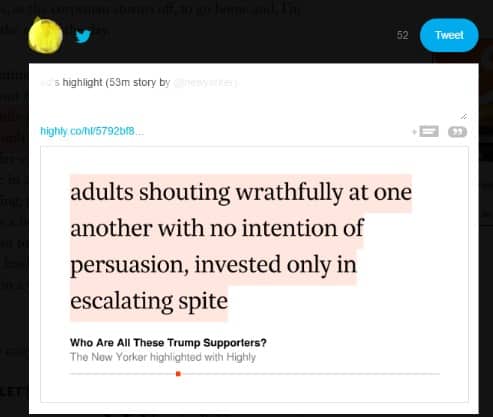 LINER
MAIN FEATURES
More of a personal highlighting tool
Easy to collect and organize your highlight text
The Organisation takes place into separate folders
Share your highlights on other social media channels with a short link
You can make your highlights go private or make them public by default
Easily add comments to the highlights
You can also let the other users discover your highlights
Also, search for other highlights
Allows PDF highlighting
Has an iOS app on the Apple Store
It has good with customization options
Pocket, Instapaper and Evernote app integration
Also Read: List Of All Harry Potter Fonts – Free Download
USAGE
Just make use of the tilde sign " ~ " on your keyboard and the highlighter shows up. You can add colour after highlighting the text and also comment on it which actually requires you to purchase some in-app coins.

For sharing your highlight text, you will have to go to your Account's collection page & share from there via a shortened link. Unlike Highly, Liner has no social networking aspect. You won't be able to access any highlights made by others on the same page. However, under the discover section, you can find all the publicly accessible highlights which can be added to your collection.
Being able to organize highlights in "Folders" is a new option which needs to be unlocked through attaining some in-app coins at a certain cost. But you can also check out those highlights from the chrome extension icon.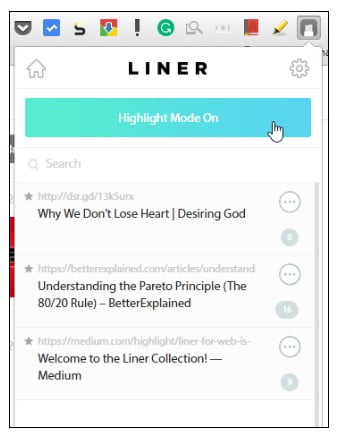 SHAREABILITY
Here it's nothing fancy. The liner highlight chrome extension provides only a shortened link to share.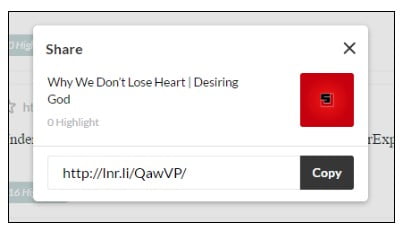 MARKER
MAIN FEATURES
Has a large user base
Simplistic and minimalistic design
Is a straightforward highlighting tool
Adds a tag to your highlight
Created solely to highlight text on the web
Existed even before Highly & Liner
Quick sharing for Twitter and Facebook
HIghlight-save-share is the ultimate purpose
USAGE
Marker is seriously a very straightforward tool. It lets you simply highlight, save and share the highlight to the social media networks. While highlighting your text, this tool gives you enough options on the page itself so you don't have to wander aimlessly.

All the options simply pop upright on the page the moment you make a highlight and even the sharing option is right there while you select the text.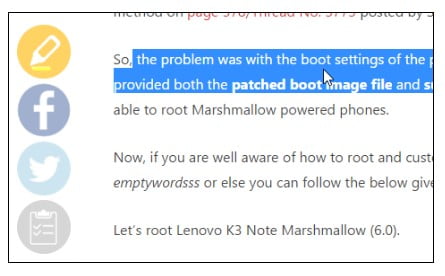 SHAREABILITY
Marker chrome extension to sets up sharing options for us.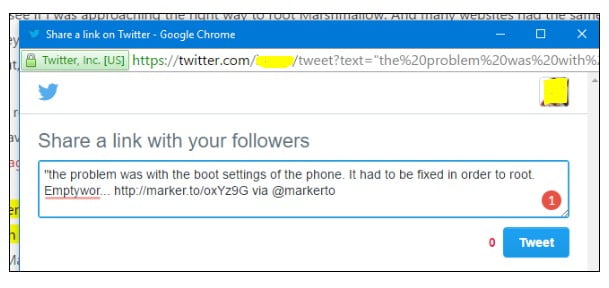 THE BEST ONE?
I really like the social networking approach by Highly but found it hard to privatize my highlight (no such option). Liner provided an organized and collective approach with folders & integration service. But the sad part, these come at a cost. A marker is a simple tool but you can find all your highlights only at your account page.
Highly would be preferable if you work with like-minded friends who appreciate what you read & share. You will love using Liner if you desire a more personal and organized space. But when it comes to simplicity, Marker makes its mark.
But for me, Liner worked best. Do let us know what you feel about the three or if you know about any other such tools.