Long before the mobile revolution, the 'Recycle Bin', 'My Computer', 'Internet Explorer' etc. were the most famous icons we all knew about. Icons will be same/like that of a logo which helps us to identify apps on our mobile, iPad, computer etc. Ever since the touch displays came into existence, almost every text representing an action or object has been replaced by corresponding icons. The emoji are completely different from what we are talking about but, can be considered as icons which represent emotions. Once icons got widely accepted, people started putting creativity in developing more and more icons and, making the existing ones look even more attractive. The material design, flat design icons are example for this. Personally, the UI is very important for me especially the design elements. In a smartphone, the look and feel of an app icon makes a huge different in the overall UI. Today, I am going to share with you list of sites where you can search and download icons for your use.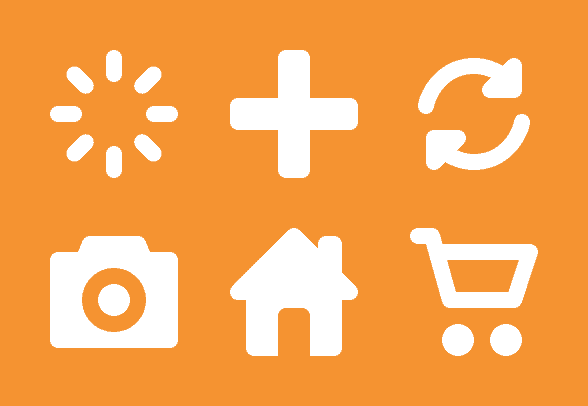 Best Sites to Search and Download Icons
Fontello
Starting off the list by Fontello, a platform to generate icon fonts for free. Fontello contains a huge number of icons, in different categories, to download. Since it is an open source project, all the icons are free of cost. Using the size slider at the top, the icon size can be varied from 12px to 30px.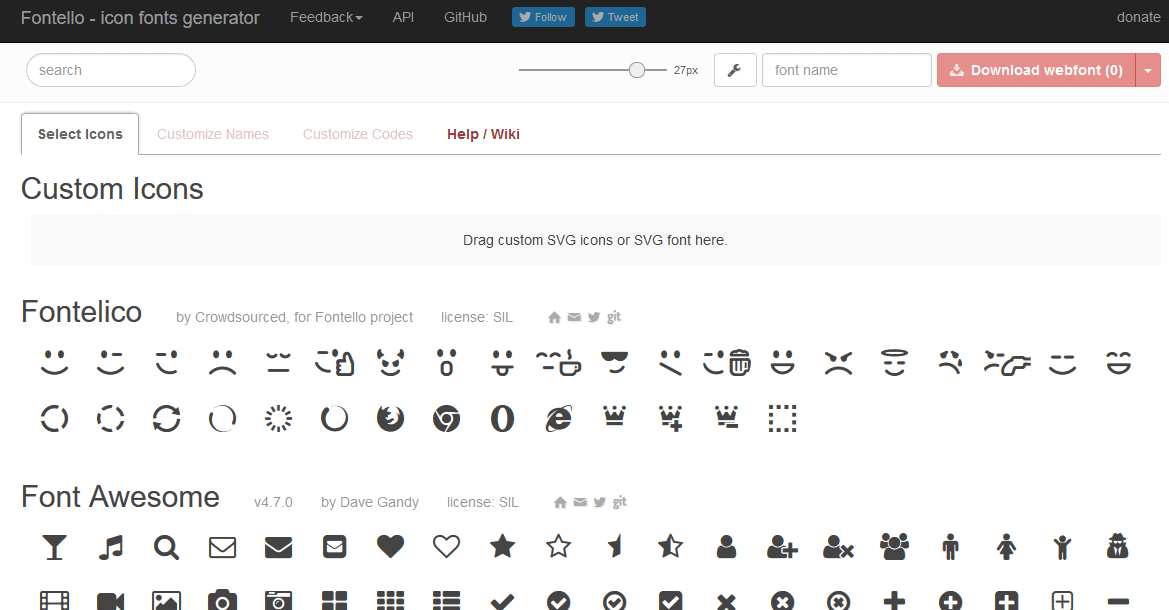 Though the icons are free of cost to download, it will be a good practice to credit the creators by donating or by giving proper credits on your website in an unobtrusive way. The interface is neat and clean. Select the icons you want to download, multiple selections are allowed, and just click download button at the top right corner. The site is very easy to use and that's why it is one of the best site to download icons.
Flat Icon
Moving forward, if your requirement is business purpose then FlatIcon is one of the best website to download icons. With more than 525,000 icons, FlatIcon comes with a convenient search for both individual icons and icon packs. The website offers more than 407,500 free icons for both personal & commercial use. All the icons are available in SVG or EPS vector, PNG, PSD files and Icon Font.

While more than 525,000 icons are available for both free and premium users, the former must provide attribution of the icon author on the website footer. Also, the premium users get unlimited downloads, full use of macOS App, and an ad free website. The premium packaging starts at $9.99/month.
Material Design Icons
Hosted in GitHub as an open source project, the Material Design Icons by Google is where you can find icons for app development and download icons for free. The icons are useful in developing icons for web, android and iOS. The Material Design icons can be downloaded as a package and then use it at your convenience. Also, if you visit the official google website material.io you can browse and download as individual icons.

The icons are mainly categorized into three; action, device and common images.  Hi-dpi versions of all icons (hdpi, mdpi, xhdpi, xxhdpi, xxxhdpi) (PNG) are available for downloading.
Endless Icons
With more than half a million downloads, Endless Icons is one of the best place to download icons. The site contains a lot of icons, in every category, from which you can search and download. You can download icons individually or as a set. The file formats available are; SVG and PNG.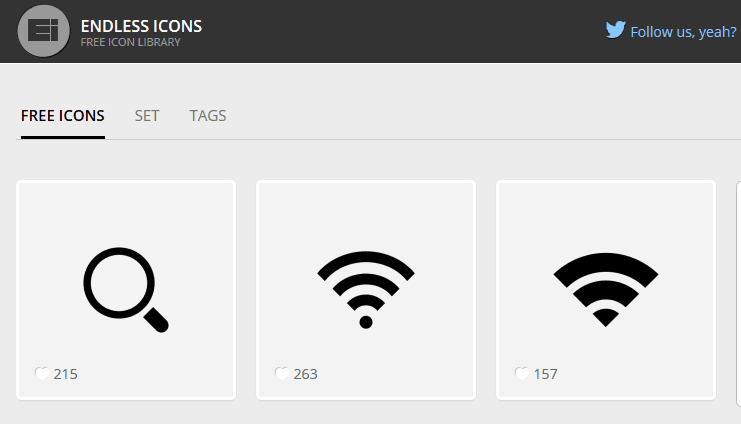 Ico Moon
IcoMoon is a great platform to search and download icons. There are more than 5500 free vector icons, an icon font generator, an option to import SVG and then make fonts out of it, convert to SVG, PDF, Polymer, XAML, CSH and a basic glyph editor.

Interestingly, the IcoMoon provides cloud storage, SSL Links, unlimited font and SVG hosting etc. as part of their premium package. The basic plan starts at $9 for 30 days and the unlimited plan is available for $19 for 30 days.
The Noun Project
With over a million icons, curated by a global community of artists, TheNounProject comes with a tagline "icons for everything". Type in the name of the object you want the icon and the platform will return it for you. With all the 1 million icons made royalty-free, this is one of the best platform to download icons.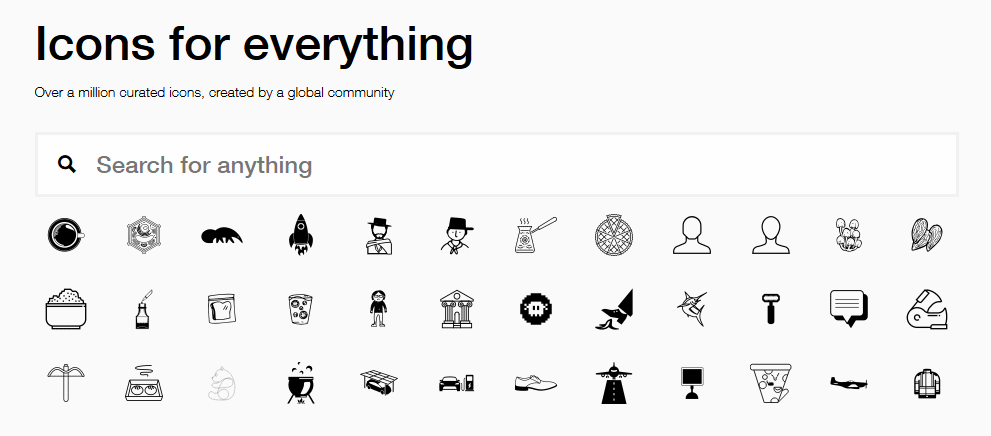 The Noun project app is available for Mac, Adobe CC and Microsoft Office. The option to change colors using the color picker adds a great touch to the overall platform. This is one of my favourite sites to download icons.
Perfect Icons:
We all use Social Media sharing options and have you ever thought about the way they look? With a proper customization, these app icons can be made more attractive and in par with the rest of the UI. This will make the users click on these icons and share your content with their friends. The Perfect Icons is a place where you can create resolution independent social icons.

By default, the tool comes preloaded with Twitter, Facebook, Google+, Pinterest, LinkedIn and RSS. You can add more social media profile and make customizations to it. You can adjust the size, radius, spacing, button color and icon color. Once you are done with customizations, you can download the zip file, upload it to web directory, add a CSS code to the stylesheet and then use the HTML code snipped where ever you want the icons to be shown. The service is completely free.
Icon Finder
The IconFinder hosts one of the biggest collection of icons. With almost 2 million icons to use, this platform is one of the best sites where you can download icons for free and paid. Icons comes in SVG, PNG and IconJar formats. The starter package, $19/month, allows you to download 50 icons per month. The unlimited package, $49/month, let you download unlimited icons/month.

If you are planning to use the free icons at IconFinder, I would suggest you to use other sites for the same. The free icons by IconFinder seems dull and old.
IconSweets and IconSweets2
IconSweets offers 60 free vector photoshop icons to use both in iPhone and iPad app development. The service is entirely free for use. The IconSweets2, a paid platform, offers more than 1000+ icons which is perfect for iPad, iPhone, Android and web developments. All icons come in 3 sizes; 16×16, 32×32 and 64×64. Since the shapes are of .csh format, you can touch up without losing the quality. The site also provides free .psd version of entire icon collection.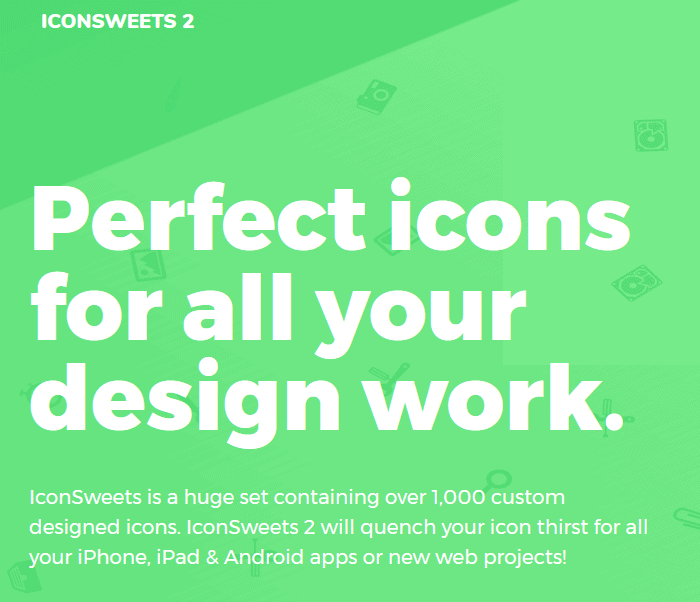 For just $10, you can download the entire 1000+ icons. This is one of the best site to download icons if you are on a budget constraint project.
ApplyPixels
If you are into UI designing, I am sure you are familiar with the AppIconTemplate site. Well, the developer has moved the site to a new platform called ApplyPixels. The ApplyPixels provides you with industry standard design tools which includes icons, favicons, emoji's, UI kits, screenshots etc.

Some of the contents are free to use while others come with a subscription. The monthly subscription is $9 and $60 for a yearly subscription.
SmartIcons:
The SmartIcons is a simplified version of the big players in the list. There are just 5000+ icons for paid users and 800 icons for free usage. The platform offers you dropbox support to sync your work. You can do more styling using CSS, all the icons are scalable without losing the quality.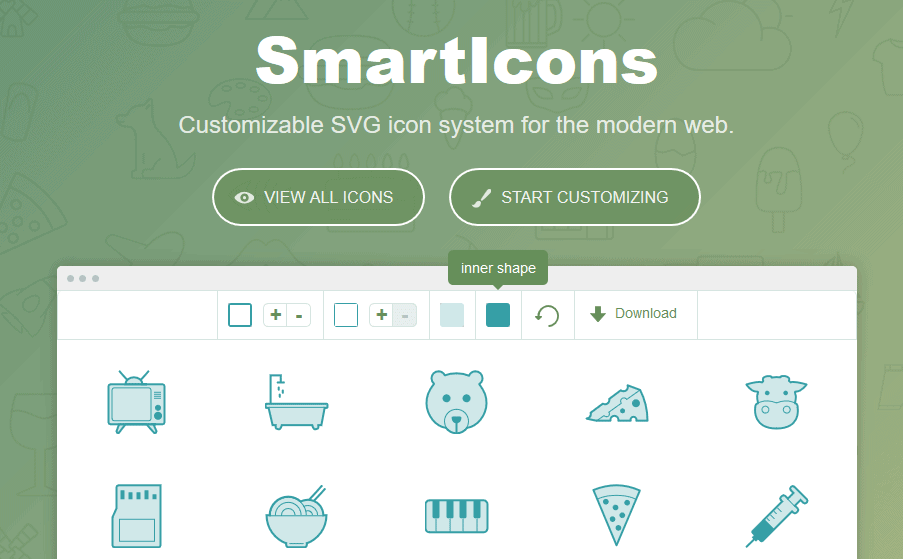 The Smart Icons offers both web and desktop app. The Mac App works with sketch, Photoshop, illustrator and keynote. The free plan only has 800+ icons, at $49, you get access to more than 5600 icons, option to sync with Dropbox. The lifetime membership will cost you $149 and offers infinite number of icons.