Spheric is one social app that aims to revolutionize the way people meet and network, and even connect with each other. This app is aspiring big, just as relationships are working well for Facebook in terms of content, Amazon is gelling well with products, and Google builds an algorithm to gauge interests, career and even your life routine. Existing networks are helping people to connect people they know already. But what if the new app can suggest the right people that you should be knowing!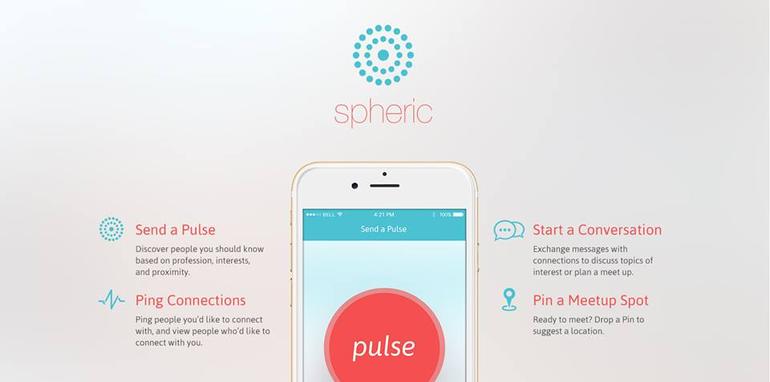 Connect with People you Should Know with Spheric
Spheric is based on a proprietary algorithm developed by the makers called the SphereRank. There are varied attributes to this app that helps in assessing proximity, common connections, job location, industry, interests including professional and personal, and even some keen insight into how another user can help you out thus making meaningful connections.
With the Pulse, one can instantly find different people who are valuable to your professional network and you can share a drink with them. If you are attending a conference, you can send a Pulse and connect with relevant makers and professionals attending the same conference. This Spheric app can curate matches, but the connect needs to be completely made by you.
The Story of Spheric
Spheric Founder and CEO Jeremy Heilpern was on a business flight to Atlanta when it occurred to him that since most people check emails, and are generally busy during trips, not many of them engage in conversations with nearby passengers. The germ of the idea sprang up when he thought about how people ignore other people when they are in a restaurant, airport, or even at a conference. People never have a clue what would be the direct impact or effect of a person on their lives, especially on a professional basis. This line of thought gave birth to Spheric. One can utilize the app to know who is nearby at any given time, one can know in depth about them and even send in a request to connect on the go.
Jeremy got his friends Chris Davis and Jessica Mogus to work on the app and to realize his vision. Their cumulative ideas have resulted in a brilliant app Spheric which is doing something that no other app does as effectively.
The Four-Way Process with Spheric
Find people whom you should know based on your profession and career interests along with proximity to your location.
Ping people who you think you should connect with, and alternatively connect with people who are interested in connecting with you.
Start a Worthwhile Conversation
Have a conversation with the connections messaging them about topics of interest or plan meeting them.
If you are ready to meet, drop in a location-based pin to suggest a location or allow the other person to pin their meeting suggestion.
The Big Idea behind Spheric is Big Enough!
As mentioned earlier, this app can match up to the standards set by the biggest social networking platforms since all the others help people connect to other people whom they already know. Spheric will make your comprehensive profile to connect with people that you should know for business, your professional life and your artistic pursuits. One can quickly find the people who are nearby and helps you to discover more about them, establishing a connection that is rare and nearly impossible to bear fruit especially in today's fast world. What's more, it is quite difficult to form a connection with people who we do not know at all, and maybe can have a bigger impact in your life.
Spheric – the Unique Social App!
Spheric works on a proprietary algorithm that channelizes nearness of the person, common connections, location, field of expertise, professional interests, and the like
The app uses useful insights to ensure meaningful conversations and connections
Pulses from the app helps people to connect with movers and shakers that will help you if you know.
The app integrates with existing networks and pools information from the sites to match users based on interests, field of interest and expertise, location, and other factors.
The LinkedIn profile is aligned with the Spheric profile too.
Building relationships is one of the prime attributes of the app

–

it can push content, or sell products but none of the existing information can be used to make friends and business associates through social sites or apps.
Learning who you are is one of the fantastic attributes of the app, so that it can introduce you to other people and guide you. People who are open to making connections will find this app interesting and useful enough for forging their careers ahead.
The Spheric App is going to be launched this fall and one can request an invite too!
Author Bio
Keval Padia is a Founder & CEO of Nimblechapps. Being an avid gamer himself, he has converted many game ideas into reality. He is an iOS Game Developer, with acute knowledge of mobile game design and user experience design.