Gionee is one of the first Chinese smartphone manufacturer to enter the Indian market and I got to say they do a brilliant market research. The Marathon series, the Gionee Marathon M5 Plus with 5020mAh battery, focusing the customers who wants more power. The selfie series, Gionee S6 Pro with selfie flash, focusing the people who wants extra light to their selfies. Finally the flagship device Gionee A1, upping the game by releasing a powerful combination of Selfie and Battery device. The A1 is destined to carry super selfie camera and a lasting battery. I have been using Gionee A1 as my primary device for more than 1 week and I am ready with a comprehensive review. The Gionee A1 pros, the cons, whether it's a value for money deal, how the battery 'actually' works and more.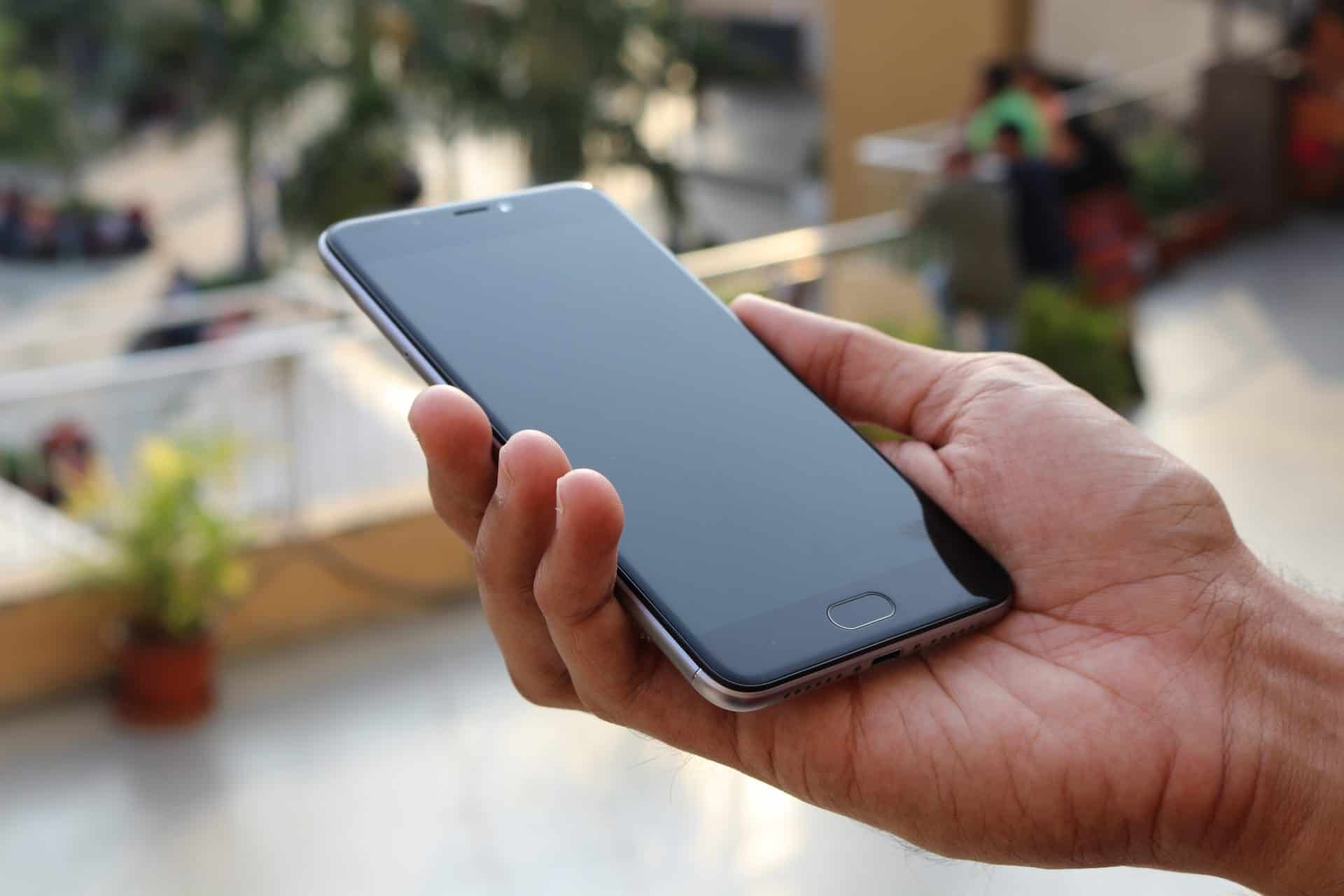 Gionee A1 Specs
Let me quickly walk you through the device specs first; Try to keep this in mind so that you can easily relate things with the text I have written.
5 inch FULL HD AMOLED display
Mediatek MT6755(Octa Core 2.0GHz) processor
4GB RAM
64GB internal storage which is further expandable up to 256GB
13MP Rear camera and 16MP front camera with flash.
4010 mAh battery
Fingerprint sensor
Android 7.0 Nougat
3mm thick and weights 183g
What is in the Box
Gionee A1, the device
Silicon case for the device
Ultrafast charger
USB cable
Earphones
SIM card ejection tool
Paperwork
First Impressions
If you keep the premium looks and the great built quality aside for a while, weighing at 183g, the device feels a bit heavy. There is a beautiful, but deceiving, mirror finished Gionee logo on the back side of the device the metal ring made me mistake it for the fingerprint scanner. There is a physical home button into which they have incorporated the scanner, a perfect amalgam of tradition and modern technology. Why emphasis on tradition? When most of the smartphone manufacturers these days make the home button touch sensitive or replacing it with on-screen navigation buttons, in Gionee A1 you are left only with a choice of actually pressing the button. Personally, I didn't like it. I wish they at least had an option to turn on the on-screen navigation button under settings or they could have placed the fingerprint scanner along with the logo.
First Boot
Like any other android smartphone, the first boot started with selecting language, connecting to WiFi, logging into Google account, selecting the backup option and a little bit of Gionee stuff. There was an option to set up the Amigo Care account which basically take care of the phone warranty and stuff.
Did you know? The Gionne A1 comes with a 2 Year manufacturer warranty.
Design and Build quality
Though the Gionee A1 felt solid in hands, I was not that intrigued by the design as it is similar to most of the smartphones out there. The aircraft grade metal body reassures high build quality and accentuates the overall look and feel. This, at the same time, made the device extremely slippery.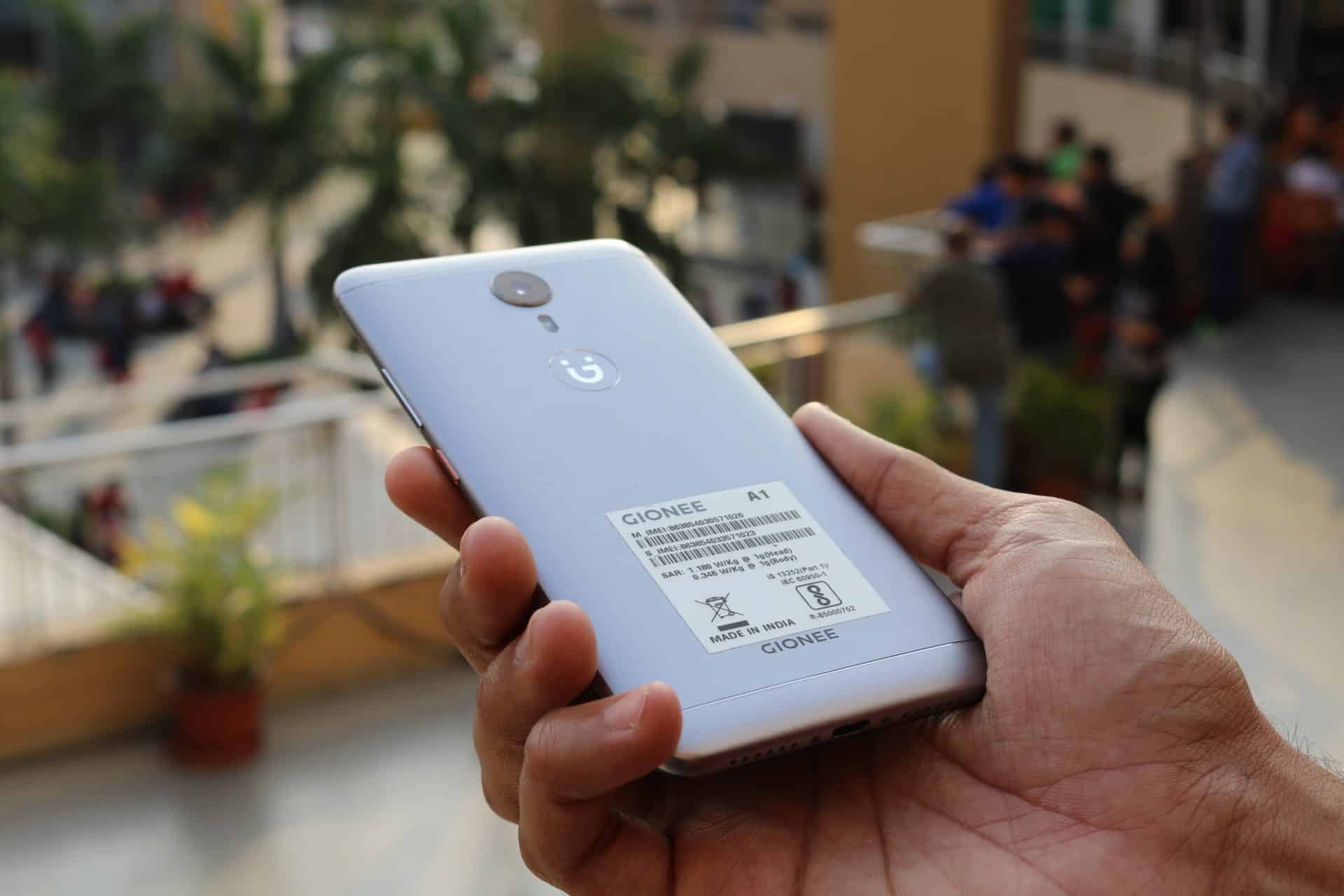 Dimensions
For those who are interested in numbers; Gionee A1 dimensions are 154.5*76.5*8.3mm, not a thin profile considering the latest trend in market. The colors available are Gray, Black and Gold.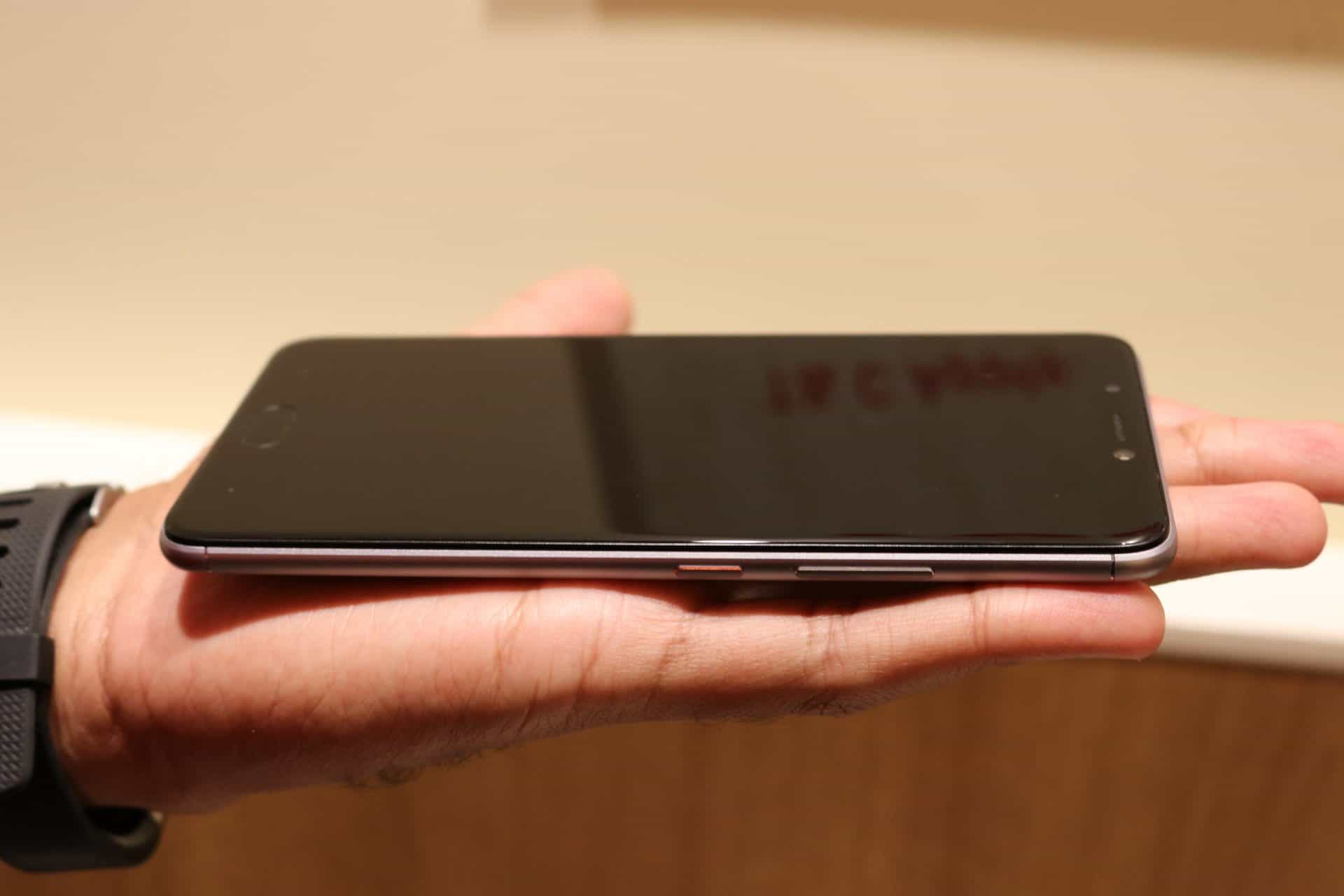 The edges of the device are contoured and the back is slightly cambered to give it a fluidic design. The single piece front glass panel may feel like curved on the edges but it's not, it is resting on top of a chassis which is further outlined with a black metal piece to give it a perfect finish. Again, these are very minor things to note down and is only visible if you observe closely.
Buttons
On the front, the fingerprint scanner and the physical home button. The non-illuminated capacitive touch buttons carry out the Back and Recent Apps functionalities. The functions of this can be configured in settings as per your convenience.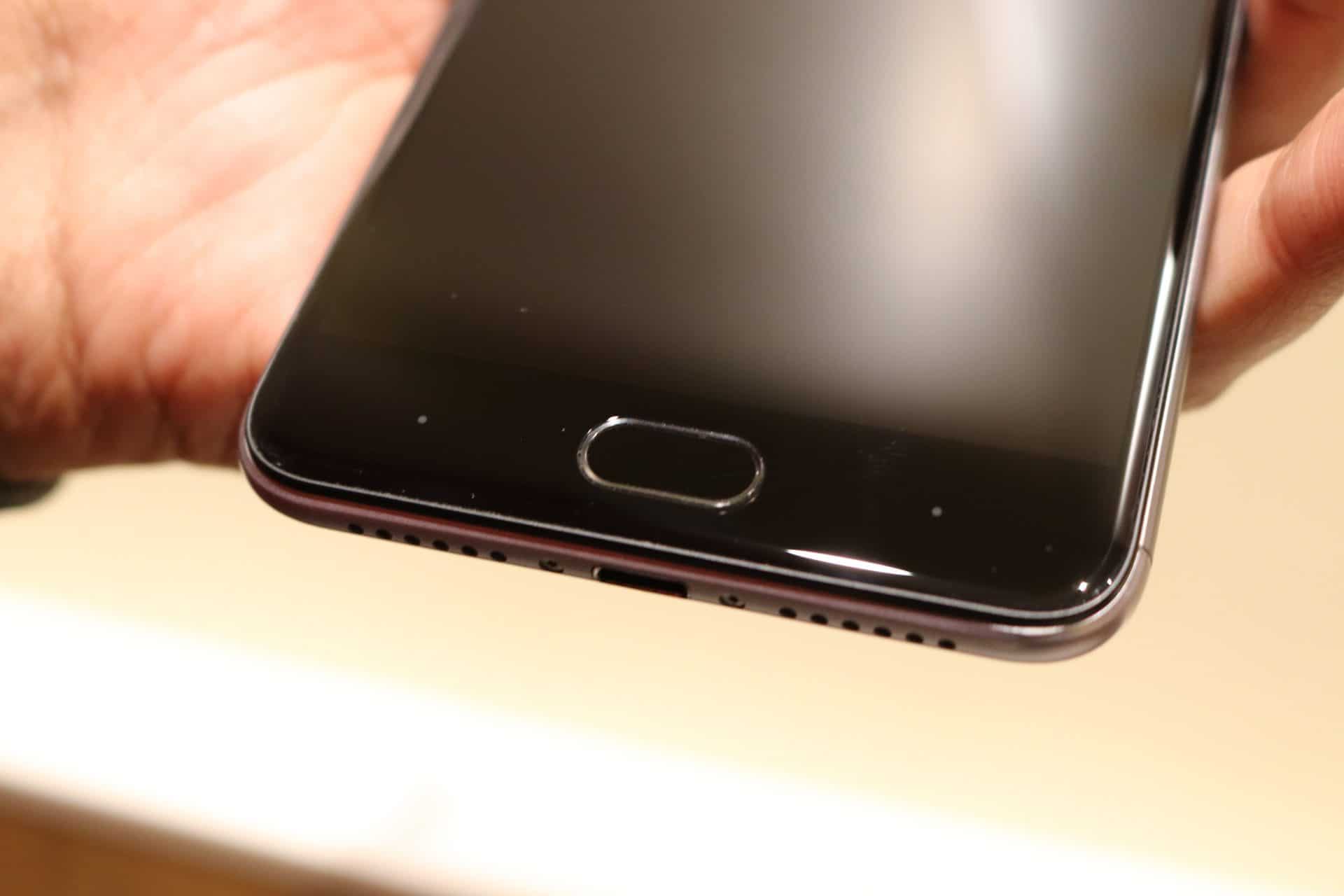 Left to the ear piece grill is the Selfie Flash, which automatically comes on detecting face during low light situations. Right to it is the Front Camera, 16MP Selfie Camera which delivers decent selfies. I will be covering more about camera features later in this article.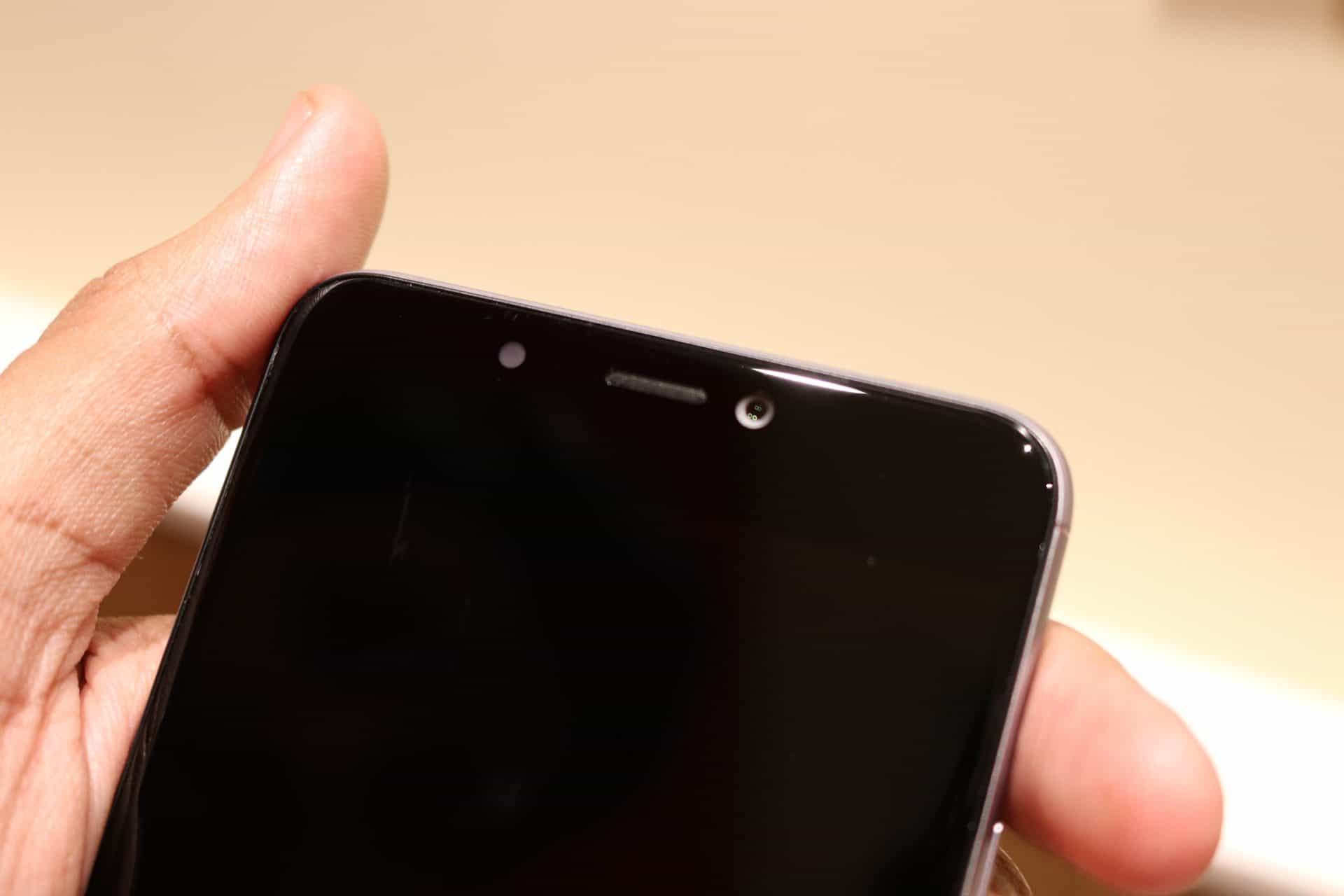 Left side is the SIM Card Slot, supports Nano and Micro SIM and microSD card, which can be accessed using the SIM card ejector tool comes along with the box. The 3.5mm headphone jack is on top of the device.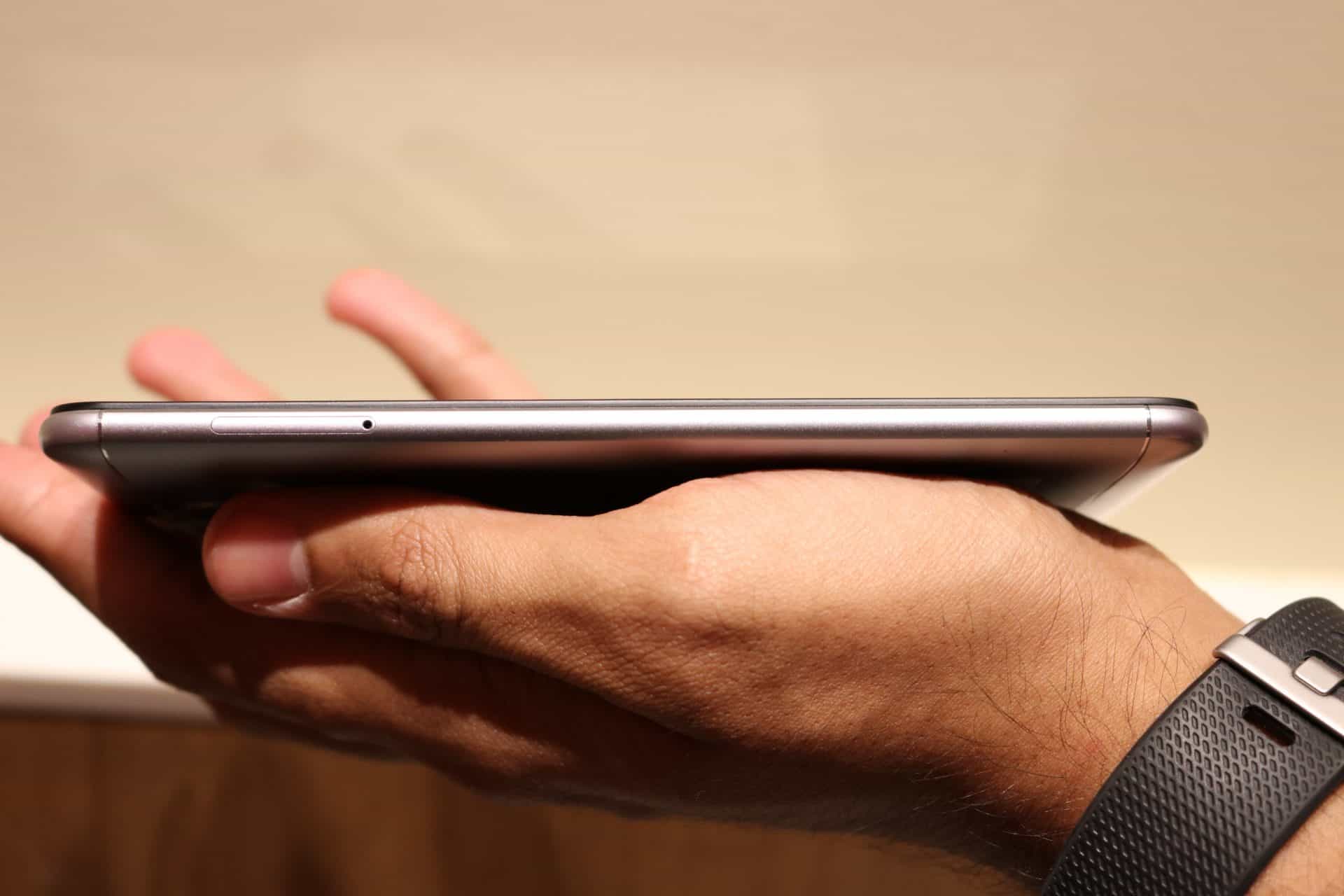 The speaker grill and the microUSB/Charging port is located on the bottom of the device. The speaker grill reminds me of the iPhones and it has a good audio quality. The back side of the device has a mirror finish Gionee logo, a metal ring around it.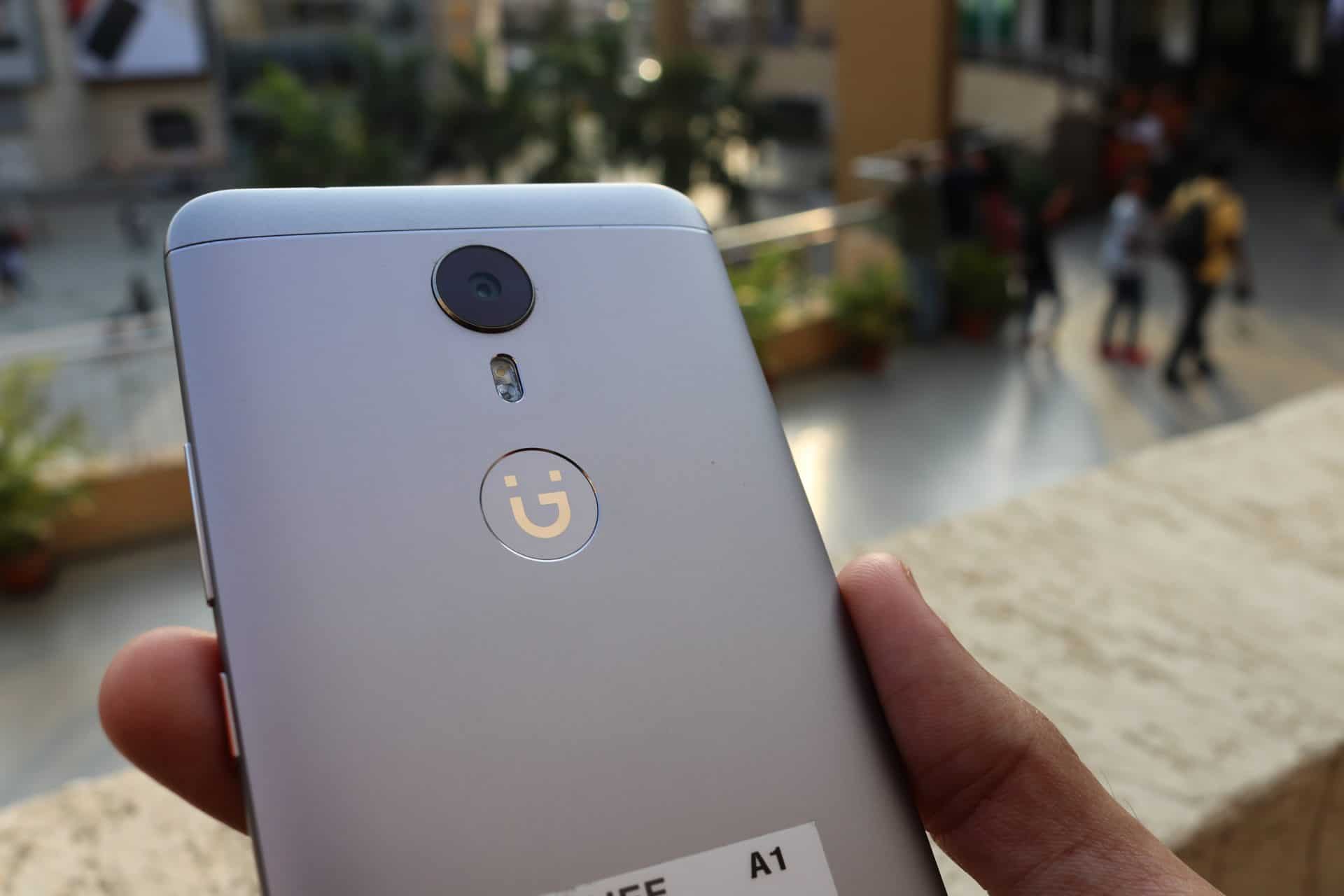 The 13MP Primary Camera has a slight bump, less conspicuous, and the phone won't shake if you try to type something by keeping it on table. The exposed Antenna bars on top and bottom of the device adds a silver lining over the design.
The home button could have been made touch sensitive rather than going all way back to physical button.

Call me dull-witted, the invisible Back button and Recent Apps button always confuses me. I would prefer the on-screen navigation bar even though it compromises the screen area.
Display
The display looks brilliant and does a great job in reproducing the colors. The AMOLED display is of resolution 1920*1080p (Full HD) its output can be controlled using the LCD Effect option under settings. You get to choose between Neutral, Cool Color and Warm Color. I prefer the neutral color for normal usage and the Cool Color will go easy with your eyes especially when you are planning to read something in your bed.
Apparently, the front flash light acts as an LED notification light on top to notify you for new messages or calls (you can configure it). The disappointing thing about this is, the LED light will blink at once, at the time of notification arrive, and it will never alert us for the same notification again. Wish there was an option to change this. Also, you will find it bit annoying or inappropriately bright in some situations. My suggestion is to just turn it on for Notifications but not definitely for the calls. If you keep it near your bed side during night the LED blinks, even if you are in silent mode, distracting your intension to sleep.
Software – AMIGO 4.0 UL
The software in this device is brilliant, inspired a lot from iOS especially, the main launcher, the smart notification, the control center menu and more. The AMIGO 4.0 UL is built on Android 7 Nougat.
Features
In its latest OTA update, the Gionee A1 offers support for 11 regional languages.
Smart Notifications is one of the best feature of the OS. It lets the app icons to show Unread notifications. This is useful as you don't have to turn on the app to see the new notifications and the notification count will stay as such even if you swipe it off from the notification bar.
Edge Bar, you can turn on edge bar feature under Settings->More Settings. Once it is configured, you have to place your finger on the home button and slide left or right. You can customize the list of apps/contacts that should be displayed on the bar. I tried adding apps, contacts and find it handy in many situations. In my testing, I could only add up to 6 apps/contacts.
Multitasking and Clear Memory: the device supports multitasking by opening multiple windows in split screen mode. To do this you can touch on the Recent Apps button on the navigation bar. One thing I miss out here is, the Close All apps option is replaced by Clear Memory button which clears apps that are consuming more memory in the background. Best part, you can select which all apps can run in the background even if you select the clean up option.
AMIGO 4.0 – Other Observations
Control Center: Swipe up from bottom of the screen to launch Control Center, you can find the options which are usually located in the notification drawer. Amigo OS designed the Notification Drawer like a clean slate which only shows notification and everything else goes to the Control Center. It will take some time to getting used to it but, I find the normal one more convenient.
The device also support smart gestures for easy access of Camera, Browser and Music. In my testing, I see that there are lot of bloatware which comes pre-loaded with the phone and most of them cannot be removed. I liked the Peel Remote, an app which turns your device into universal remote control for both TV and Digital Set top box. You can select your country, TV provider and you are ready to use your device as a remote.
The default browser is UC Browser but I am a Google Chrome fan and I never cared to use it. You cannot remove the apps which comes pre-loaded instead you can disable them so that it will remain silent in the background. The apps like Theme Park, Mood Wallpaper etc are of no use to me as I rarely play around with my wallpaper.
The Child Mode app can come handy if you want to hand your device to your children. You can set the apps that kids would like to access and that's all. Unless you enter your passcode or draw the security pattern the kids won't be able to go out of this mode. I bet this app will be very useful for parents who has stubborn babies who always cry for the phone.
Swift Keyboard comes pre-installed in fact, it is the default keyboard right from the beginning. I find the Google Keyboard much convenient and I changed to it in the initial days itself. You can always switch keyboards under the settings.
The fingerprint scanner is pretty quick and works almost every time. To unlock the phone DO NOT PRESS THE HOME BUTTON, just touch it. During my initial days with the phone I used to try press and unlock which failed every time. You can double touch an empty area of the screen to make the device go to sleep mode. Honestly, finding an empty area on the screen and double tapping is a lot of effort for me so, I prefer pressing the button to lock the screen. There is also a Glove Mode which lets you use the device while wearing a glove. As a biker, I find this feature useful as I can use my phone without removing the riding gloves.
Gionee has even added an app called AmiClone which lets you easily start using your new phone by transferring everything from your old device. Since I am a reviewer who needs to constantly switch between phones I find this app really useful and it worked really fast.
The one thing which most of you might not like is the absence of Menu Drawer. Trust me! You will get used to it and find it easier than the traditional design.
Camera
Camera in Gionee A1 doesn't require an introduction. As expected, the camera software packs a tone of features. The camera can operate in 5 different modes; Video, Face beauty, Photo, Panaroma and Smart scene. There is an option to add color filter to your camera output and it comes in 9 presets. The interface is simple and less cluttered. The camera modes can be switched back and forth by swiping across the screen, like iPhone.
Video mode: The device is capable of recording 1080p videos at 30fps and there is no 4K support. Sad! You can create slow motion and time lapse videos by using the options under the Smart scene menu.
Face beauty: This option is made for doing touch up to your face. The options under this mode are; Smoother, Whitener, Face slimming and Eye enlarger. This is one of the biggest highlight about camera option in this phone. No more complain about the chubby cheeks or small eyes.
Photo and Photo Panorama is for taking the usual photos and panoramic photos.
Smart scene is something you should explore.
Night – this mode is specially for night photography.
Professional – this mode lets you play with the Focus, Shutter Speed, White Balance and exposure.
Time-lapse – allows you to create Time-lapse videos with a delay of 600MS, 2S and 4S.
Slow motion – 2X slow motion vidoes
Text recognition is a good option to try and I loved it. I give it a try and the phone could decode almost 80% of the texts I have scanned. For this mode to work you should take perfect less blurry/shaky images.
GIF – I have never seen this option in any of the phone and I loved it. This option lets you create GIFs.
PicNot – allows you to click a picture, and crop/edit later
Smart scan – allows you to scan barcodes, QR code etc.
Mood photo – allows you to click pictures, then make a series of filters and write a message and save.
Card Scanner – works perfectly fine and directly help you save the information to contacts.
Translation – is useful. You can scan work or a whole paragraph and convert It to any languages. It worked perfect for me.
Front Camera
Let's start with the front camera since this is a selfie centric smartphone. The Gionee A1 Features a 16MP front facing camera with flash for the selfie enthusiasts. Though the image quality was not the best considering the fact it has been tagged as Selfistaan Hamaara but, it does come with a lot of features that can be applied while clicking the picture.
When the flash light is set in Auto mode the device will automatically, during low light conditions, detect the face and turns on the flash. When OPPO and ViVo are already in the market with dual selfie camera I don't think the A1 can deliver best shots in this segment. On the latest OTA update for Gionee A1, the device also got the Bokeh selfie option which will make the background of your selfie blurred creating DSLR like images.
Main Camera
The main camera is 13MP AF F2.0 SONY IMX 258, offers good photos and it has lot of features. The shutter lag is almost negligible but you do feel it often. The biggest disadvantage I have found with the camera is that it won't support continuous autofocus during video recording. I am person who like to take videos for my vlogs. To focus my subject during a video shoot I must manually touch the objects to get the focus right at them.
Performance
Powered by the MediaTek Helio P10 SoC, comparable with the Snapdragon 600series, paired with 4GB of RAM, Gionee A1 offers only mid-level performance. I have tried opening multiple apps at a time and switching back and forth, there is a lag in catching up. The performance is bit low considering the price point.
Gaming
The device comes pre-loaded with Games like Asphalt Nitro, Bubble Bash 3, Danger Dash and Real Football. Out of this only Asphalt Nitro is free and rest are all paid games. You will get 2 minutes of gameplay and after that you need pay for it.
Bubble Bash 3, Danger Dash and Real Football doesn't even worth trying. There are a lot alternate free games available in place of this paid ones.
I loved the Asphalt Nitro and I played it for continuous 1 hour to test the performance, how the battery is holding up with full brightness and speaker sound is ON. More about that on the Battery review down below.
There was a bit of a lag during game play but most of the time it was smooth. The performance of this device is mid-level. If you are planning for high end gaming, video recording for a long time then the device won't hold up. The phone was heating up after a while of game play, this is obvious since it has got a metal body.
Battery Performance
I have tested the 4100mAh battery of Gionee A1 over all sorts of usage and the results are great. For a moderate user, the battery will easily hold up for 2.5 days and for heavy user, full time on 4G network and Wi-Fi overnight, it lasted me more than 24hrs straight before hitting the 15% battery mode.
Charging Time
Charging time from 0% to 100% Charge
10:39 AM – Battery completely drained
10:40 AM – Connected using Ultrafast charger
11:05 AM – 30%
11:20 AM – 50% – (Took 40 minutes to reach 50% charge)
11:55 AM – 90% – (Took 1 hr 15 mins for 90% charge)
12:20 PM – 99%
12:35 PM – 100%
For some reason, charging the phone from 99% to 100% along takes more than 12mins.
Charging From 15% to 100% Charge
12:26PM – 15%
12:52% – 50%
13:06 – 70%
13:43 – 99%
14:09 – 100%
Battery Usage
Music Streaming on 4G
At 2:30 PM – 100% Charge
3:30 PM – 95%
4:30 PM – 91%
The hourly discharge rate is almost 4-4.5%. This is when the screen is turned off and was streaming music over 4G.
Game Test with full brightness and full speaker volume
At 12:10 PM – 35% Charge
12:50 PM – 15%
In 40 Minutes 20% of the battery is used. Remember, this was while playing high graphics game.

For a heavy user like me, I find the battery reliable and I would 100% recommend this phone if you are looking for a battery beast.
Battery modes
Normal, Power saving and Extreme mode.
In Extreme mode, only phone, contacts, messaging and clock can be accessed. I loved this mode and I believe this will be of great use when you are on a camping/trekking trip where charging the device is not easy.
Connectivity
The device supports all forms of connectivity options like;
TDD/FDD/WCDMA/GSM/VoLTE
Dual SIM dual standby ?Hybrid slot?
Wi-Fi 802.11 a/b/g/n?4G+5G?
Bluetooth 4.0
Micro USB (OTG support)
GPS
In my testing, I find the device facing some issues with Internet connectivity. I have heard the same mentioned by the digit review. Sometimes though the device is connected to Wi-Fi and shows speed on the task bar, the internet won't work properly. I am not sure whether it is because of this handset or issue with any app.
Conclusion
The Chinese smartphone manufacturer with the launch of Gionee A1 is trying to find a new marketplace where OPPO and VIVO is already ruling the selfie industry. I would consider this phone as indented for a market study by the company so that they will be releasing an updated version learning from the mistakes and things they could have improved.
The price tag of 19,999 completely seems out of context for a mid-range performer. The AMOLED display is brilliant and I loved it. The performance I am not happy with. The camera is not top notch when compared to the dual selfie camera by VIVO V5 and OPPO F3. The design is great but its heavy, may be because of the larger battery. There is no heating issue even though it is a metal body device. The UI is wonderful but wish there was an option to turn on the on-screen navigation bar and enable the menu launcher. For Gionee A1 to be a value for money deal I would like the price tag to be placed well around 15000 and not a penny more than that. The camera modes are impressive and feature rich. At the end of the day, if you are looking for a great selfie camera with flash and enough battery power to compensate the selfie madness Gionee A1 is a perfect companion for you.
Pros:
Battery
16MP selfie camera with flash
Brilliant display
Camera features
Cons
Average performance
UI is not for everyone
Heavy
Extremely slippery without phone case
Home button needs workaround
No continuous autofocus for video recording