The MacBook Air including its price was left untouched by Apple over the years. In the year of 2016 the 11- inch model did disappear from the market and a lot of people has been looking to buy a starter laptop from Apple at a price tag of $999 and more which is actually a very tough sale according to the very old architecture and design of it! But you can get it at a good value before time goes up! Ming-Chi Kuo, the KGI analyst, claims that a new version of MacBook Air will be released this spring. Undoubtedly this news is very much true as he has the most solid track records for Apple rumours and leaks.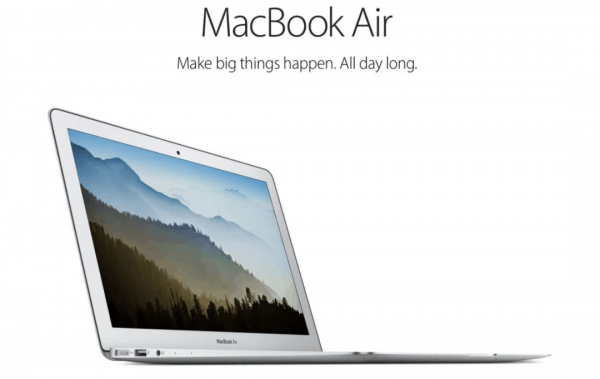 Details and specifications
The specifications and details are not known that much at the present time, but '9to5Mac' gave a very sketchy overview of it from the "Digitimes". This does not particularly mean that the design of the MacBook Air will be redesigned by Apple. It is being speculated that in June 2017 Apple will be including a number of modest specification jolts using the same version of the older processor. There are also a number of reasons for which Apple have to implement more considerable upgrades this year.
And the questions arise!
There is no choice left for Apple for not upgrading the older processor into a more modern and fast one and this happened due to the ' Meltdown and Spectre vulnerabilities'. Also, the question arises about the ports that are being included into the laptop as a huge number of people still use USB-A cables and as it is very tough to watch that Apple is keeping the adapters on laptops for a very long time when the 15 inch MacBook and MacBook Pro uses USB C exclusively!
Another huge question arises from the fact that whether or not, Apple will be able to move past the old Air's 1,440*900 display or not! This is a huge matter as newer laptops have displays of 1080 with more rich colours. Thus Apple can lose the competition without any question!
When Apple does offer a lower price for its new MacBook Air, whatever happens to the hardware of it, this will symbolize a gratitude that this laptop is very much important to cut from the queue.
A number of people speculate that the 12 inch Apple laptops will eventually take the place of MacBook Air. But due to the limited performance, lone port, and newer machine's high price, the throne of MacBook Air is still alive and moving! Apple does not want to leave MacBook Air and move on because it still leans toward it. This means that if Apple can make the MacBook Air more attractive and includes more specifications it will be enough to get buyers who would buy it at the kind price range. And the most important thing is that these buyers won't refuse to buy any other Mac portables.