A revolutionary television packed with cloud technology, user interface powered by Content Discovery Engine (CDE) and being the smartest smart device ever – CloudWalker Streaming Technologies launches its one of a kind "Cloud TV" offering limitless digital & direct entertainment access. Both the curved and flat television models offering 4K UHD/ Full HD resolution are exclusively made available for purchase at Flipkart (from 3rd March 2017 onwards).
CloudWalker launches Cloud TV for unlimited digital entertainment
CloudWalker not only offers you great features but reliability, ensured quality, best performance and affordable pricing. The technology startup aims at creating a digital ecosystem for the large format screens right through smart televisions or through converting the existing ones. Similarly, the smartest smart TV has been developed to curate digital content available over the internet on a "Free, Premium or Freemium basis". It helps discover android applications to be viewed over television. And the user interface also enables easy toggling between Live and Digital TV (streaming content side by side, thanks to the CDE feature). The entire process is hassle free not letting the customer go through several changing ports or other cumbersome menus.
You may also like to read: 10 Best Free Help Desk Support Software For Customer Care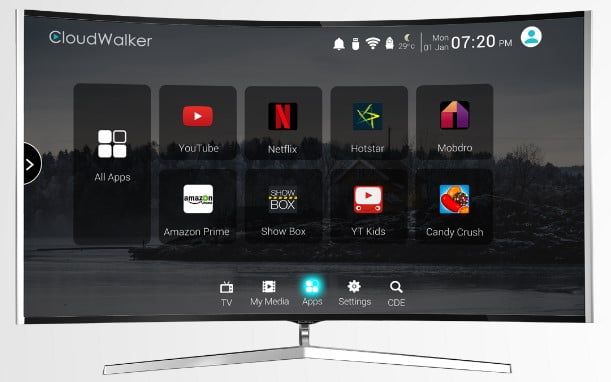 Users can easily enjoy the power of the internet on their TV screens accessing various content from over every possible category including movies, music, drama, documentaries, education, kids content and more. Cloud TV is definitely the simplest way to view unlimited entertainment over your television screen that too on your own terms!
CloudWalker Cloud TV Content Categories
Mr. Jagdish Rajpurohit, President of CloudWalker said at the launch:
" Working on the insight that broadcast linear TV content restricts a viewer's choice by offering limited content and has pushed viewers away from TV and seek entertainment on their PC / Tablets or phones. While on the other hand, the Internet today offers millions of hours of interesting & entertaining content of every type, genre and preference on Free or Paid basis which is not being discovered or made available to the viewer on television. Solving this issue of closing the gap between "what is shown v/s what is needed ", Cloud TV will give its viewers the possibility to have total control over the content they consume in terms of deciding what they want & when they want directly on their televisions for a better user experience while consuming their favourite content. "
One also gets to experience the super remote paired with Cloud TV for super control having an inbuilt Air mouse along with the IR function to smoothly navigate through all the functions of this television with just a flick of the wrist! Interesting! There also are multiple hotkeys for the user to access his/ her favourite function with a single press.
You may also like to read:  ZenFone 3s Max Review: 5000mAh battery, 2Tb storage and more
Being available in 24 inches to 65 inches CloudWalker's Cloud TV comes with an attractive design, aesthetically stunning sleek bezel, XLuminous display along with unmatched cinematic experience through Dolby Digital Sound. Functions are not only limited to these but also include the following – Airplay, Bluetooth, Dynamic Noise Reduction, PC Connectivity and Dual Band Wi-Fi etc. A user gets even better control with the additional CShare App that smartly connects their Android/ IOS devices to the televisions. This enables the user to play music, videos and/ or photographs from the mobile gallery over their television. Mirroring the phone to the TV or vice versa enables to use the phone as a remote or like an air mouse or like that of a wireless keyboard.
CloudWalker launches Cloud TV for unlimited digital entertainment at your own terms – FEATURES
Amitesh Jha, VP – Home, Flipkart, said at the launch:
" Smart TVs are one of the most popular categories on Flipkart. And the buyers in India are increasingly looking for immersive home entertainment solutions that offer a combination of superior technology, design and utility that too at competitive prices. With our exclusive brand partnerships, Flipkart is committed to bringing the best of consumer technology products to customers in India at affordable price points. We are certain that this partnership will be a big hit with customers, and will enable CloudWalker to reach its desired target audience across the length and breadth of India, with the assurance and reliability that is associated with Flipkart. "
CloudWalkers offer you with customer support all across the country along with after sales service & other warranty programs. The customers can avail 1-year additional warranty. And with Bajaj Finance/ credit cards, No cost EMI option for up to 9 months is valid too. Plus up to Rs. 20, 000/- off on the exchange of old televisions while purchasing the Cloud TV range can also be attained.