Windows desktops are very flexible in terms of personalising. It is easy to personalize your computer with the default options provided to the users. However, they are limited to changing backgrounds, the position of the taskbar, size of the shortcut icons etc. This helps you to change the appearance of your desktop to a limit. But, it might not be very satisfying.
Rainmeter Skins helps you to the overall appearance of the homepage of your desktop and kicks in some good style to it. It is more or less like a launcher. The rainmeter launcher provides you with a lot of options but it is very important that it doesn't use a lot of your resources. Here are some enlisted few of the best rainmeter launcher which you should try:
Please keep in mind: Before using these best Rainmeter Skins, you need to download and install Rainmeter on your Windows. This is compatible with all the versions of Windows be it Windows XP or Windows 10.
1.Tech – A Rainmeter Skin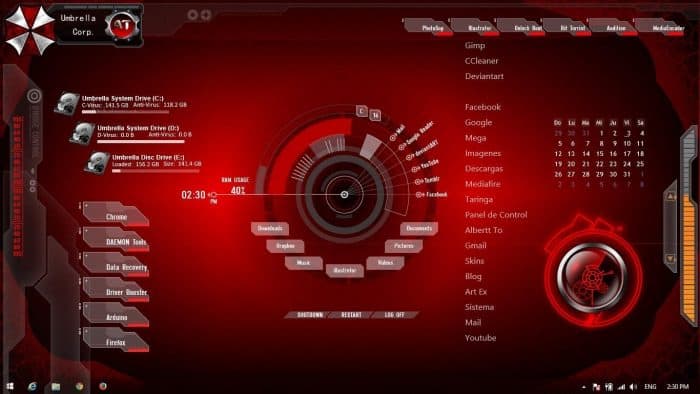 Tech – A Rainmeter Skin has a very advanced and techy look and considers as one of the best rainmeter skins. It has a compact design with some interesting features. This Rainmeter launcher displays the CPU usage, RAM usage of your desktop along with date and time. Adding to it, Tech – A provides you with shortcuts to the folders in the system like my documents and displays disk partition. All this is portrayed around a circular animated design which some motion in its path.
Download: Tech – A
IronMan – Jarvis Rainmeter Skin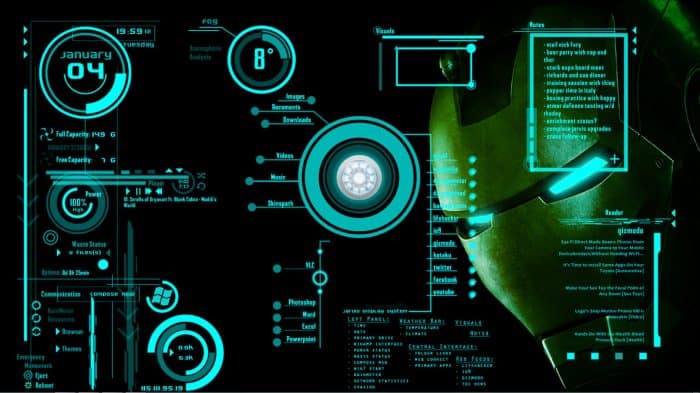 J.A.R.V.I.S has been the most wanted intelligence for your system. This rainmeter skins will give the feeling like you are inside Tony Starks's suit. It's design and graphics are almost the same and best rainmeter launcher among teen. Customising Jarvis rainmeter launcher is very easy, you can easily reposition the elements oh it according to your preference. Apart from these, Jarvis Rainmeter Skin also shows information like RSS feeds, Hard disk storage memory, Temperature details, Clock/Date, and the shortcuts to the folders. It does feel amazing!
Download: IronMan – Jarvis
Avengers SHIELD OS Rainmeter Skin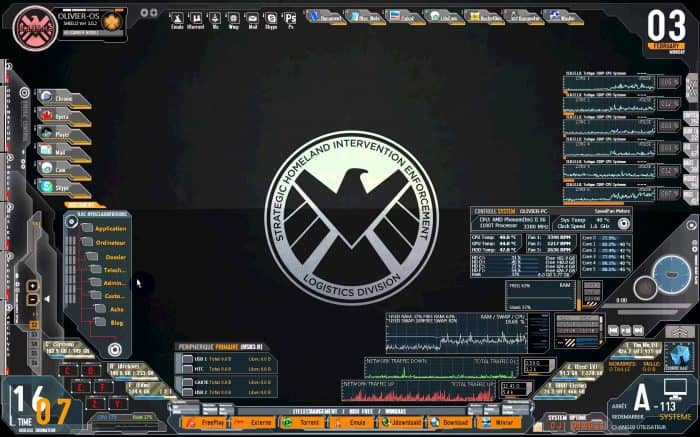 This rainmeter skins is perfect for Avenger fans! It comes in various resolutions and is a bit different from JARVIS rainmeter. It has a minimalistic design. Also, Avengers SHIELD OS creates shortcuts for the most used applications that is, for your browser, media files, folders etc. It also showcases different tools like the volume controls, RAM and CPU usage, control bar or media playbacks, shut doen and restart tool etc.
Download: Avengers SHIELD OS
Mass Effect Rainmeter Skin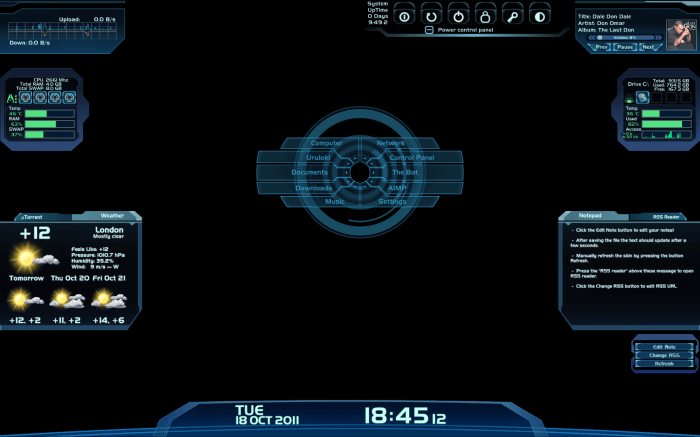 The Mass Effect rainmeter will give you a gaming feeling with its design and display abilities. This Rainmeter skins gives you access to a lot of elements like date and time, control panel, information about your hard disk, graph of the network statistics, etc. Also, you can position them according to your preferences in this Rainmeter Skin.
Download: Mass Effect
Senja Suite Rainmeter Skin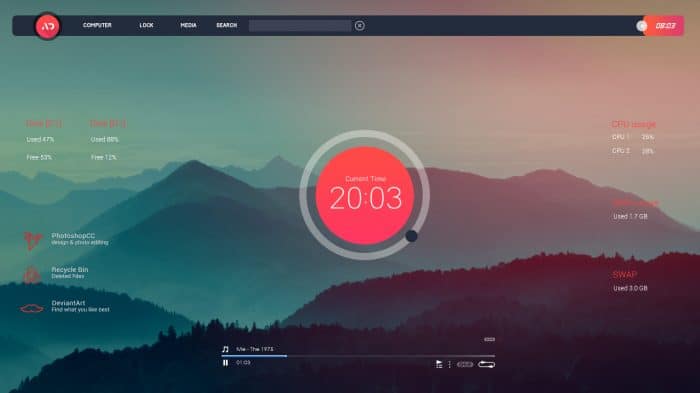 If you are a person who like simple and sophisticated look then you will surely love this. It is not a heavy rainmeter skins and gives tidy look. It takes care of the basics and doesn't pop up unnecessary things. The details that are access in this Senja Suite skin are user account, time, a taskbar with shortcuts to your documents, media , search, etc.
Download: Senja Suite
ALIENS Rainmeter Skin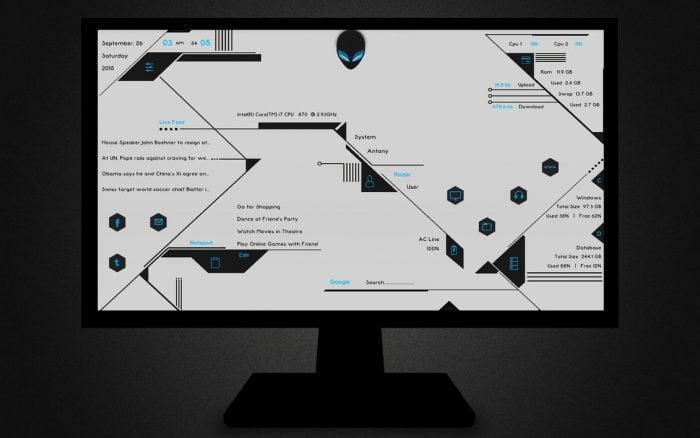 This Rainmeter skins elaborates the CPU usage, RAM usage, shortcuts to social media applications, shortcuts to your media files, documents, etc. It works best with the wallpaper of Aliens. This rainmeter can be easily customized as well. ALEINS'S skin also showcases other details like disk partition, downloading and uploading speed, live feeds, time and date etc.
Download: ALIENS
Eker Lina Rainmeter Weather Skin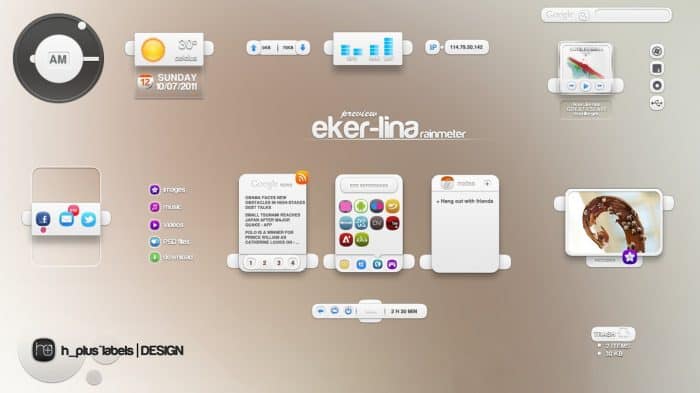 Eker Lina is a rainmeter launcher that is designed with creativity. It showcases a lot of essential elements which are like widgets of your desktop. Eker Lina Rainmeter Skin can be customized easily; you can place these elements according to your choice. Even you can access shortcuts for your documents and drives, RSS feed, date and time, media controls etc in this rainmeter skins.
Download: Eker Line
Before Dawn Rainmeter Skin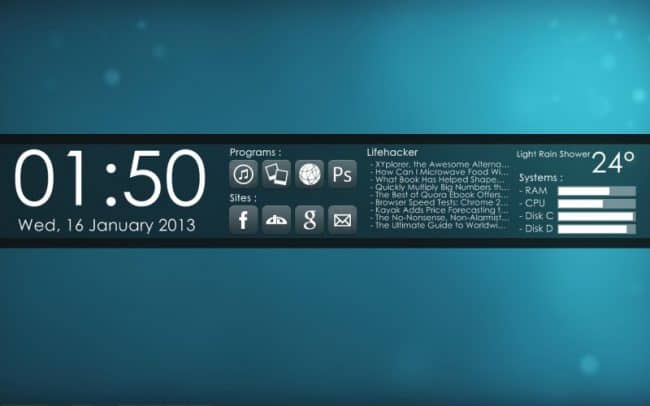 If you are looking for something more sophisticated and simple, then this Before Dawn best Rainmeter Skins is for you. This is one of the best rainmeter skins & is very simple to set up. You just need to fly your cursor and run the setup. Tadah! It's done. You'll notice a vertical frame across your screen containing a lot of information. Before Dawn skin provides you with a mess-free look unlike the scattered format of tools and information. You can access details like the date and time, shortcuts to your folders and the most visited websites, RSS Feeds which you have subscribed to, and temperature of your are.
Download: Before Dawn
PILEUS: Rainmeter Skin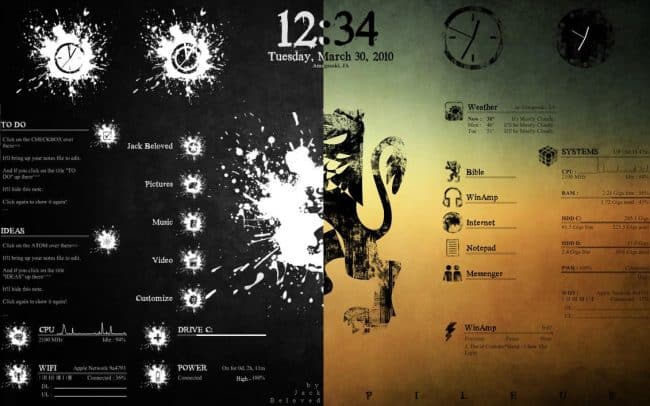 The style of PILEUS Rainmeter Skin is very unique and attractive. This might not be the most preferred styles, but I feel it looks pretty good. Its design is very arty and creative. It doesn't look very formal, unlike the other best rainmeter skins which strictly stick to sharp borders and solid colours. PILEUS skin has a slight scour effect which looks interesting and attractive when paired with light backgrounds. Adding to it, users will be able to view the RAM usage, Wifi connectivity, time, and date, and other shortcuts for your folders and drives.
Downloads: PILEUS
Razor Rainmeter Skin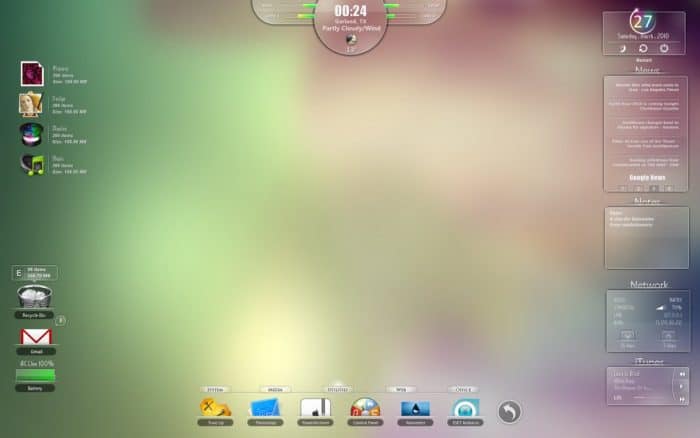 Razor Rainmeter Skin is not as sharp as a razor, In fact, its design is very transparent with some glass frame effects. Razor is one of the skins which can look really good with some good backgrounds. It will surely take it up a notch. Razor Rainmeter Skin design is very simple, clean and fits perfectly for any style be. You just need to change your background to set the style (formal, creative, graphic, etc) of your desktop skin. This Rainmeter launcher provides you with basic details like date and time, folder and drive shortcuts, power status, strength of your wifi network, wather, etc.
Download: Razor
ABP Rainmeter Skin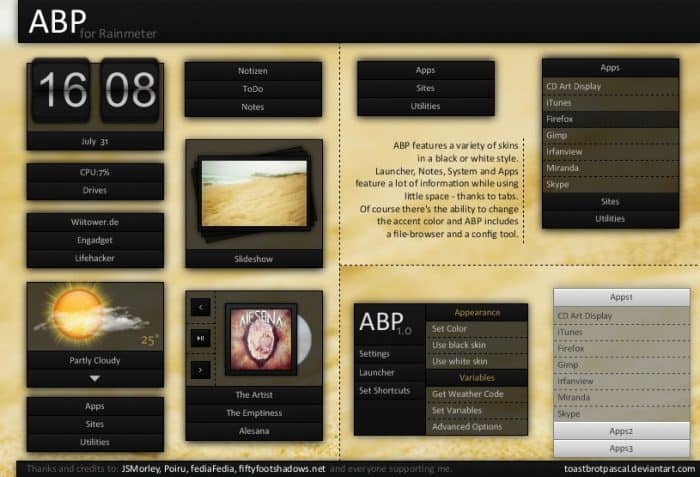 This rainmeter skins is not my preferred look for my desktop. However, if you like sticky notes all over your computer then you should try this. Each and every detail has a separate frame in ABP Rainmeter Skin which makes it easy to find what you want. You can access information like date and time, CPU and RAM usage, media playback, etc. ABP Rainmeter can display any tool or shortcut you want. It has no limitations.
Download: ABP
Enigma Rainmeter Skin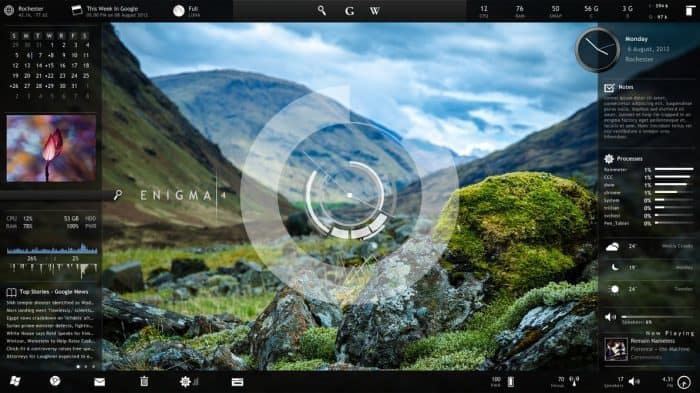 Enigma is a very popular and one of the best rainmeter skins downloaded widely. It is so good that it was declared as Rainmeter's default skin in the year 2009. Its design is simply a-m-a-z-i-n-g! You won't get bored with it. The elements are configured and can be arranged according to our choice. Enigma Rainmeter Skin showcases details like the date and time, RSS feeds (multiple), you can view your pictures in a slide show format, usage of your CPU and RAM, weather, shortcuts to your folders and drive etc.
Download: Enigma
Speed Rainmeter Skin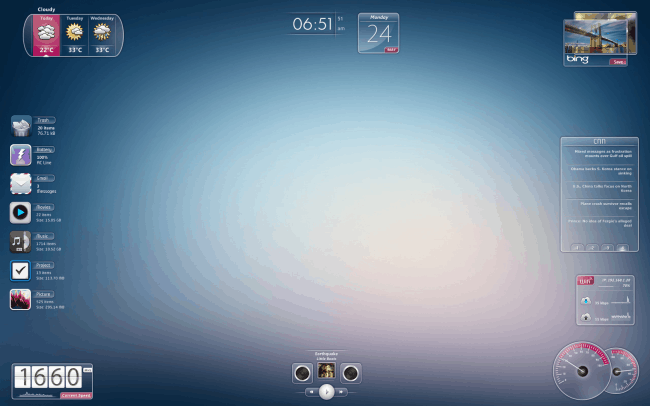 This rainmeter skins is a bit similar to the design of Razor. It follows the same translucent frames, but an improvised version of it. Speed Rainmeter Skin looks amazing when paired with a god background. Unlike the sharp edgy shapes of the Razor's skin, this skin has some smooth and curve surfaces which makes it look simple and tidy. The elements of Speed Rainmeter Skin can be moved across your screen and positioned according to your choice. Information that is showcased on the screen includes date and time. Shortcuts to your folders and drives, usage of your CPU and RAM, Wifi network connectivity, weather forecast of three days.
Download: Speed
Wisp Rainmeter Skin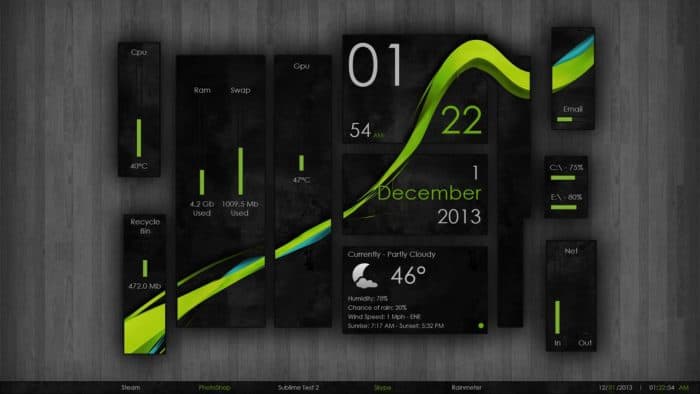 If you don't like limiting the components inside boundaries, then Wisp Rainmeter is a pretty good skin for you. The information o your CPU and RAM usage, temperature, date and time, wifi network signal strength, disk partition, etc look as if they are directly inserted of floating on your screen in specific positions. Wisp's rainmeter skin looks pretty neat and good with the right background image.
Download: Wisp
Simple Media Rainmeter Skin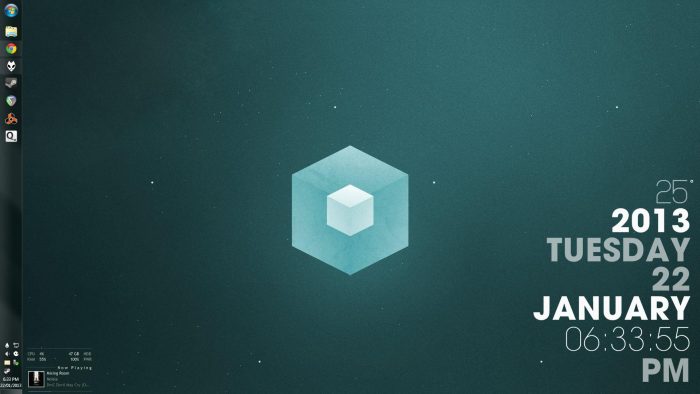 The name itself explains the simplicity of this skin. Simple Media Rainmeter Skin looks very sophisticated showcasing essential details with the best fonts and minimal design. It fits perfectly with desktops of any resolution. The elements display the date and time, status of recycle bin, the temperature. You can set them in multiple patterns available with this rainmeter skins.
Download: Simple Media
LIM!T Rainmeter Skin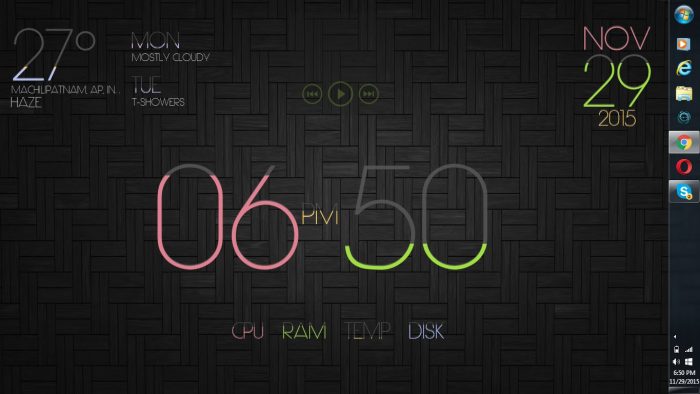 If, only text is something which works the best for you then LIM!T will fulfil this wish of yours. This rainmeter skins has no particular design, only the content speaks for itself. All the details are positioned with beautifully designed fonts across your screen. The text gets filled with dark grey color according to the percentage of usage of the CPU and RAM, the seconds passed in the hour, even the date gets filled up with grey colour with time. LIM!T Rainmeter Skin showcases information of date and time, usage of the CPU and RAM, media playback, etc.
Download: LIM!T
Neon Space Rainmeter Skin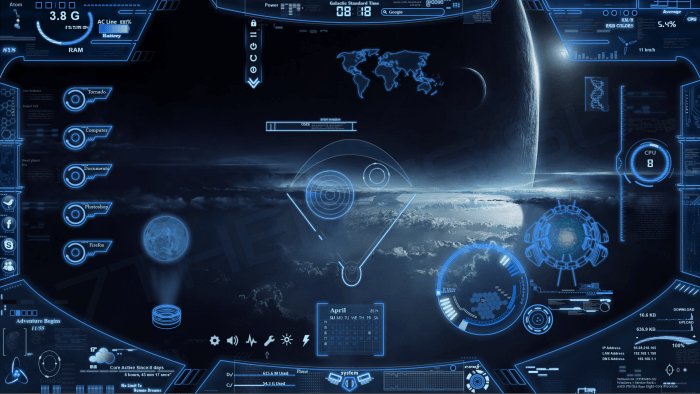 After installing Neon Space Rainmeter Skin, you are going to get really addicted to it. It is really amazing! The design consists of animation and some glow to it, on the blue backdrop. Neon Space Rainmeter Skin makes you feel like you are in 2050. This rainmeter launcher displays information like calendar, RAM and CPU usage, the weather forecast for 3 days, etc. There is a small holographic section which doesn't show any details or information about your system, but is really great! You will not get bored with this rainmeter skins so easily.
Download: Neon Space
Unity Rainmeter Weather Skin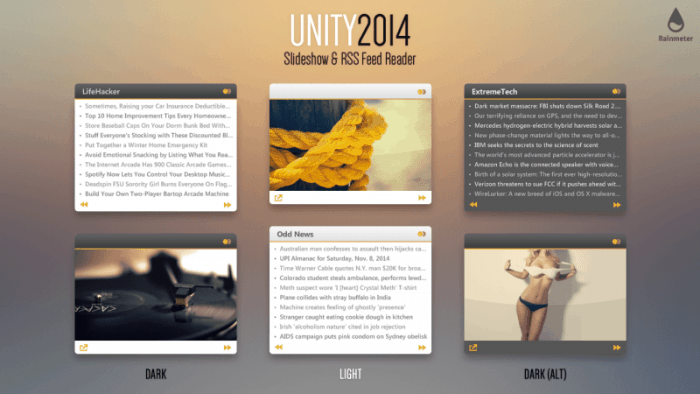 This rainmeter skins will really impress if you have simplicity and elegance in your choice! It has all the basic information and works pretty good it a mess-free environment. Unity Rainmeter Skin shows details like date and time, provide you with a shortcut to folders and drive, weather details, media files running in the background etc.
Download: Unity
Elegance 2 Rainmeter launcher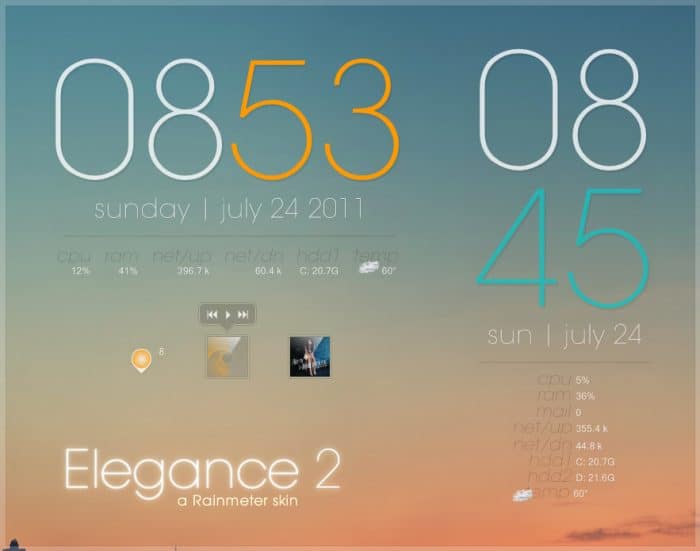 Elegance is in the name itself. You can opt for this rainmeter skins as well. It has smooth and clean look with minimum yet understandable details. It is very light on your system's resources and perfectly pairs with the default backgrounds as well! The system details provided to you are well embarked with suitable fonts. System details like usage of CPU and RAM, date and time, recycle bin, etc.
Download: Elegance 2
Newspaper Desktop Rainmeter Skin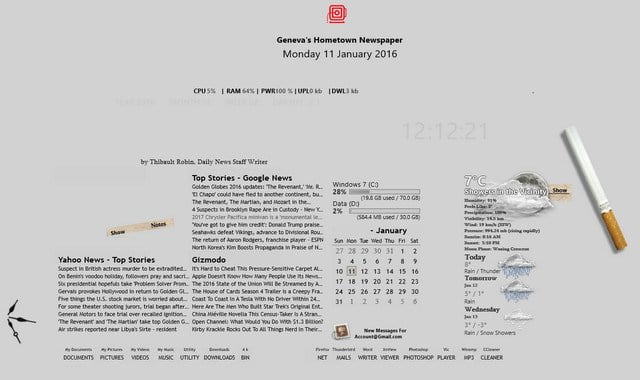 The name is self-explanatory. This rainmeter skins showcases all your system details and your desktop in a newspaper's format. Trust me! It looks really nice! You must try this at least once! Newspaper Desktop Rainmeter weathers Skins showcases many details like calendar, the temperature of your locality, news story columns, date and time, usage of CPU and RAM, weather forecast, shortcuts to mails, documents, pictures, music, videos, and some other applications. Everything is drawn out in the format of a newspaper. It is very systematic and mess-free.
Download: Newspaper Desktop
Conclusion:
Rainmeter skins are an awesome way to make your desktop a bit more entertaining. All these rainmeter launchers are pretty amazing. So you must try every rainmeter launcher or may change these best rainmeter skins every month an enjoy the new appearance of your laptop. Let us know which was your favourite one, in the comment section below. You can share the rainmeter launcher which you have tried and work really well!