If you are one the art gangs with a creative music maniac, a dancer who is in a constant need for fusion music or an editor who needs good background score then this article is exclusively for you.  Music is a basic requirement for any performing art it includes even singers for that matter! However, we cannot limit the use of music by listing out each and every use of editing audios! Music is everywhere we need to groove with it.
Having some knowledge about audio editing softwares is always an added advantage for anyone. You can even use it to make your own ringtone, or many make a mix CD to gift your girlfriend/ boyfriend, did I just say CD? Mix Pen drive, for the current generation? I don't know if Mix Pen drive exists? But, below are the enlisted 8 Audio Editing Softwares, if you're looking for video, here are some best free video editing softwares.
1.WavePad:
Wavepad is a descendent of NCH Software and considered as good audio editing softwares. You will find this is freeware as well as the paid version on their official site. This software enables you to use the tools like copy, paste, auto-trim, insert and pitch-shifting to name a few. These tools can be used perfectly for creating fusion songs or to adjust the pitch of the karaoke for your singing skills etc. However, sometimes karaokes come with some residual voice bits in a low volume which cannot be removed with this software. WavePad assists you perfectly on a professional level and giving the best output. The interface is very user friendly and does not disrupt your editing experience.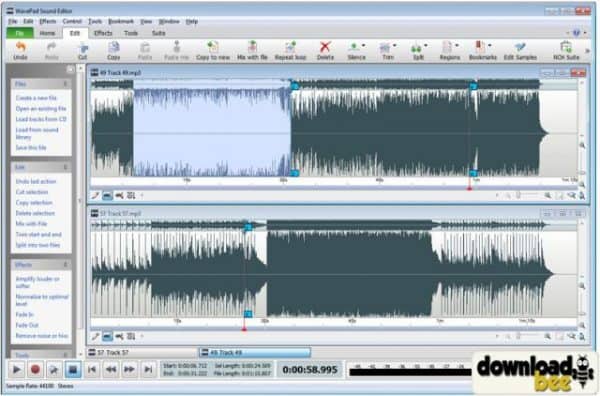 It supports various audio formats like mp3, aac, m4a, mid, amr, aif, FLAC, real audio, Ogg, Wav, vox, gsm, WMA and many others. In addition to this, the support for Virtual Studio Technology DLL (VST) and DirectX plugins forms a good base for the producers to use thousands of different tools and effects. The software has audio effects like reverb, echo, reverse amplify, normalize, equalizer, envelope, etc for the starters. For the main-course, users can access advance tools which include spectral analysis (FFT), voice changer, and speech synthesis (text-to-speech). Users also have the option to edit audios from their desired video files. It can work directly with MixPad Multi-Track Audio Mixer.
Price: Free and Premium Version $39.95 and above
Compatibility: Windows 10, 8.1, 8, 7, Mac OSX 10.4 & above, Android and iOS
Download: WavePad
2. Audacity:
Audacity is a complete freeware and an open-source digital audio editor. One can use a microphone or mixer for recording live songs/audios from sources is possible. Its interface has to be appreciated as it is very simple yet sophisticated. Also, this software (version 2.2.0 and above) arrives with four themes which the user can pick according to his/her preference. The device toolbar enables multiple recording and playback devices.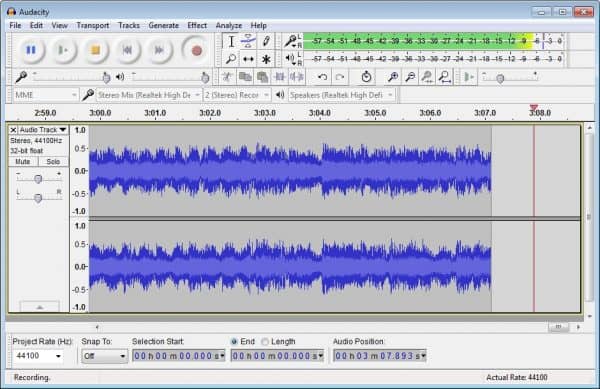 Basic editing tools like cut, copy, paste and delete can be used without any glitch. Audacity gives you the freedom to edit with ease with tools like scrubbing/seeking and timeline quick-play. Using Undo and Redo's is limitless. Also, users can access advanced editing tools like draw tool, envelop tool, etc. Moreover, you can take full-fledge control of the software using your keyboard. Audio files can supports files like WAV, Ogg Vorbis, AIFF, FLAC, AU and other popular formats. This software can be used for creating karaoke tracks or isolated voice tracks using Vocal Reduction and Isolation tools.
Price: Free
Compatibility: Windows 8, 7, Xp, Mac OS X 10.5 to 10.10 and Linux
Download: Audacity
3. FL Studio 12.1.2:
If I were to categorise the above software compared to FL Studio, then I would suggest WavePad and Audacity are the best for basic level editing. Those can be used by beginners for practising. But FL Studio is a complete Audio-editing Workstation. FL Studio is referred to as Fruity Loop Studio. It has different editions of software for editing like Fruity Edition, Producer Edition, v, etc. It is a real advanced level of audio editing. You can use a track and mix it accordingly to create your own music. The software welcomes you with an interface which will make you crave for editing tracks. Everything is well plated and all the tools can be easily accessed. You don't have to put extra efforts to find your desired tools until you are new to audio editing softwares!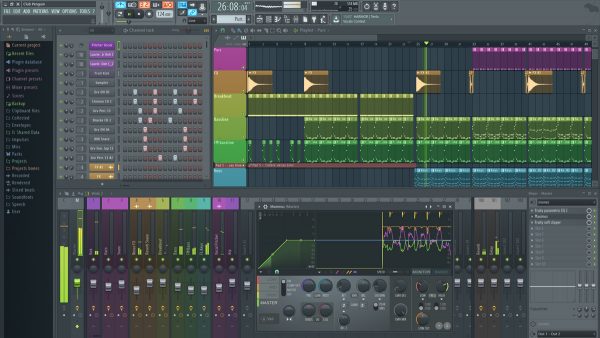 It supports audio formats like WAV, OGG, MIDI, ZIP, MP3, FLAC and many other formats. You can find all the tools like pitch-shifting, time-stretching, beat slicing, chopping, recording etc. Fruity Loop has been integrated with new features like vectorial UI, multi-touch support, improved 32 & 64-bit plugin, updated plugins, redesigned mixer,  etc.
Price: Basic version costs $99.99
Compatibility: Windows 10, 8.1, 8, 7, XP, Intel Mac OS X 10.8 or 10.9, Android and iOS
Download: FL Studio
4. Ardour:
Ardour shares the workstation stage with Fruity Loop. The interface of this software is a bit different from that of the fruity loop. It is very easy to use and has a well-organised interface. However, it looks a bit dull overall. But look doesn't matter! It has a great bunch of tools and functions which is a boon to users like us. You can choose your audio interface according to your budget and needs.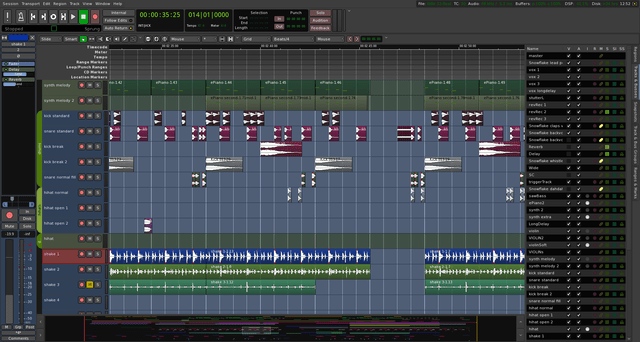 It features limitless multichannel tracks and flexible recording. These multichannel tracks allow you to use limitless tracks, plugins, buses, sends or inserts etc. Moreover, you can produce individual outputs using this maintaining the advantages of one-touch recording and editing. The audio editing experience is very smooth. Adding to which, it provides you with limitless undo and redo option. You can use editing tools like push-pull trimming, basic tools inclusive of cut, copy, paste, delete and many others. The privilege of extracting soundtrack from video files is also available. You can make use of a separate tab in order to view the video or view it on full-screen mode. It consists of a whole other level of advanced settings, controls, plugins and tools. So trust me on this, this software will not disappoint you! It supports a various number of audio formats including the MIDI!
Price: 1$ & above (you have the flexibility to choose your package accordingly)
Compatibility: Windows (2 GB RAM), Intel OS X 10.6 Snow Leopard to OS X 10.10 Yosemite and Linux (2 GB RAM)
Download: Ardour
5. Wavosaur:
Wavosaur is a freeware which comes in the spectrum between an audio workstation and mixing tool.  It is designed for windows which have the ability to support for VST plugins, multichannel WAV files, ASIO driver, etc. Wavosaur enables one to edit audios, process and record.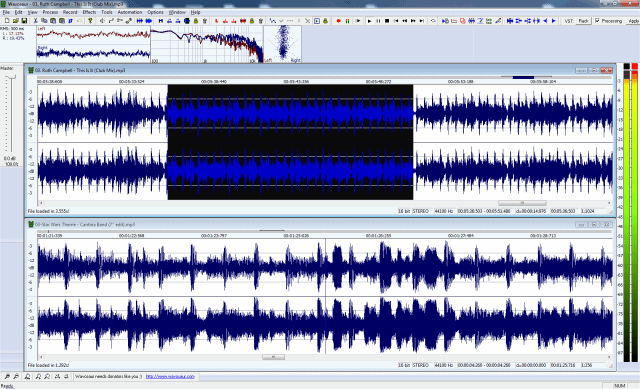 One can access the basic editing tools like cut, copy, paste, delete etc. Producing music loops, analyzing, recording etc are some more features which are available. You can even download a variety of skins for your audio editing softwares available on their official website. However, it might not satisfy your advanced level editing needs completely.
Price: Free
Compatibility: Windows 7, XP, Vista
Download: Wavosaur
6. Adobe Audition:
Adobe has its grounds in producing the finest editing software form a very long time. Hence, Adobe had to appear here. Adobe auditions form a perfect base for professional audio editing. Audition is designed in a manner which allows editing in multichannel tracks and does not disrupt while editing or mixing. It runs smoothly with a neat and user-friendly interface. This software also features noise reduction and FFT equalizer. It is instilled with features like pitch corrector, frequency space editor, support for VST plugin and various mastering tools. All these features vary from version to version. However, the basic editing tools like cut, copy, paste, etc are available.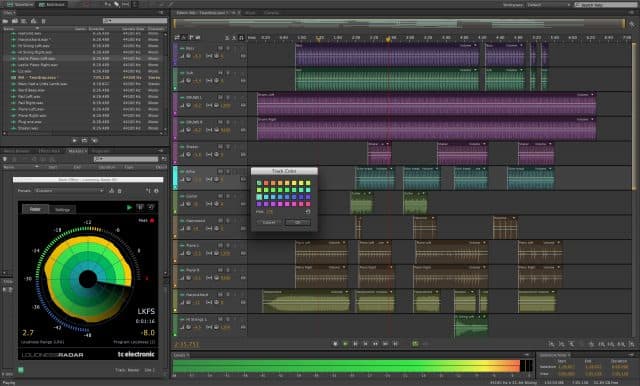 Price: 29.99$ / month
Compatibility: Windows (8, 7), Mac OS X 10.7 Lion, Mac OS X 10.6 Snow Leopard
Download: Adobe Audition
7. Sound Forge Audio Studio 10:
Sound Forge Audio Studio is a software developed by Sony. You can look into all the intricate details for creating music, high-quality audio recording from various sources, applying effects and processing the inputs. It is very flexible in terms of use. You can use it on a professional level or for your personal use by using the simplest tools. It supports various audio types for import and export, including the ACC files. It comes with support for VST plugin as well!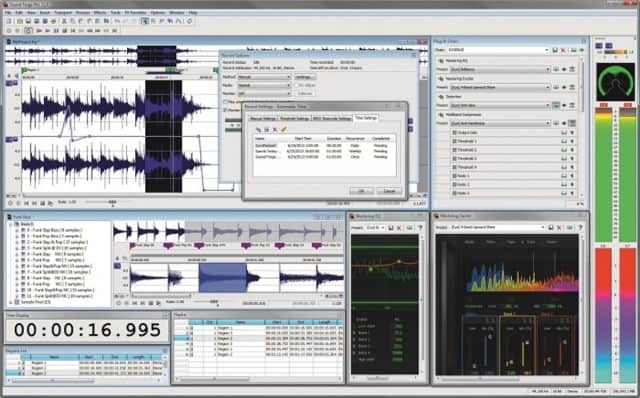 It features attributes like vinyl recording, restoration tool, audio cleaning tool, and new effects like resonant filter effect, apart from the basic tools. However, it lacks in the higher quality mastering effects for giving the final touch to audios. I won't say Forge is the best because it lacks in certain aspects! But it works pretty well comparatively.
Price: $59.95
Compatibility: Windows and Mac OS X
Download: Sound Forge Audio Studio 10
8. Steinberg Cubase:
Steinberg is referred to as Cubase which is very popular especially for its production tools and DAW (Digital Audio Workstation). It acquires a professional interface along with some splendid features. The software is known to enhance creativity with its tools.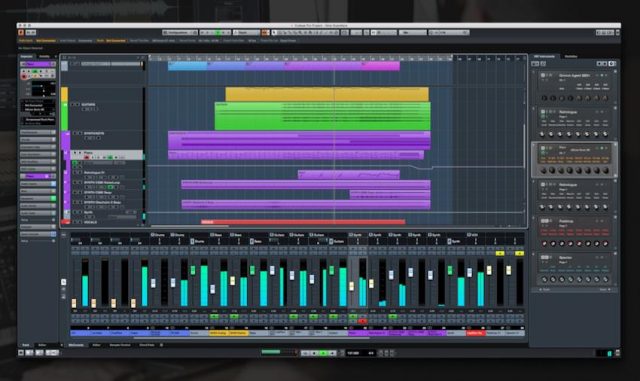 Many music composers, writers of songs, producers etc use this software for their music albums. It functions smoothly giving the best output of your recordings and taking care of details. Moreover, there are different versions available for this software.
Price: Euro 99.99
Compatibility: Windows (8, 7), Mac OS X (10.10, 10.9)
Download: Steinberg Cubase
Hope this Article on audio editing softwares helpful in minimising your queries and stay connected for more such articles.