Bobble AI, the Conversation Media Marketing platform has recently updated the news that online chatting is considered as the primary way of communication transcending the audio and video call.

All this result was found out from the study conducted by Neilson in Bobble Study AI lab. Bobble AI is a popular Artificial Intelligence focused startup of India which authorizes daily based conversation of millions of users by offering them stickers, GIF, emojis, speech to text, AI based context specific suggestions. In this study his motive was to analyze the facts behind the consistent upgrades made by GenZ and millennials in the country, in this post COVID-19 period.
In the Bobble AI study, there was the involvement of both male and female smartphone users of different age, categorized into two sections: 18 to 30 years while the other section consisted of 31 to 40 years. This was held from 2nd to 16th March 2021 and the equivocators were present from both metropolitan cities like Mumbai, Kolkata, Bangalore, Hyderabad and Delhi while the non metro cities were Indore, Ahmedabad, Patna, Lucknow and Jaipur. It was done without any interruption from the company.
Survey Report:
The findings that they gained from Conversation Media centered survey reports were: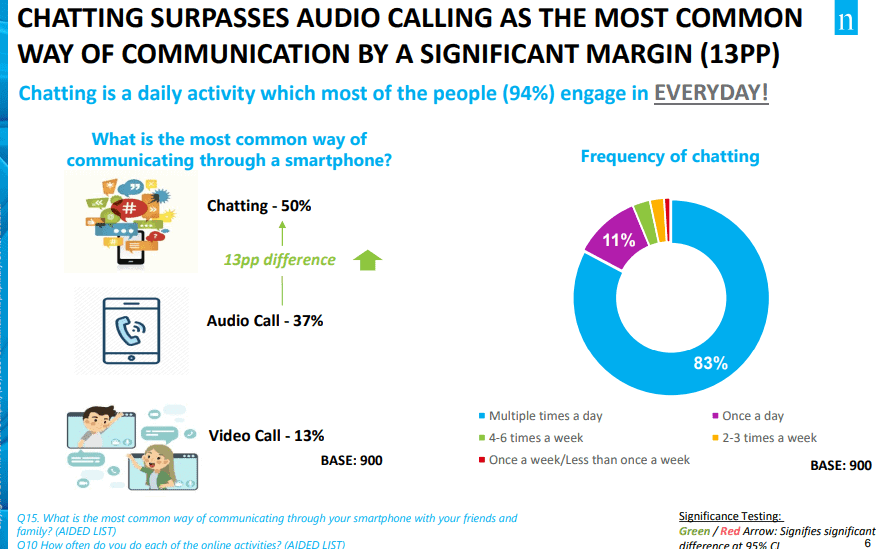 The primary detection was that online chatting is a daily activity for the majority of the population and is the preferred way of communication. It is also estimated that almost 94% of the people interact via online chatting which has even transcended the audio and video calling by the margin of 13% over audio calling. It was also addressed by the respondent that their habit of chatting has increased in the last 6 months.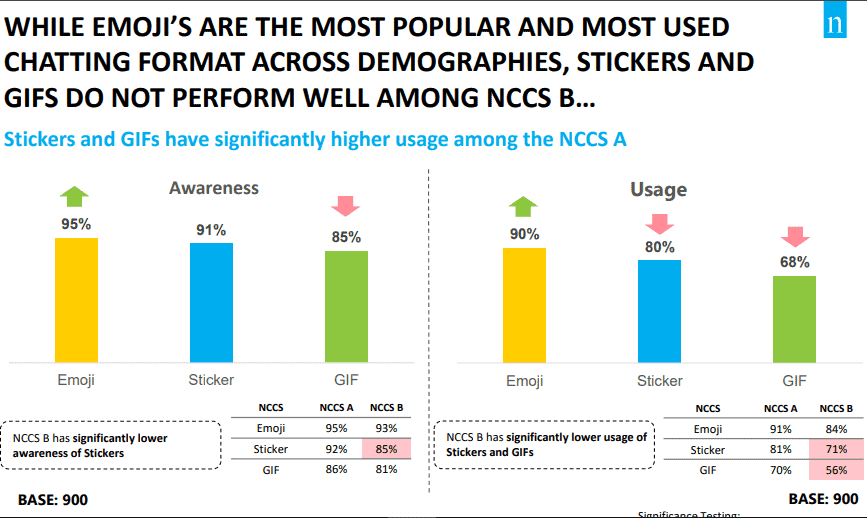 Another way of communication which was noted that while chatting the use of conversation media formats like GIFs, stickers and emojis is quite high and differs according to the demographical area. In NCCS A 95% users are aware of emojis but only 91% use them on a daily basis while on the other side in NCCS B 93% are aware of emojis but only 84% users use them. Similarly, in NCCS A 92% are aware of emojis but only 85% use them while in NCCS B 85% are aware of it but it is used by only 71% of them.
All these conversational media like emojis, stickers and GIFs makes it easier to understand.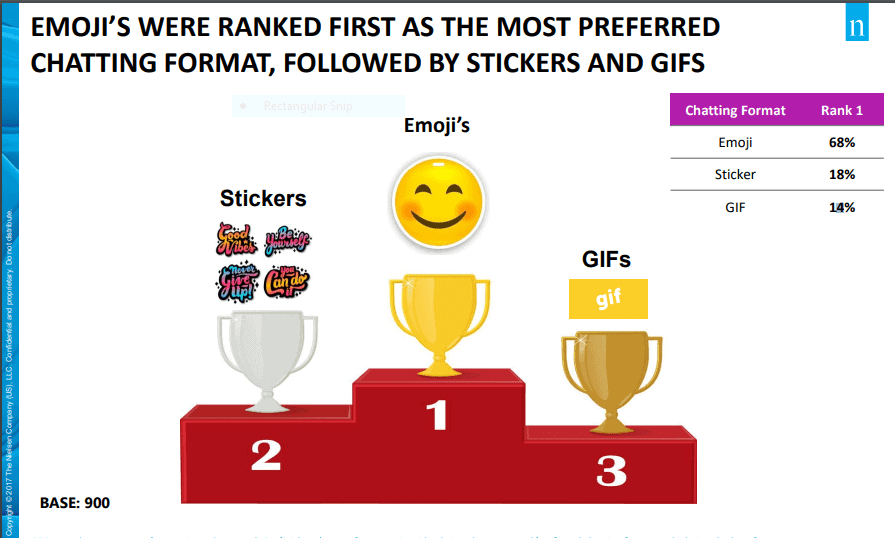 It was even reported that emojis are the most used media than stickers, GIFs. 96% of the users use emojis, GIFs and stickers for expressing their emotions while 85% users use all these formats only on special occasions. It has also been detected that 70% users use these things in order to talk about the trending topics and 81% users utilize it for telling others about their activity.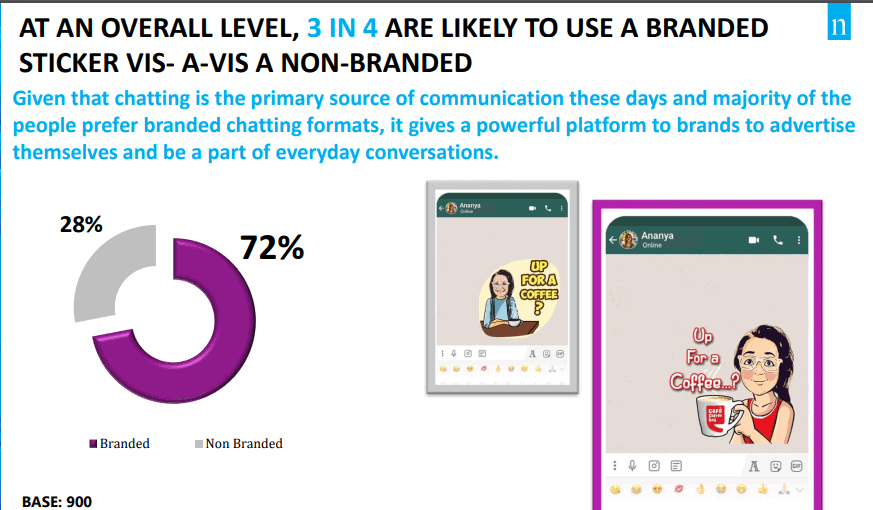 With the help of the survey it was found that if the populations were allowed to select between the branded and unbranded stickers then the majority of them opted for the branded ones instead of the unbranded ones.
Millennials and Generation Z chats are transforming their platform from just plain text to the platform with stickers, emoji and GIFs. The companies have started investing on the chatting and keyboard platforms after understanding the desire of the youths. All these have led the companies to introduce their innovative and creative ideas for developing special platforms with unique formatting and features.
Ankit Prasad, Founder and CEO, Bobble AI said, "The key findings validate the growing relevance of Conversation Media among GenZies and Millennials in the country and the rising inclination for chatting over any other means of communication. With more and more people working and living remotely and being compelled to multi-task, they are looking for new and innovative ways to express themselves better. Conversation Media like emojis, stickers, GIFs are a fun, engaging way for brands to break the clutter and connect with their audiences. COVID-19 pandemic has caused gloom and Conversation Media Marketing serves as an opportunity for brands to drive positive impact and influence in the minds of consumers.