Google has recently made its entry into the health department with a new dermatology tool which is now a big concern for the medical expertise and healthcare system. This tool is based on artificial intelligence and so there are chances of over diagnosis or maybe diagnosis not upto the point of certain skin types. The Google took almost three years to create this tool trained dataset of almost 65000 images of the conditions that are diagnosed.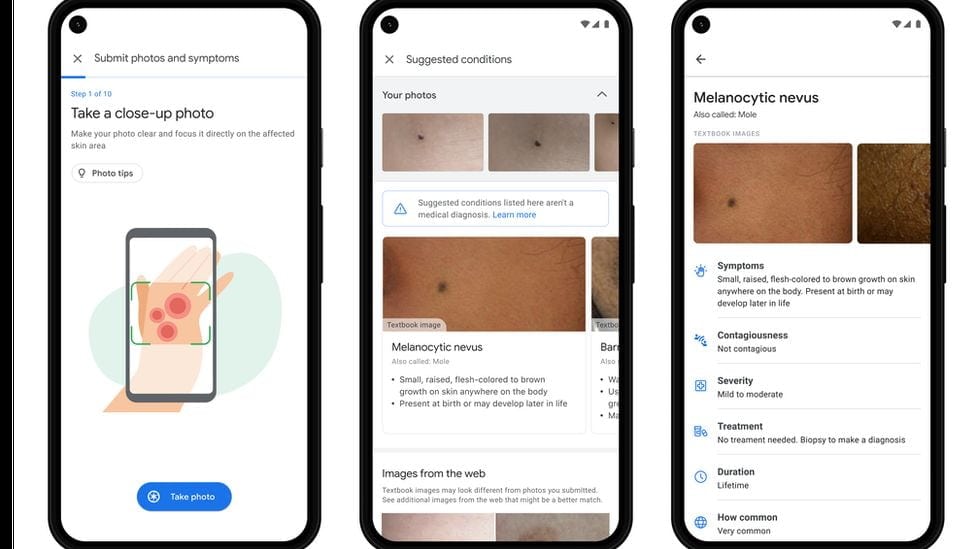 In a Conference held in the US, Google announced that since there was an ample amount of searches done on skin, hairs, nails related issues, hence they finally decided to come up with a 'dermatology assist tool'.
"The artificial intelligence model analyses this information and draws from its knowledge of 288 conditions to give you a list of possible matching conditions that you can then research further," Google quoted.
"The tool is not intended to provide a diagnosis nor be a substitute for medical advice, as many conditions require clinician review, in-person examination or additional testing like a biopsy. Rather we hope it gives you access to authoritative information so you can make a more informed decision about your next step."
In this app users are allowed to take the images of their skin, hairs and nails from different standpoint, and they are even questioned with the problems related to their skin, hair or nails or any trait which they have experienced. All these data are used for the analysis and diagnosis of their issues.
Besides that the former president of the Australian College of Dermatologists named Mr. Miller has also mentioned that the world is facing an acute shortage of dermatologists which makes it difficult for the people to address their condition to the specialist. Because of lack of dermatologists, the rural area population has to suffer more than the urban areas. But Miller didn't assist the AI to take over the problem, instead he suggested using GPS for the collaboration with the skin specialist.
Since Google has launched this app based on AI, now the question comes is if AI is really capable of handling all these things. The answer is yes, AI has the potential of the symptoms. In a journal named Nature it was mentioned that AI was capable of detecting skin cancer.
"It is projected that 6.3bn smartphone subscriptions will exist by the year 2021, and can therefore potentially provide low-cost universal access to vital diagnostic care," the paper says.
This Google dermatology tool is not yet approved by Food and Drug Administration(FDA) for use in United State but a tool name Optellum which was also built on machine learning was approved by the FDA.
Dr Ray Moynihan said; "There is great concern that the entry of Big Tech into healthcare will bring a tsunami of overdiagnosis – because there is a lot of money to be made telling healthy people they are sick."
But it is also observed that the early diagnosis of the skin cancer can help the patient to get recovered faster. In skin cancers like melanoma of is very important to get diagnosed at earlier stage but some normal harmless lesions were also considered as melanoma. All this results to unnecessary treatment, increase in the medical expenses and also the unnecessary mental trauma. From the study published in medical journal of Australia its was mentioned that over 58% of the melanomas were over diagnosed.
"There is of course the chance that careful judicious use of some of this new technology could reduce the problem of overdiagnosis, by better distinguishing between malignant and benign problems – but that would require rigorous evaluation of risks and benefits by independent researchers and regulators.
"What we have at the moment are puffed up press releases and promotional media stories that make no mention of the potential downsides of these experimental AI tools – and one of the biggest downsides is unnecessary diagnosis, and the harm, anxiety and waste that can cause."