Whatsapp is my favorite mobile app, and since I love iPad and have it most of the time, I was trying to do some research to get WhatsApp on iPad.
So you have come to this page to learn how to install WhatsApp on iPad, lets begin and let me also tell you this trick also works for iPod.  The following tutorial is for Jailed iPad. For those who have jailbroken iPad, you can start from STEP 5 and skip the rest.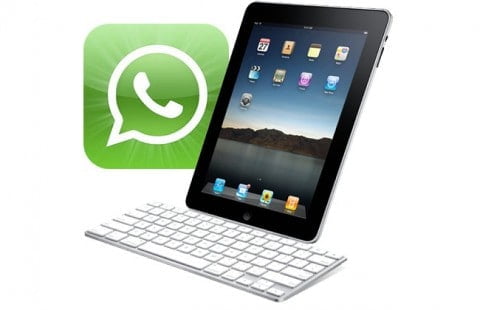 How to install Whatsapp on iPad or iPod.
Lets begin!
Things you'll need for this trick:
Mac or a PC
iPhone (Grab for great discounts @Flipkart or Amazon )
iFunbox or iPhone Configuration Utility.
Obviously an iPad or iPod 🙂
Everybody likes list, so I'm going to list the procedure as steps. Don't worry, even I don't like to read long boring steps either, so I'll make it as simple as possible.
STEP 1.
Open iTunes on your Mac or PC and click on "iTunes Store" and search for WhatsApp to download it. Yes, I mean download it on your PC/Mac instead of downloading on iPad. Don't worry we'll get there eventually.
STEP 2.
Find the WhatsApp file you just download, go to  "iTunes Media Folder" that's where your file is saved. The filename would be something like this "WhatsApp 2.10.2.ipa".  (While writing this post, the latest released version is 2.10.2, so the filename would change when they update to new. )
Default location on Mac:
~/Music/iTunes/iTunes Media/Mobile Applications
or 
~/Music/iTunes/Mobile Applications
Default location Windows:
C:\User\Music\iTunes\iTunes Media\Mobile Applications
STEP 3.
Download and install iFunbox (We're gonna use this tool to install Whatsapp on iPad) . Now connect your iPad or iPod to your PC or Mac. Then on iFunbox window ignore all the fancy stuffs and tell your eyes to locate "iFunbox Classic" on the left top and click on it.

STEP 4.
 Under "iFunbox Classic" at the right end you'll find a green button which says "Install App", yes EUREKA!! you found it?  Yes, that's the magical button, now please click on it and browse the "WhatsApp 2.10.2.ipa"  file from the iTunes downloads folder, refer step 2  for default location.
Activating WhatsApp on iPad using iPhone
Now, you finally have WhatsApp on iPad, but wait don't get excited and open it, because we still have a bit of work left to do. If you try to open the app now, your iPad is going to get rough at you and through an error like this "Sorry your device is currently not supported". If you already opened the app in excitement and got this error, you'll have to delete Whatsapp from iPad and restart from STEP 4.
Even though you have whatsapp loaded on iPad, you cannot activate it since it is not a cellular device. So we'll have to activate it from iPhone and then move the activated files to your iPad.
STEP 5. 
In this step, you'll need an iPhone, if you don't borrow it from someone, but please don't steal it. Promise me you won't 🙂
Now, install WhatsApp on iPhone, if you already have it installed, you still have to delete it and reinstall WhatsApp, If you borrowed this iPhone from your friend, he is not going to like you deleting it, so backup messages before you delete. If you don't know how to backup, ask me in the comments section at the end of this post.
STEP 6.
Once you have reinstalled Whatsapp on iPhone, activate it with your number. This will be the number you'll have on your iPad. After activating your number, connect your iPhone to your PC or Mac. Again, click on the "iFunbox Classic" Tab, under the sidebar folder tree, you'll find you connected iPhone's name, under it, click on "User Applications" then find  WhatsApp from the list and double click on it.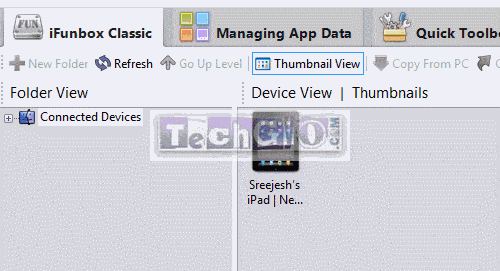 In the next window, you'll find couple of files, ignore the rest and select the two folders "Documents" and "Library" and then click on "Copy to PC" button from the menu. Save it on your PC/Mac and remember where you saved it.
Step 7.
Disconnect your iPhone, and now connect your iPad or iPod. Again open iFunbox and click on the "iFunbox Classic". Like you did on STEP 6,  go to "User Application" and double click on Whatsapp from the list, here you'll find the same folders "Documents" and "Library",  delete both of them and paste the two folders you just saved from iPhone in STEP 6.
Thats it, you are done. Enjoy Whatsapping on iPad.
Got stuck with problems? We've got supermans here to help :), let us know in the comments section. Please don't ask if you could borrow my iPhone 🙂