The birth of printed newspaper in the world was at around 1400s in Germany, newspaper was first introduced in India with the circulation of The Bengal Gazette in Kolkata. The growth of internet has given a new dimension to newspaper i.e. e-paper or e-newspaper. E-paper is the softcopy of the original newspaper which can be read in respective newspaper's official website.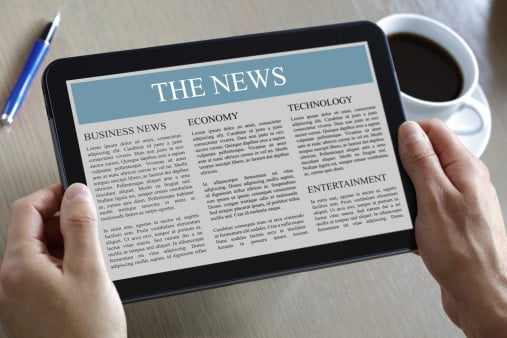 e-Paper is convenient way to read your favorite newspapers in your PC, laptop, tablet or even on your smartphone, many popular newspapers comes up with separate e-paper format that allows you to read them on your devices without spending a dime.
But what if you want read all Indian ePapers at one place instead of wandering through various e-Paper sites? Here are some websites where you can read all your favorite e-papers of India in one place.
ePaper Catalog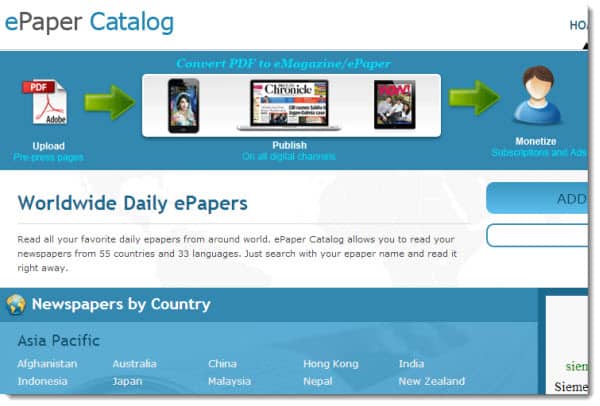 ePaper Catalog has the huge collection of e-Papers, not only of India but their list includes worldwide e-Papers, here you can read the ePapers of around 55 countries and in 33 languages. The website is easy to use and where you can easily pick your favorite e-paper.
Check out ePaper Catalog website over here.
ePapers of India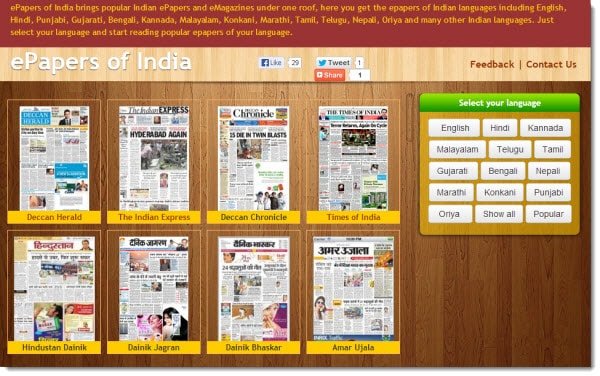 ePapers of India has the decent collection of epapers and has a cool user interface, it covers Indian epapers. ePapers of India has a language filter, just click on your language button and you will get all the e-papers of your language with nice animation. ePapers of India website includes the epapers of Indian languages including English, Hindi, Punjabi, Gujarati, Bengali, Kannada, Malayalam, Konkani, Marathi, Tamil, Telugu, Nepali and Oriya etc.
Have a look at ePapers of India website over here.
eNewspapers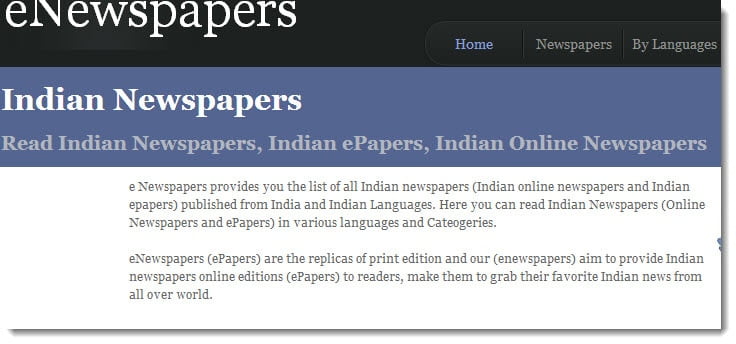 eNewspapers consists of popular e-papers of India, the site mainly focuses on Indian e-papers with an arranged manner. eNewspapers has clean interface with neat design. Here you can categorize the e-papers by language.
Visit eNewspapers here.
ePapers Hub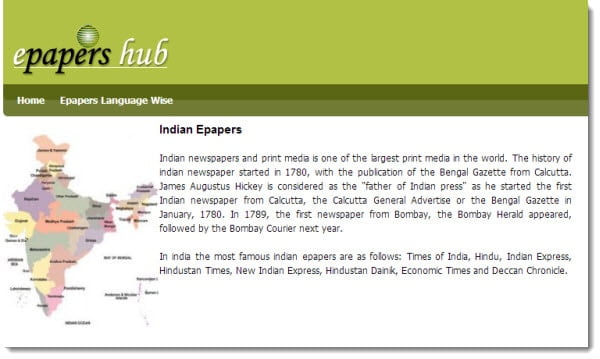 ePapers Hub has the collection of epapers of various countries. They have listed all of the renowned Indian e-papers on their Indian epapers page. Though the site has good user interface, you might get annoyed by their ads. ePapers Hub also has an option to categorize by your language. Check out this website over here.
e-Paper View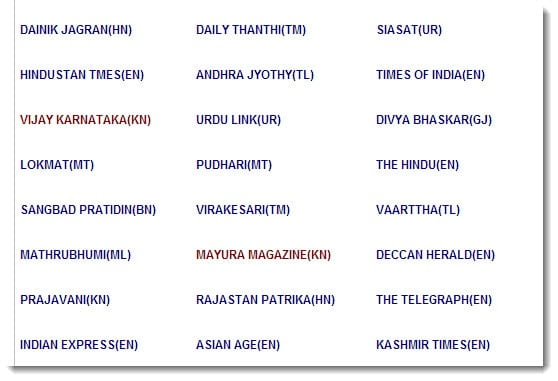 e-Paper View includes some top eNewspapers and eMagazines of india. Though it has the good list of epapers, its user interface needs some improvements. Have a look at e-Paper View website over here.