Internet has become the market place for almost all type of commodities. Since the introduction of e-commerce, electronic goods, clothing, healthcare products also are being sold online. The term "e-commerce" refers to selling and buying commodities as well as services using electronic media like computer networks or internet. Hence there also exist websites which allow people to resell commodities online. Buying products from e-commerce websites have many advantages over buying them locally. Usually in the local outlets prices are higher than that of online. Reasons may be various but buying online through e-commerce sites is far more advantageous. Now a days products like books, computers, mobile phones, media players, healthcare products, clothing and personal apparels etc. are being sold online. Let's take a look at few popular e-commerce organizations.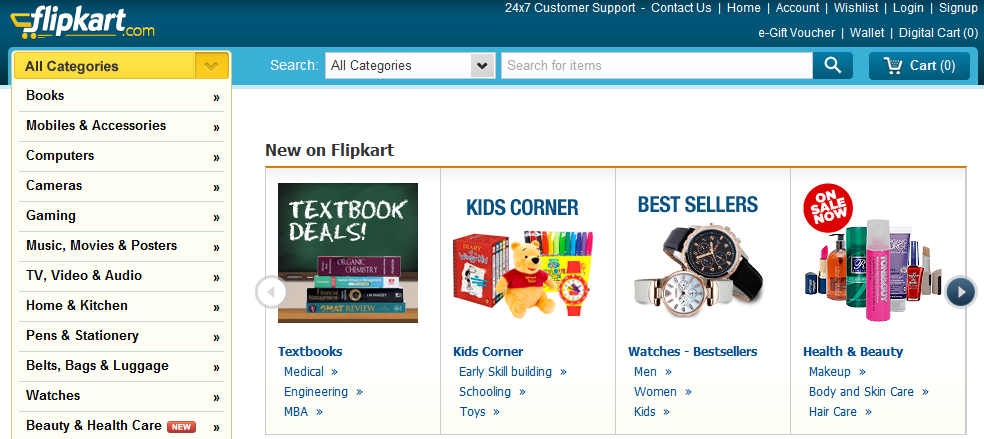 One of the most popular e-commerce sites is flipkart.com. It was founded in 2007 and since then its selling excellent quality goods online. It is headquartered at Bangalore, India. Commodities like computers, cameras, cellphones, watches, gaming consoles, music, movies, books, home and kitchen accessories, healthcare etc. are sold by flipkart. Also cellphone and computer accessories like headphones, pen drives, wireless headsets, memory cards etc. are available on flipkart. Payment methods like net banking, credit cards, debit cards, gift vouchers and recently introduced Cash On Delivery (COD) are supported by flipkart. Shipping quality as well as speed is excellent with commodities shipped by flipkart. Usually products reach the customers within three to four business days of shipping. Overall the goods sold on flipkart are totally genuine.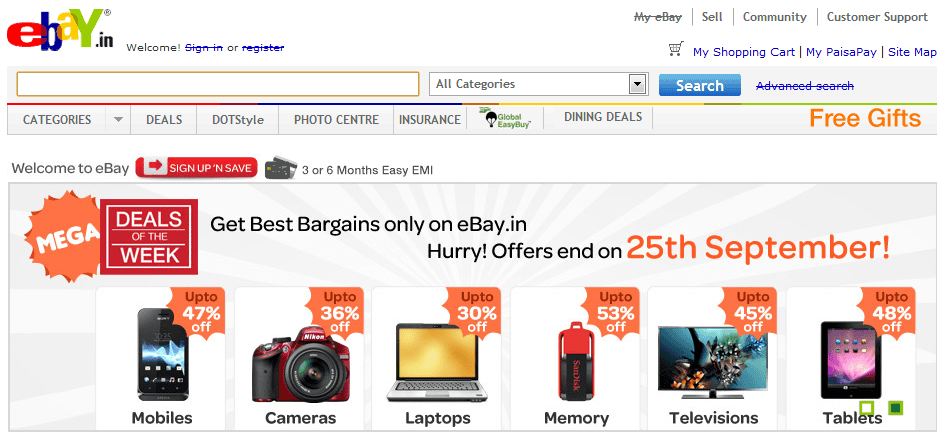 The all famous eBay is an American multinational e-commerce organization founded in 1995 and currently it functions in over thirty countries. Its headquarters is at San Jose, California. eBay market commodities like Computers, cameras, camcorders, televisions, gaming consoles, media players, home apparels, movies, music, collectibles, gym equipment etc. There are daily special deals and discounts present on eBay. Also eBay trades clothing and fashion apparels. eBay supports payment methods like net banking, credit cards, debit cards, cash cards, mobile payments and eBay gift vouchers. Also it allows people to sell goods on eBay. You can shop on eBay as a guest or you can create a user account in eBay. eBay products come with "eBay Guarantee" which says that if the customers aren't satisfied with their purchase on eBay, the product will be replaced or the entire amount would be refunded within 20 days.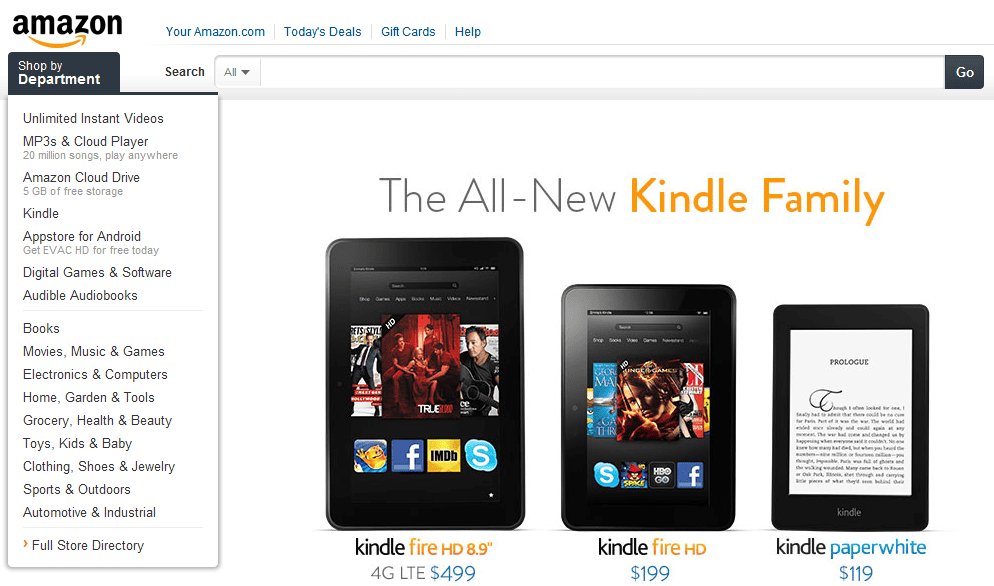 Amazon is the world's largest online retailer and e-commerce site. Amazon was founded in mid 1990s and is headquartered at Seattle, Washington, United States. Amazon sells products like books, computers, electronic goods, movies, music, games, softwares, clothing, fashion apparels, sports products, toys etc. Also Amazon sells e-readers named Kindle. Many versions and models are present in the Kindle family. Amazon cloud drive is another famous product. Amazon supports payment methods like credit cards, debit cards, amazon credit cards etc. You can create a user account in amazon and get started. Also one can shop online on Amazon using the Amazon mobile app.

It's a famous Indian e-commerce organization mainly focused on marketing fashion and lifestyle products. Founded initially in 2007, Myntra is headquartered at Bangalore, India. It sells mainly fashion and casual lifestyle products like clothing, footwear, bags, backpacks, belts, wallets, jewelry etc. Myntra sells goods of world famous brands like adidas, arrow, denizen, calvin klein, lee, levis, lee cooper, nike etc. Also there is a sale section wherein products with discounts can be purchased. Myntra supports payment modes like credit cards, debit cards, net banking, COD. Newly EMI schemes via credit cards can be availed on Myntra. One can open a user account to buy products on Myntra. The goods sold on Myntra are genuine ones.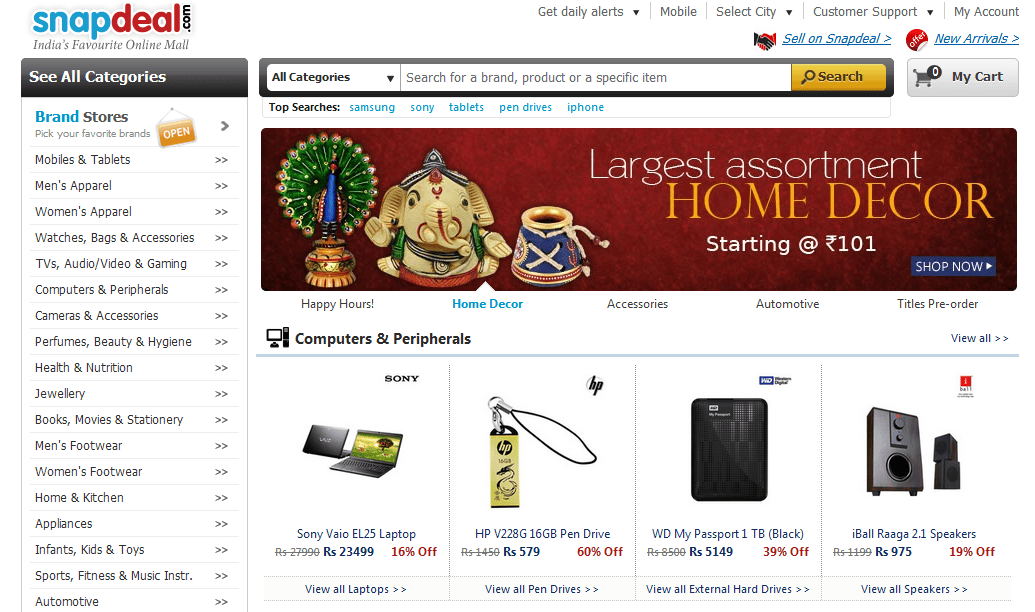 Another famous and one of India's largest e-commerce organizations is Snapdeal. Snapdeal was recently founded in 2010 and has its headquarters situated at New Delhi, India. It sells a wide range of products starting from books to jewelry. Products like books, computers, cellphones, cameras, home appliances, jewelry, watches, footwear, bags, sports goods, televisions etc. Snapdeal supports payment modes like net banking, credit cards, debit cards, COD, credit card. Also people can sell products on Snapdeal. Products of many famous brands and make are sold on Snapdeal.com.