It is scientifically proven that relaxing music has the ability to induce sleep and ensure a deep and relaxing snooze. The biggest problem with human beings, in general, is timely sleeping cycles owing to hectic work schedules and haphazard lifestyle. But there are ways to address this problem and a good pair of sleeping headphones and some unwinding music could be our daily dose to a sound sleep.
Now there are things to keep in mind before ordering a pair as they need to be super comfortable along with added features like design and sound quality to make the process cosier. Here are the top 5 on the list that will tick your snooze button at the right place!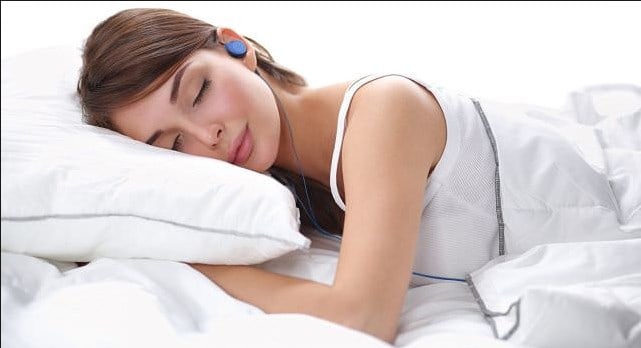 AcousticSheep SleepPhones Classic
One of the most comfortable pairs of sleeping headphones comes in this family of AcousticSheep that are designed traditionally to fit different sizes. A badly made pair can result in health issues with prolonged use but with this, the ensured fit and comfort will take you into the dreamland faster than anything else. They come in both wired and wireless variants and have made the cut as one of the most comfortable wears for sleeping.
The material of the headband does not react with skin and is lightweight, the soft padding will never interfere with your sleep position. Wear it like a plain old headband or pull it down as a sleep mask, the comfort is never compromised.
Some models of the AcousticSheep come with Bluetooth settings and the practical nightmare of tangled wires can be avoided. The SleepPhones SB5Bm Wireless headsets are a bliss in other words.
With different size and colour options, AcousticSheep has nailed the game like a pro!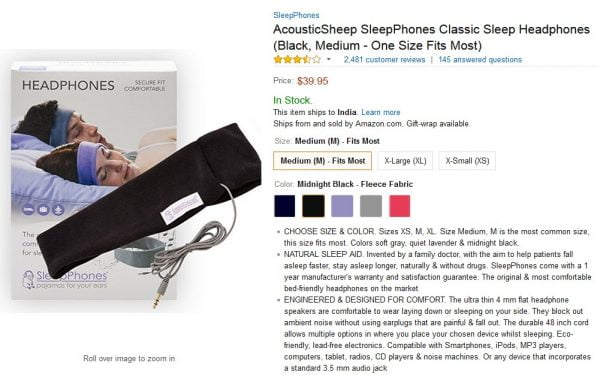 CozyPhones
Another brand that offers comfort as their priority feature, their products are categorized and designed differently for different activities like running, sleeping or for kids.
The design of a typical CozyPhone is that of a headband that comes with accurately cushioned lightweight micro speakers for more comfort. The fabric of the headband, too, comes in materials like fleece or Lycra that makes long-time wear even snugger.
The speakers inside the headband are nestled strategically for comfortable wear and also come with a travel bag and various choice of colours of the headband.
The only downsizing factor of CozyPhones sleeping headphones is that no wireless option is available at the moment.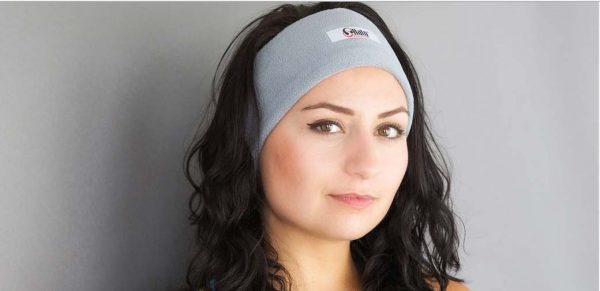 Bose QuietComfort 20 Noise Cancelling Earbuds
If you have the budget for it, this is your best option for sleeping headphones. When it comes to sound and noise cancellation, Bose is the undefeated best for years now and this feature is effectively the most sought after in any headphone that is used to induce sleep.
Noise disturbances are one of the major reasons for sleep deprivation and this set will give the ultimate silence required for concentration.
They come like in-ear headsets with an ergonomic design especially suitable for all sleeping positions. Chose your comfortable size of the earbud tip and enjoy a sound sleep.
Scientifically calculated, this particular set is capable of reducing noise upto 45bd! The working mechanism follows a three step procedure that equates your physical dimensions with your required quality of noise.
The comfort factor is also spot on as the earphones will not interfere with your way of sleeping.

Taotronics Active Noise Cancellation Earphones
Another underdog in the family of sleeping headphones, this model is an amazing product with the price level kept on the affordable side.
The batteries are best and provide uninterrupted 15 hours audio with considerable noise cancellation properties.
Comfort scores high on these earphones and a sound sleep is guaranteed even for the worst sleepers.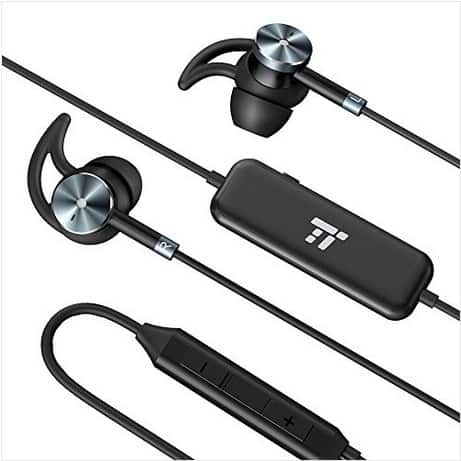 Tooks Sportec Band
The Tooks Sportec Band strikes the right chord at versatility as it can be multi-used as a sleeping headphone or something you can use during other activities.
With micro-fleece fabrics and sweat resistant dryfit material, the comfort that comes with these sleeping headphones is also bang on!
The design is such that it is ideal for sleeping as well as for sports and offers ultimate comfort for any sleeping position as well.
The micro speakers are removable making it much more user friendly that sits right into the headband pockets tightly.
The controlling mechanism through an in-line remote lets you take care of the volume and other functionalities like pause and play, skip or call handling.
They have come up with Bluetooth versions also which makes it easier to use.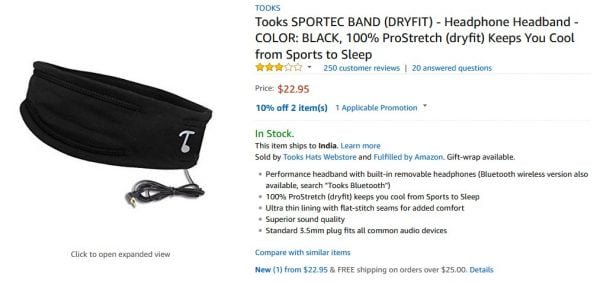 2018 is a year of innovation which has impacted the sleeping headphones franchise as well. No longer will you have to worry about disturbed sleep and with a long-term investment, your biological cycle will stay intact. Chose the ideal model as per your requirements and lead a healthy rested lifestyle every day!