We are living in a time where cyber-attacks are of real nightmares to most of the big corporations, even for normal users. The recent malware attacks that went around the affected millions of users prove security is something which you cannot compromise. Since the internet is something that connects everyone it is inevitable to completely prevent a cyber attack unless you are a millionaire with high-end security measures in place. For the normal crowd, people like you and me, there are some basic things we could do as part of security measures. Do you know, the public Wi-Fi you use can be a bugbear sometimes? It's very easy for hackers to hack into your computer/smartphone if you are using public wi-fi. Securing your network access by setting up a VPN would be a great way to start guarding up. Today we are going to talk about the top 10 best VPN for android.
The VPN (Virtual Private Network) is a private network, established over a public network. What's the benefit? These private networks offer a secure, encrypted connection for the end-users. Another great thing is, since it is a private network, you could easily put in rules, exceptions thereby better management and control over the data. VPN also allows secure access to the corporate intranet from any network. Enough with the intro and let me share with you my list of top 10 best VPN for android.
Best VPN for Android
Express VPN tops the list both in terms of features and with high standards of security. This is one of the most trusted and reliable premium VPN you could find for all your devices. Once signed in, you can select from more than 100 server locations around the world. The connection speed is great and your private data is secure, even from the folks at ExpressVPN. The pricing is bit on the steeper side; its $12.95 for one month, $9.99/month for 6 months' subscription and $6.67 for 12 months' subscription. This is hands down one of the best VPN for android especially, if you want industrial standard security.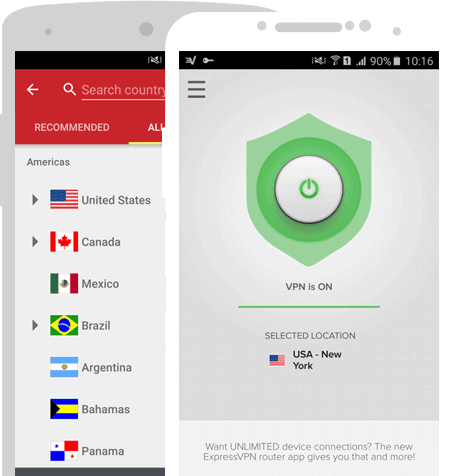 Second on the list, Freedome VPN from F-Secure is also a highly reliable VPN service which offers un compromised security across your devices. The software is free for use for the first 5 days and after that you must pick your subscription, starting at %5.99/month. The app also features a built-in virus scanner for keeping your phone even safer.
The FinchVPN is also a great choice but comes with a confusing subscription package and pricing. For those who of you doesn't want the unlimited bandwidth then you can opt for the Pro package. You will get 25GB of data if you are on pro package whereas the Premium package get unlimited bandwidth. There is also option to access to paid servers. The FinchVPN also comes for free with no data restrictions and for that reason it's a great choice. Pricing, $1.61/month for Pro and $3.21/month for Premiere.
The Fast-Secure VPN is a simple VPN with outdated user interface. The app also comes with free version but with lot of limitations. Trust me! You don't want to go through that. In my opinion this VPN is one of the best VPN for android and a great companion for getting your hands-on the contents which is locked region wise.
FlashVPN, as the name says it's VPN access in a flash. There is no set up or login required. You open the app, select the Location from the list of Fastest, United States, England and Japan. Then you touch on Start button to start the VPN. Simple, easy and free of charge.
Hideman VPN sounds great but comes with a complex subscription package. You get to pay per hour, or month or year. It's just $1 for 10 hours use, $2.90 for one month and $24.90 for yearly subscription. I love the fact that you get to pay per hour which narrows down things to one single point of concentration. The app UI is great and there are lot of features.
SurfEasy VPN has a great dashboard which, when connected to VPN, shows all your connection details along with your new IP address in a neat fashion. The pricing for 5 device support goes like; $4.99/month, $49.99 per year. If you just want one device to support, then $2.99/month or $29.99 per year. The free accounts get 500MB of usage for a month while the paid account gets unlimited bandwidth. If wanted, you may choose to opt out of the ads showing up in the UI.
OpenVPN, like you may have guessed, is an opensource free VPN providing app. When most of the VPN apps give you one touch service, OpenVPN needs to be configured before you start working. To lighten this up, you will get to import .ovpn config files. OpenVPN uses PolarSSL, which is notably one of the best encryption standard. Since there are some initial set up required, the UI looks bit cluttered. If you can pass through the learning curve I have stated above, this is one of the best option to consider and it comes for free.
Opera Free VPN is the result of Opera stepping into the VPN field. Like other opera products, this service is also free. You get to surf unlimited without any subscriptions or entering your credit card information. Thought this app touch to connect options there is bit of a downside to it! You cannot download torrents over this app. If you are looking for a clean and simple VPN app then this one is a great choice.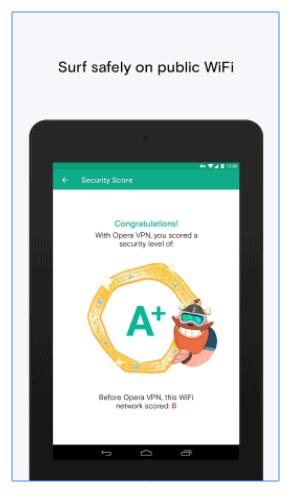 Like FlashVPN, SpeedVPN also one of the best vpn for android and comes with a very simple UI. You get to autoconnect to best available country or you could select from a list of three. The only difference here is, there is a timer of 60 mins. Once this timer hits 0, you will get automatically disconnected. Under the policies of this app, it is explicitly says, you are not allowed to download torrents and if find doing so, you will be banned from using this app. For simple browsing and other legal things, SpeedVPN is a definitely one you could consider.