People get very suspicious of their EXCEL skills because it's slightly a complex piece of software. And especially beginners get easily put off by something this complicated. But there is a lot of functionality hidden beneath this powerful surface. And believe me, this is worth the effort. Solution here is just to break down the learning process into manageable components and set your mind for moving ahead step by step. Yes, of course, it's impossible to learn Excel in just a few day or weeks, but make way through the following techniques, give it some time and you will achieve a workable along with a comfortable knowledge of the software. These will surely make you a true spreadsheet master!
So here are some Excel techniques you should master to comfortably get the grip of it.
1. Simple Math
So to begin with, we can start with the most basic math problems. Feed them into Excel and find the solutions! This is how. First thing to remember about such techniques – Excel expects us to see an equals (=) sign before giving it a problem to work on. So type =10+10 into a cell of your spreadsheet and press enter. This way the cell displays number 20.
Here, adding & subtracting is somewhat self-explanatory. But use an asterisk (*) mark when you are multiplying and a forward slash (/) mark when using the division formula.
2. AutoSum Usage
This is something really easy. And is also a great way for speeding up with the basic Functions.
Firstly, enter any two numbers in the cells which are consecutive to each other. These can either be side to side or be above and below. Second, select a cell that's directly on the right or below of the selected cells. After this, navigate to Home > AutoSum.
This automatically populates the selected cells with a SUM formula. Press enter and execute the same. So this way, Excel adds the two numbers together & delivers the result in the specifically selected cell. (AutoSum drop down can also help you choose other different mathematical functions).
There's another way of easily calculaing the sum of selected numbers or cells. Simply select the cells containing the numbers and watch out for the sum at the end of the excel window. This is an automatic method.

You may also like to read : 10 Cool Google Chrome Tricks Everyone Must Know
3. Number Format Application
Once your spreadsheets start to get a bit more complex, they are likely to accommodate different types of numbers ranging from dates to currency, percentage and more. So to ensure that you work well with this data, it is worth formatting according to types.
Select the numbers that require formatting (you will have to do each type one at a time). After this, look for Number section at the top of your excel screen, and click on the dropdown that defaults as General.
From there you can choose the following number formats. If you're looking for more control, just select the More number formats option from the bottom of that list.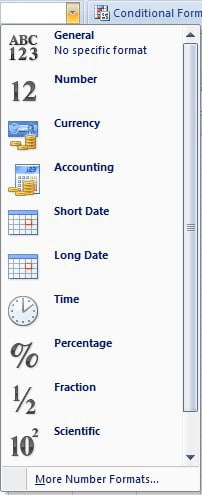 This is how you will be able to specify details. For instance, calculate the amount of decimal places to use. Or maybe your preferred currency.
4. Parenthesis
You can make use of parenthesis for ensuring certain calculations to be executed primarily. For instance, (10+10*10) – the second & third 10s will be multiplied together before adding the additional 10. However, if we make it (10+10)*10, the first & second 10s will first be added together.