Thanks to enterprises' increasing interest in rugged computing products worldwide, Indian businesses, too, are adopting the practice of equipping their employees with fully-rugged laptops. In recent past, there has been a growth in the demand of rugged hardware devices. As Indian enterprises continue to diversify, the need of the hour is mobile computing that is robust and strong. Mobility particularly at remote and harsh locations gives a competitive edge to any business. The rugged devices run smoothly and are less susceptible to interruption caused due to hardware failure or data loss. Built to survive tough vibration and extreme temperatures, rugged devices bestows a direct competitive advantage from the perspective of both workflow and management.
As an emerging market, India economic potential is undeniable favourable. The new wave of consumerism has led to the mushrooming of number of ventures that are offering wide range of services and products. This has unleashed a competitive fervour which is evident in the number of start-ups offering similar services in the marker today. In order to up once game in this eco-system calls enterprises to offer their employees a robust backing which included equipping them with rugged hardware devices that can test time and circumstances. An undisputed leader in the fully-rugged devices, Panasonic has designed a series of rugged laptops and tablets, particularly the Toughbook CF-20 that is built to last in most compelling situations.
So, what are Rugged Devices?
With the low cost of ownership, durable frames and reinforced corners, rugged laptops and tablets offer desktop-class performance in competitive rugged designs. The powerful processor integrated webcam and amazing battery ensure that you get the desired combination of military-grade durability and enterprise-class mobile computing power rolled in one device.
Offering a great choice of configurations that are perfect for constructions sites and workers who work around oil rings, Panasonic offers rugged laptops in India that are also detachable. Thus, helping businesses leverage their investments.  Now the mobile workforce can visit any corner of the factory without worrying about connectivity via Wi-Fi, GPS, NFC and Bluetooth.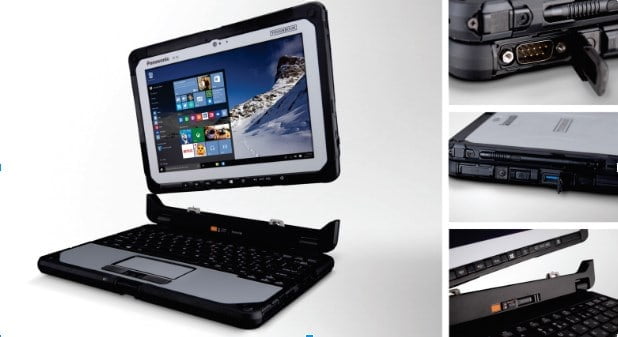 Source: Panasonic Toughbook
Toughbook CF-20 for evolving computing needs
Panasonic has created a fully rugged yet lightweight device (just 1,760 gm) to answer the needs of organizations that require great power-packed performance in a portable machine. The Toughbook CF-20 combines ergonomic and durable design, offering great flexibility and desktop-alike performance in one machine. Launched in June 2016, CF-20 can operate for hours, thanks to built-in battery saving technology.
With CF-20, the industries that are exposed to harsh working conditions have access to a fully rugged machine. A rather 'low maintenance' device, the Panasonic Toughbook CF-20 is backed by Windows 10 Pro platform, 1.1GHz Intel Core m5 vPro processor and 8GB of RAM, thus ensuring no compromise on usability and portability. The fully rugged device also has a 10.10-inch touchscreen display which is instilled with proximity sensor and accelerometer sensors. It packs 128GB of internal storage that can be expanded via a microSD card. The device hosts an 8-megapixel primary camera on the rear and a 2-megapixel front shooter for selfies.
A 2-in-1 and Configurable Device
The CF-20 has the familiar Toughbook look-and-feel: a generous array of ports, slots and connections along with safely behind lockable covers. 2-in-1 lightweight device detaches easily to become a 10.1-inch tablet. The device is purpose-built for challenging environments, including field services, utilities, oil and gas, transportation and logistics, meeting MIL-STD-810G and MIL-STD-461F military specifications, and IP65 water and dust resistance.
The detachable laptop has a magnesium alloy chassis enough to withstand the harsh environment of construction sites and oil rings. The clever built-in handle also provides on-the-job flexibility. Even as the work day gets longer, power never becomes a problem as the optional bridge battery permits hot swap battery replacement without any disruption. The gloved multi-touch display is sunlight-viewable, making it perfect for outdoor jobs and fieldwork.
Aimed to meet the evolving needs of enterprises, the ability to detach the tablet from notebook provides flexibility and enterprise-grade features. Equipped with Windows 10 Pro, the CF-20 is powered by Intel HD Graphics 515 for high-definition document viewing.  Furthermore, it sports purpose-built Vehicle Mount and Desktop Port Replicator to meet all mobile computing needs at extreme conditions. Users who find Windows 7 Professional more comfortable can opt for the OS.
For those who wants 24×7 Connectivity
Offering complete customization for rugged devices, Toughbook CF-20 is one of the most desired rugged laptops in India, built to support the evolving business ecosystem of the country. Backed by a three-year limited warranty. Panasonic Toughbook has been designed to meet the ever-changing business needs of the enterprises with connectivity options like USB, SD card reader, HDMI, VGA, Ethernet, Wi-Fi 802.11ac, Bluetooth, and optional 4G LTE and GPS.