The gamer community has been here for quite some time, Gaming is now taken a separate space in the Sports arena. Every average person these days has at least one game in their phone be it a simple board game, or a complex multi-player football game. Especially in the multi-player/community games category, Competition and Strategy play a very important role. And a lot of people like to either share their progress, or educate the masses about certain strategies they can use. While some of them only like to review the game which helps people get a feel of it before they decide to buy or download the game. Youtube channels like the 'RadBrad', 'Markiplier game', 'ACG', and 'That One Video Gamer' have made quite a name and a super successful career in the field of Game Streaming.
A very important element of these famous channels is the technology of screen recording which helps you to record the game while you play it. This time, we have for you a sophisticated list of the best game recording softwares that you can try out if you are planning to become the next big gaming channel, or even if you're just looking to boast in front of your friends. Let's get started!
1. Open Broadcaster Software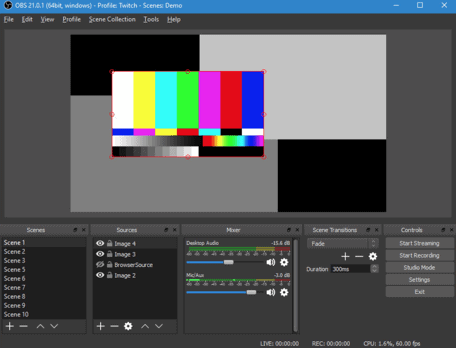 Often abbreviated as OBS is quite a famousgame recording tool that a lot of gamers use. The best part about it is, thatit's free! It is widely used by both beginners and professionals in the field.The controls are very easy to understand so you won't have to waste hours justto figure out how to use the software. It also provides its users a livestreaming feature. Above all that, you can use this tool on Mac, windows, orLinux. Their audio mixers are extremely creative; it even has certain filtersthat do a great job in filtering out any excess noise that you do not want in yourvideo. The resource features of the recording can be adjusted really easily.
Free
Easy to understand controls
Compatible for all operating systems
Live streaming option available
Noise cancellation features
2. Nvidia Shadow Play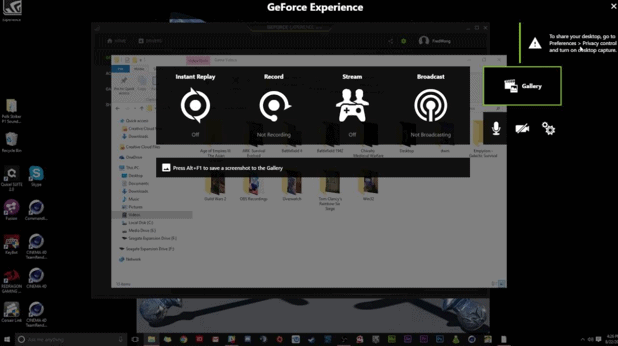 Nvidia is quite renowned name in the Gaming Experience department. It designs graphic processing units for gaming, so that itself is enough to make the decision. The brand itself gives a lot of reliability. Like all the others in the list it helps you capture your special gaming moments. It is hardware-accelerated and powered by GeForce GPUs made by Nvidia. It does not give your CPU a hard time because of its smooth GPU i.e.Nvenc which handles encoding.
It is only compatible to Windows. However, there is another software called Nvidia Share which is available on all operating systems. UWP games are not that smooth to work with. But otherwise, it records all the other games well. It also provides Streaming configuration optimization but to a certain extent only. The fact that it is in built comes with its own baggage. But nonetheless, it is a great tool for beginners to try out.
Free and inbuilt. (Nvidia card)
Compatible with Windows
Limited streaming optimization
Not suitable for Live streaming
No watermarks
3. Windows Game DVR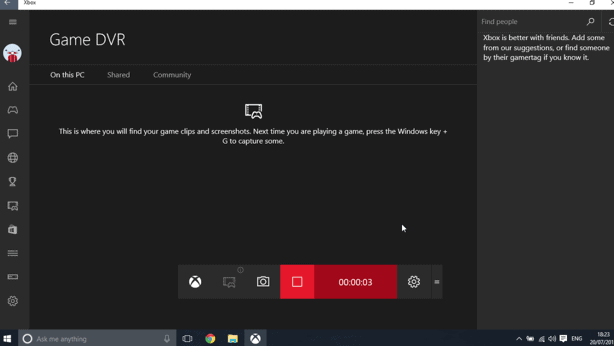 Another friend of Windows. Winx10 users already have it pre-installed in their systems. It also supports UWP games unlike Shadow Play. You can record your game in 30 or 50 fps. The quality of the recording can go from 720p to 1080p. However, the only downside is, it may give your CPU a hard time while recording. Especially if yours is a low-end PC, you may get some pixelated results. It now uses GPU acceleration so that should definitely solve the CPU issue. If you're into just getting a quick screenshot, then this tool is pretty convenient. If you are looking into professional reasons for recording your game, then you should definitely look into some better-paid options. But if you are looking for a quick fix or a basic video to share with your friends, Windows Game DVR would be the perfect pick for you!
Compatible to Windows
Winx10 Inbuilt
Supports UWP games
Not suited for professional use
Free
4. Bandicam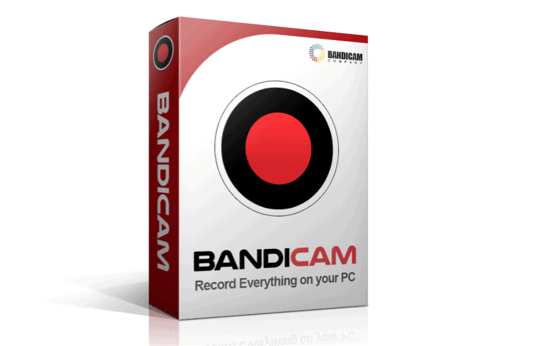 Well, speaking of professional purpose. This is the tool for you! Often people run from it looking at the price for it which is $40. But trust me it's worth every penny. It has a bundle of sophisticated features which are rare in other tools. The interface is smooth as butter, plus you will not take more than a few minutes to understand it's controls. And the basic element which are present in other software's like live recording, using custom codecs, etc are obviously a part of Bandicam.
Another quirky feature it offers, is where you can resize the window while recording. Plus, it can also record audio in different streams and then save them as different .wav files while exporting. If you've ever had audio balancing issues, you would realize how much of a blessing this feature is. You also have full control on the video files and images so no storage issues.
No tool is all sunshine anyway, so here's a downside of Bandicam. It offers no overlay, so if you want to change settings on the spot, you cannot. Or you will have to edit out some parts later on.
Paid: $40
Live Streaming available
Resizable recording area
Compatible with all OS.
Can record audio in separate streams
No overlay option
24 hours continuous recording
5. Action
Another great tool for gamers is Action. This software is compatible on all versions of Windows. This tool is known for its HD quality of recording. Like other tools it can help you to record you game, stream it, capture screenshots and even record music. You can easily record benchmark results as the average frame rate is constantly recorded. Live streaming is another asset of this platform. Once done recording you can share your gameplay with platforms like Facebook, Youtube, Aliez, Hitbox and more. All your recordings can be exported very easily in different file formats. The quality of the recordings can go upto 4K (3840×2160) which is a huge plus.
It also uses GPU acceleration in the most optimal way so that your CPU can take a break. It is a very gamer-centric tool, so if you are considering this professionally you should definitely go for Action!
Paid- 1 month free trial
Webcam support
Live Streaming available
HD Recording- 4K
Low CPU usage
Simple User Interface
6. Go Play (a.k.a Smart Pixel)
Another good one in the market. The Go Play editor is a sure shot way of recording live footage of a game you're playing on the PC. It offers a lot of recording customization options and features that can help you edit and modify recording based on your needs. This is a great friend of Storage because it records all the games in a very small size. It appeals to a much larger audience as they offer the software in 52 languages. so no hiccups while understanding the controls of the game. It also lets you add a mouse click effect while recording, so if you are making a game tutorial this can be a great feature to use. It does not support Live Streaming which can be considered as a big con for some users.
It is compatible with Windows. There are both paid and free versions of GoPlay. The free one comes with a baggage like, watermarks, less speed, less recording time etc. Their paid plans start only from $14 for 3 months.
Compatible with Windows
Offered in many languages
Takes less storage
Does not support Live Streaming
Free & Paid
7. Quick Time
This ones for all our Mac users.And it is quite popular already. One of the stand-out features of this tool isthat you can add active narrations to your recording very easily. Like everyother tool in the list it can record, edit, play and share your screencast. Itprovides the user with a lot of cool playback features like one can adjust thevolume of the recording, or rewind it, fast forward it, flip it, rotate it,trip it, and more. So it acts as a complete package. You can ever post yourvideo directly on your social channels like Youtube and Facebook. Because thistool represents the Mac family, you have the privilege to directly streamvideos to your Apple TV. Plus, it's free so there's nothing to lose here.
This ones for all our Mac users. And it is quite popular already. One of the stand-out features of this tool is that you can add active narrations to your recording very easily. Like every other tool in the list it can record, edit, play and share your screencast. It provides the user with a lot of cool playback features like one can adjust the volume of the recording, or rewind it, fast forward it, flip it, rotate it, trip it, and more. So it acts as a complete package. You can ever post your video directly on your social channels like Youtube and Facebook. Because this tool represents the Mac family, you have the privilege to directly stream videos to your Apple TV. Plus, it's free so there's nothing to lose here.
It's free
Compatible to Mac and Windows
Can add active narrations
A lot more advanced controls
8. Fraps
Fraps is quite a popular one on the list. It uses the help of OpenGL and DirectX graphics which is a big USP. Specially with their latest version, they have introduced a whole new round of features which maximizes your game recording experience. A lot of professionals in the market have confessed on using this tool, because of how easy it is to use. This tool provides the user a lot of FPS details before starting the recording. It is very real time in nature as it can capture both audio and video at a very high quality.
However, one of the cons is that it does not provide flexible compression options which makes the size of the file large. Just to give you a vague idea of the same, a recording of 2 minutes takes up to 3.95 Gib on disk. If you don't want your game to lag, it is highly recommended to use an extra hard drive before recording. It offers a maximum resolution of 7680×4800. Another downside to Fraps, is that it's last update was in 2013, and since then a lot of advanced tools have entered the market. They have both free and paid versions, but the free one allows you to record only 30 seconds at a time. So you'd much rather go for the paid one which is for $37.
Free and paid both
Compatible with Windows
HD videos
Last updated in 2013
9. Loilo
The best part about Loilo here is how light-weight it is. If you want a perfect blend of professional and casual use then you should go for this. You can record your on-going game smoothly and then customize the video as per your needs. It is also a free program with unlimited recording time. You can share your video on social platforms and it also has a very easy to understand interface. Users also have mentioned that this tool does not affect their performance at all. It is indeed quite a complete package. The only drawback here is that it does not support Windows Vista and XP.
Compatible to all Windows devices except Vista and XP
Free
Unlimited recording time
Better user performance
10. Gecata
Gecata by Movavi is the last one on our list, in no particular order. It is your standard screen recorder. They stand out because of the cool features they offer. The Gecata can record your game at a speed of 60 frames per seconds which is quite a privilege. They have certain benchmark settings which allow you to adjust the settings of the video and save formats. It is known to record in high definition and in multiple formats. The con would be the watermark monster, if you opt for the free version there will be a watermark on the video.
Like Bandicam, it can save audio files as different files in a AAC format, so you can easily cut out all the unneeded parts of the video. It also gives you the option for Webcam video recording. So that if you run a streaming channel on Youtube and the game is on a very spicy turn, your users can see the rage and excitement on your face. It just adds value to your video. You can also take screenshots with a click of the button.
Free and paid
Compatible to Windows
Watermark on free version
Webcam Recording
Can record audio streams separately
Conclusion
So there you have it! Our list of the top ten game recording softwares you should try out. Now, if you want to record a game to show your friends, create a tutorial, or start a successful YouTube streaming channel, you have all the information about the best tools in the market! All of them are great in their own stance, you can pick and choose something that fits your needs and pockets too! Is there a game recording software that we missed out on? Let us know in the comments!