WordPress and Blogger are the two platforms for bloggers where they can post anything they want, anytime and these platforms have been competing each other since a long time. WordPress has an upper hand though, with a lot of advantageous features when compared to Blogger and this becomes a lot better when the self hosted version of WordPress is used.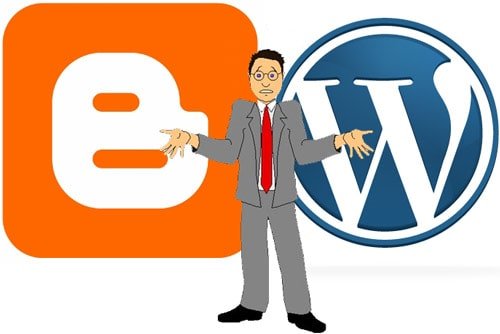 Here are a few reasons why WordPress is better than the Blogger Platform –
WordPress is much more customizable:
This is the main difference between WordPress and Blogger, In wordpress you will be able to customize your Blog the way you like, with the numerous plugins available and the platform being open for developers it is very useful for customization. We can say that WordPress is an Own House and Blogger is a Rented House. In your rented house you cannot make a lot of changes except some minor superficial changes. But if you own a house then you can do whatever you want with it. Tear it down and change the whole landscape.
You own your WordPress blog:
WordPress Blogs are Owned by you and you can do anything you want with them, right from the Domain name to the Database it's all yours, but not in the case of Blogger which are owned by Google and the main complaint I heard from many Blogger Bloggers is that their Websites suddenly disappear from the Web without any prior information and it will be showing "Blog Not Found" and all the content in the Blog is lost for good with no database and no back up. But with WordPress you can have your own Database and Back Up your work and get all your content back even if your website is hacked.
WordPress is more SEO friendly:
Many might not agree with me because Blogger is owned by Google and SEO is mainly concentrated on Google, but I must say WordPress is more SEO friendly than Blogger you can search anytime and you will find that the WordPress blogs are the one's found in the top 99% of times. With many good plugins to support SEO are very helpful in getting your blog in the top search results.
Sorting your Blog out for Readers:
I think this is a main advantage of WordPress which allows you to bring back your visitors back to you, just because of 1 simple reason that is WordPress can be easily customizable and can be categorized into any number of categories you want to and make the reading experience pleasant for your readers.
You can shift Hosts if not satisfied:
If you own your domain and WordPress site, you can simply pack up and move to a new host, you're your blog in the same condition and position as it was before without having any impact in the search engine results and the. Again, it isn't likely that Google would shut you down like that, but as mentioned above your website will be gone without a trace without your knowledge suddenly and you won't even know why that happened. And in Bloggers case you cannot transfer your content to a different host which I don't think Blogger will allow.
Other Blogger Users can flag up your blog and get it blocked/closed:
In case of Blogger, if you are flagged as it is called by other Blogger users and you get a minimum number required to Block or close your Blog then Google will just go ahead and Close your Blog. With WordPress, you are the sole owner of the blog. And no one can block or close your website without your notice.
WordPress is better in sorting out Spam:
WordPress I guess is better in identifying what Spam is than Blogger can, with all the plugins in the box for WordPress I can say that Spammers cannot cross the line put by WordPress and introduce themselves through us in the Web.
In the end I can say that all the quality bloggers in the town are using WordPress and Blogger is left to be used for casual work and not for serious Bloggers.
About the Author:
Chetan Bhawani is a dentist, a tech blogger and a web hosting adviser. He recommends to use WordPress web hosting, which provides the best deals in hosting the wordpress blogs, and the web hosting company reviews. Check one of the tutorials, which explains on how to install wordpress.