Moavavi is one of the leading company in the Video codec and video conversion software industry. They have both online video conversion service to convert and merge videos to Movavi Software which you can install on your PC. The online service is already very popular because of its great features (listed below). They support formats like AVI, MPEG, MP4, WMV, ASF, 3GP, 3GPP, MKV, MP3
MOV, QT, VOB, IFO, MOD, DAT, M2T, MTS, VRO, FLV, etc. And devices like: iPad, iPod, iPhone, PSP, Nokia, BlackBerry, Android, Sumsung, etc.
However, Movavi video converter have a lot more features and is available for PC and Mac. They are available in three license type starting from Movavi Video Converter Personal, Movavi Video Converter Business, Movavi Video Converter Server. it comes at a price range of $49.99, $99.99 and $499.99 respectively.
Now lets learn more about both Movavi Software and the Web client.
Movavi Online Converter.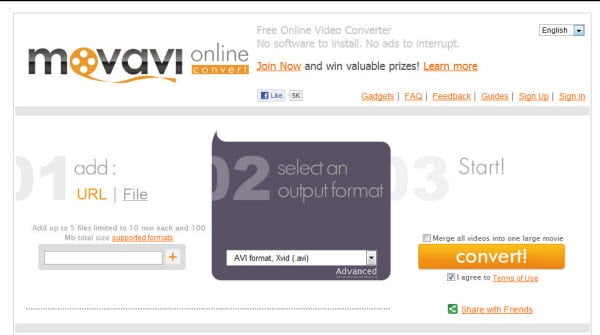 For users who don't like to have a video converter on their PC mostly because of low configuration PC or maybe due to lack of space, Moavavi.com's online converter is the best alternative they can use for converting videos and get them downloaded on to their local PC, apart from converting it also lets you merge multiple videos from different networks like mainly YouTube, Vimeo, Metacafe etc. They can also get the converted/merged video to your iPhone, iPod, MP3 player and more. And it is not restricted to web videos only, you can also upload video files from your local drive and convert them.
Featured of Movavi online video converting and merging tool.
Convert and Download videos from YouTube and other video sharing websites.
Supported networks: YouTube, Blip.tv, Break.com, DailyMotion.com, GoogleVideo, iFilm, Metacafe, MySpace, MyVideo.de, and SevenLoad.
Convert from: AVI (DivX, XVid), MPEG (1, 2, 4), MP4, 3gp, 3gp2, WMV, MOV (QT).
Convert To: AVI ( XVid), MPEG-4 , MPEG-2 (DVD Quality, PAL), MPEG-2 (DVD Quality, NTSC), iPhone video (mp.4), iPod video, iPod 5G video, PSP video, 3gp, 3gp2, MPEG-4 (.mov), Flash (.flv)
Convert up to five files (enter up to five URLs) in one session. Total size of file needs to be smaller than 100 MB.
Convert videos stored on your PC.
Video Duration: Each video should be less than 10 minutes long.
Merge multiple videos into one large movie.
Re-download and share converted file (within 24) as many times as you like.
Add Movavi widget to your blog (see below), website, browser (IE), Facebook profile, and more.
Available at: http://online.movavi.com
Movavi Video Converter For PC and MAC.

Movavi Converter Software can convert both video and audio files to your desired format including Blue-ray. It can also convert your files to suite the format of your Mobile at super speed without consuming much resources from your computer, thanks to the their advanced video conversion technology. I've tried it myself that it can enhance the quality of a video by editing.
Forget about those softwares which have only a limited number of video and audio formats. Movavi support around 170 video and audio formats for your needs, you can get the full list here. And it can also rip video from un-encrypted DVDs and converts them to the format of your choice. And it supports HD Video quality encoding
Technical Facts:
Movavi supports Multi-GPU technology and is optimized for Multi-core processors to increase the speed and quality. Movavi can harness the power of NVIDA CUDA Technology which accelerates video conversion by 8 times ensuring smooth playback and highest quality for all your favorite movies.
Intel Media Technology: Movavi Turbo2 Plugin uses Intel Media technologies, giving you more efficient parallel task processing on multi-core processors. With Turbo2 Plugin you get optimum performance – up to 400% performance gain – for H.264 and MPEG-2 formats, which means up to 3x quick conversions for iPod, iPad, iPhone and other portable devices, fast DVD grabbing and HD videos transcoded in a flash.
You can get lot more details on this here.