Pinterest is a bookmarking website that allows you to organize and share interesting things, you can pin the image on your board that catches your eyes and you can also repin others images which are already pinned in pinterest, other than pinning you can like and comment on others images.
In Pinterest you can create pin boards of various categories so that you can organize your images properly in particular categories. Pinterest also allows you to create boards which can be managed by a group. Along with this you can follow other people to get the updates from them.
Also read:
How to know if an image gets pinned from your website?
Visitors of your website and blogs pins the interesting images on their Pinterest board which helps you bring more traffic to your website without any effort, but how to know who pinned your images on their Pinterest board? Don't worry here is an online service that notifies you when someone pins the images of your blog. PinAlerts a free online service we are talking about that handles this job, you will be notified with the email when people pins the images of your blog on their Pinterest board.
Possibilities of PinAlerts
PinAlerts comes up with easy to use user interface with minimal but useful options, unlike Adsense you need not add any kind of scripts on your blog or website to track the pins, just create an account, add your domains and start tracking the pins. PinAlerts allows you to track multiple domains which makes track the pinned images of all your websites and blogs under one account. You can add your competitor domains in domain list and compare the sharing of pins with their blogs or websites.
How to add Domains in Pinalerts to Get Notifications?
Adding domains in pinalerts is easy, login to your pinalerts account, click on "Add+" button and then enter each domain separated by comma or space. You are only allowed add a domain or subdomain but not the subfolder of a domain.
You can select alert intervals in "how often" drop down menu. You can choose hourly, daily and weekly alerts or go for as it happens option to get notified as soon someone pins the images of your blog.
What You Get in Email Notification?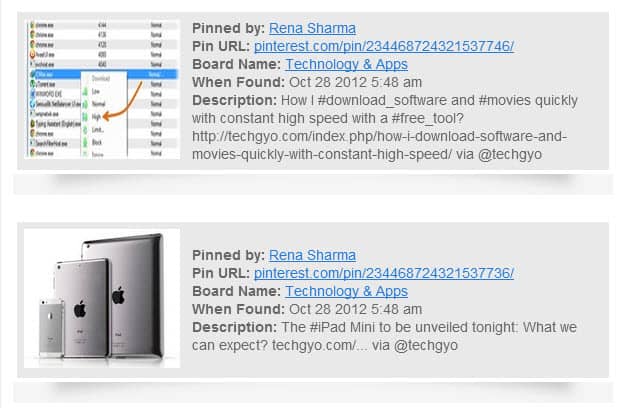 You will be notified with lots of things in email such as pinned person, pin URL, board name they pin on, pinned time along with the date and description of the pin.
Website: www.pinalerts.com