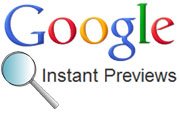 The world's immense search engine Google has added a new tool called "Instant Screenshot Previews" to its search results which allows the users to see screen-shot previews of web pages directly from the search results. Instant Screenshot Preview is depicted by a small magnifying glass icon beside every search result and displays the preview popup when clicked.
This feature saves the time of the surfer which gives clear screenshot of the website before visiting it. Microsoft's Bing search engine already offers web page previews on its search results by hovering over the arrow button which is limited to some preview but Google's "Instant Screenshot" shows almost full website as a preview. The company says that it will cache popular pages from popular websites for the previews, and for other websites, it will generate the screenshot on the fly. According to the Google the speed of loading preview is very quick, officials says that "Once you click the magnifying glass, we load previews for the other results in the background so you can flip through them without waiting".
This step works as part of a broader strategy to make search more seamless for users to find information quicker and easier. Currently Google has not placed ads on these previews but has the plan of the same in the future according to the web geeks. Webmasters can also prevent their websites from this instant preview by just placing <meta content="nosnippet"> tag in the <HEAD> section of the webpage.