A video editing geek or a top-notch real-world computer game player could surely relate to the term Overclock Monitor. Although many of us would be somehow familiar with the motherboard and a graphic card overclocking, the term overclocking monitor is seldom used. An Overclock monitor delivers the same advantage of performance enhancement complemented with a visual treat.
That said, the idea of overclocking is crafted beautifully for branding purposes in marketing. You might have come across top computer product brands like Intel, MSI, etc. claiming their motherboards, or graphic cards to overclock ready, thereby guaranteeing higher performances. Similarly, overclocking monitors augments the performance and enhances the graphic features.
 For all the novices, who find themselves alien to the term overclock monitor, I will just take you through some 'Wh' questions that would clarify all your uncertainties Thereby giving you an idea on how to overclock monitor.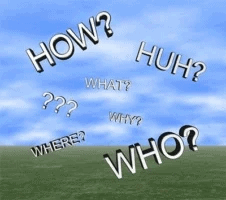 Why would you want to overclock the monitor?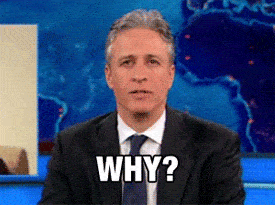 Standard speed to execute each task or instruction is assigned to every microprocessor. This rate at which the components perform their tasks in a given cycle is called the clock rate. The clock rate is measured in Hertz. Hence, 1 tick is typically 1 Hertz per second. When you try to overclock your system, you tend to make it work faster than the assigned standard time.
So, when I say to overclock your monitor, it implies changing the stock refresh rates.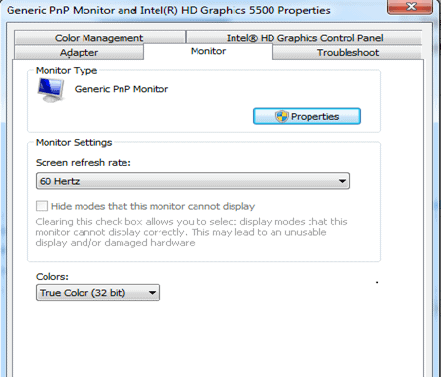 Now, the refresh rate is the number of times the frames need to refresh on the screen for a better graphic transition. Here, the image represents the monitor type and its standard refresh rate. 60 Hertz refresh rate implies that a single frame on the screen refreshes 60 times per second.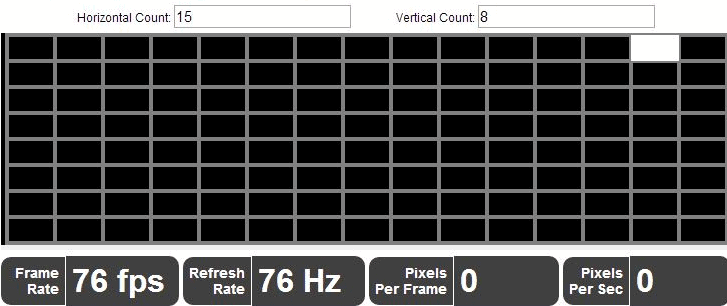 Hence, an overclocked monitor would supposedly provide a better screen with a faster refresh rate. Well, this process can be a smooth transition as long as your system can support this change.
When would you want to overclock your monitor?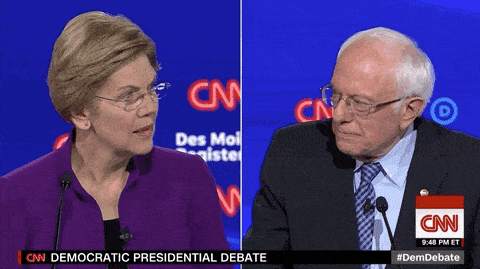 When the motion on your monitor appears shaken or irregular, sometimes jarred, you tend to search – How to overclock monitor?
Yes, one would try to overclock a monitor to optimize the graphics experience by increasing the refresh rates, to make the screen sharper.
Well, another issue that might need your monitors to be overclocked is screen tearing. At times your screen tends to display several frames in a single draw of the screen, making it appear torn.
By boosting the performance of your monitor, you can sync your video feed with the screen's refresh rates.
The planet of gamers completely welcomes the idea of overclocking monitors. The screen tearing occurrences or the visual artifacts compel the gamers to overclock their monitors to avoid the visualizing glitches.
What cost do you have to pay to overclock your monitor?
Before jumping on to understand how to overclock monitor, I would recommend you to take the below points as a word of caution. 
As you know by now that overclocking a monitor corresponds to meddling with the standard refresh rates and clock rates of the system. You may experience an array of problems associated with this.
Not all the monitors are truly compatible with overclocking and might end up into a broken display or damaged monitor.
There can be delay or frame bouncing issues incorporated with this meddling.
It induces many risk factors and hence your warranty is rendered invalid.
Apart from all these risks, if the process of overclocking monitors turns out to be well performed, it's a heaven for the screens. Your monitor visualizing effect would attain entirely higher levels and benefit you with a smooth and optimized graphic experience.
That brings me, to point out to you that it is very important before taking any major step, do take a thorough panel check, and find out, whether your monitor is already being overclocked by the company. In that case, it would be harmful to the panel to push the limits, any more.
How to Overclock Monitor?
NOTE: Well, overclocking your monitor is simpe and easy with the methods we listed below. Although the process complies with simple steps, the utmost precision and careful implementation is a mandate. Any mistake may be an exorbitant affair that might cost you your monitor. If these easy steps are performed correctly, then nothing can stop you from achieving an exclusive visual delight. 
There are two ways you can try to overclock the monitor.
Using a third-party tools (Not recommended).
Using Bundled Software.
Let's find out how?
Using a third-party tool.
One of the oldest and most impervious methods to overclock a monitor is using the CRU. Custom Resolution Utility tool may not be compatible with all the graphics, but it works well with AMD graphics.
You may proceed to download the tool here.
Once your installation is done, then open the CRU, to see 2 boxes. One of them reads detailed resolution and the other option is standard resolutions.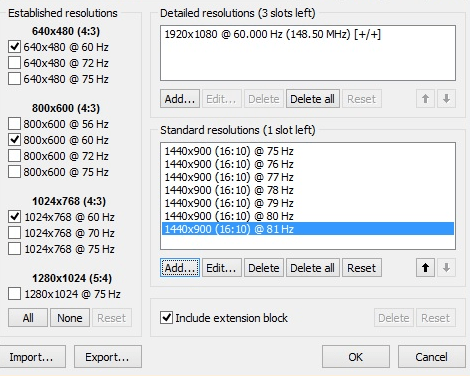 Go to detailed resolutions and then click on add option.
Then check the timing and make it LCD standard.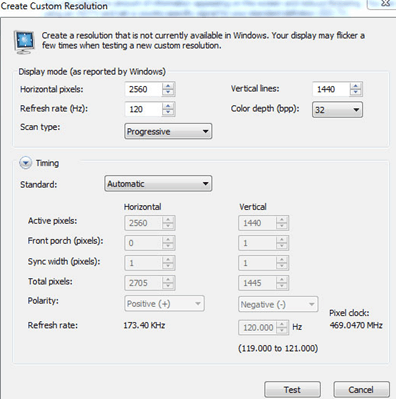 Now is the time to check the performance one step at a time by incrementing the refresh rate by 5Hz.
Click ok and reboot your system.
The steps that follow are the common steps that you would need to implement in all the alternative methods. This is to set the changes on Windows 10.
Common steps to implement changes on Windows 10 to overclock monitor:
Select display settings on the screen that emerges on a Right-click on the desktop.
Select the advanced setting options.
You will see a display adapter properties option on scrolling down. Click it.
You will view a drop-down box. Set the desired refresh rate on the monitor.
Now, wait for the changes. If the monitor does not go black then it works. Otherwise, the screen will not produce any display and would revert to the old setting after 15 seconds.
Well, if this helps out then no need for looking any further. That is it!
But, if it doesn't work out then you need to move onto the next option to overclock monitor.
Method 2 – Overclock Monitor Using Bundled Software.
You can use software to overclock monitor. I am bringing the top 3 majorly used software.
How to Overclock monitor using Intel's Graphic Control Panel?
Never knew you can overclock monitor with Intel's graphic card panel. Try it now.
Follow these simple steps: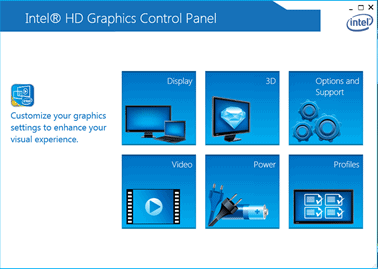 1. In Intel's HD graphics control panel, choose Display.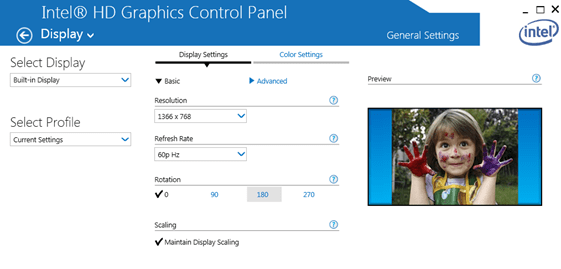 2. When you left-click on custom resolutions, it will prompt for width, height, and refresh rate.
3. Add the credentials and wait.
4. Save the settings and reboot.
5. If the refresh rate cannot go any, quit or try again to be sure.
This should answer your question as to how to overclock monitor using Intel graphic control panel.
How to Overclock your monitor using the NVIDIA Control Panel
NVIDIA is a pioneer in graphic designing units that is a well-known creator of interactive graphics on laptops, mobile devices, etc. You may get the NVIDIA driver from here. Install the driver and get started.
It's an easy 3 step process-
Go to Desktop. Right-click and find the NVIDIA Control Panel.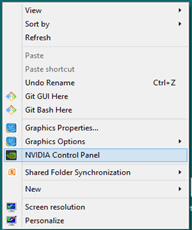 On the left taskbar, you would locate Display. Click to open the drop-down list and check the very first change resolution tab.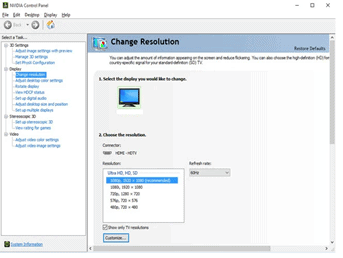 And create your custom resolution.
The best thing about the NVIDIA control panel is that you have an option to check the resolution and apply test it before applying the same. Don't forget to reboot the system to apply the changes. And that's how to overclock your monitor using the NVIDIA control panel.
How to Overclock your monitor using AMD Radeon Settings?
For AMD Graphics users, AMD Radeon Settings can suffice the overclocking process.
Follow these simple steps
1. Go to Desktop and open the Right-click menu. Select AMD Radeon Settings.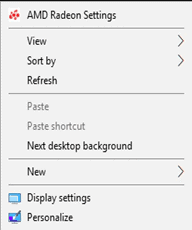 2. Like the above process for NVIDIA, open the display tab.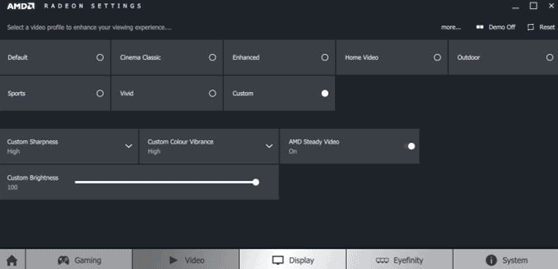 3. Check the custom resolution selection,
4. Edit your custom refresh rate, small bits at a time, and check.
5. Don't forget to save and reboot the system.
That explains how to overclock monitor using AMD Radeon settings.
Well, above all, I would like to mention that to overclocking monitor is not quintessential to everyone. But if you like to do it anyhow, this guide is all set for you!