A decade ago, Yahoo was considered one of the best email services available. However, over time the newer email services have replaced Yahoo as the default emailing platform.
Yahoo had suffered from massive data breaches in the last ten years where almost a billion Yahoo accounts were compromised. So, if you are worried about your internet privacy due to security breaches and illegal spying and wish to opt-out of the Yahoo email services, then you can permanently terminate yahoo account page.
There are some critical things that you should be aware of before we begin to terminate yahoo account. You should know that terminate yahoo account means that not only you will lose all your emails but also everything related to your Flickr account and other data will also be erased which includes:
HotJobs
Yahoo! Address Book
Yahoo! GeoCities
Yahoo! Briefcase
Yahoo! Small Business
If you had been paying for any Yahoo services, then make sure that you have cancelled all the paid subscriptions and saved the Flickr photos if possible before terminating your Yahoo account page.
How to terminate yahoo account permanently
Terminating your yahoo account page is pretty simple. Just follow this easy guide:
Sign in with your Yahoo credentials and if you have an account key set up, then you will get a verification code on your mobile number to authenticate you.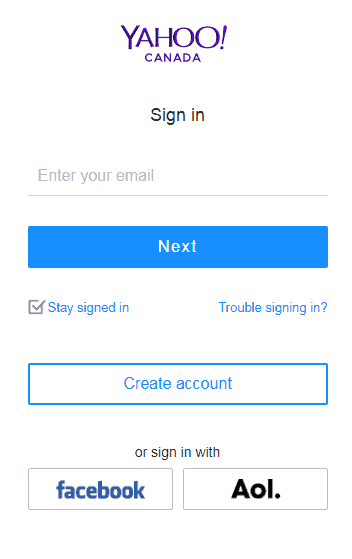 Once you log in, you will be able to see the Terminating your yahoo account page.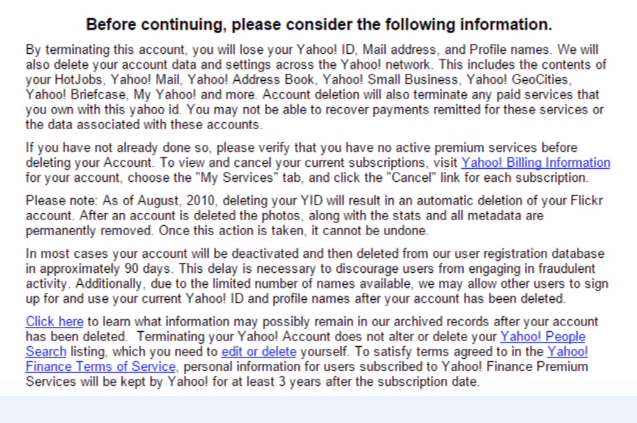 Review the account deleting warning as it details all the data which you will lose when you terminate yahoo account
After reading the text, enter your Yahoo password at the bottom of the page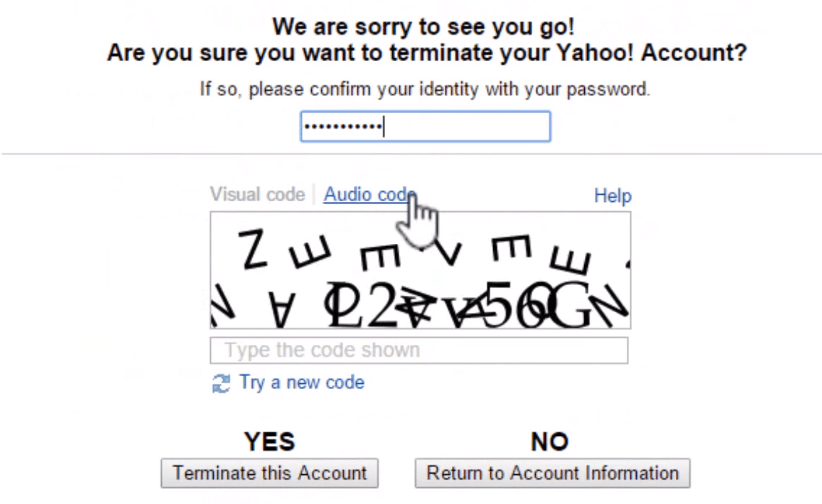 Scroll down further and enter the CAPTCHA code and click "Yes" to Terminate yahoo Account
You will get a confirmation page that your account is deleted.
That is it! Your Yahoo Account will be scheduled for permanent deletion within 90 days. If you want your Yahoo data to be erased immediately from the Yahoo servers, then you can delete all your emails, contacts, Flickr Photos, etc. before starting the termination process.
Wrapping up:
Post terminating your yahoo account page, your username and email address will still be available for others to use. However, anyone who tries to send an email to you will get a delivery failure message.
You have the option to reactivate your Yahoo account after you have marked it for termination within a 40 days period. To get your account active again, all you have to do is go to the Yahoo Mail web page and enter your sign in details. Post reactivation, you can start receiving emails once again, but the emails that were sent while your account was deactivated will not be accessible for you. Also, all the data that you had deleted before terminating your yahoo account page will be permanently erased and will no longer be available.