Creating a professional website is a time taking job, web developer should concentrate on all the elements of the webpage such as header, navigation, content, footer and of course HTML form. Forms with colorful and rounded edges buttons and input box are catchy and it has become trend now to use such forms, you can see such forms in Twitter or Mediafire websites.
Also read:
So how to create such professional HTML form for your website?, usually web developers write a long CSS code for it which consumes much time or hunt for the code on the web. But do you know there is a free software available to create beautiful HTML forms with rounded edges buttons, input box and other form elements. Formoid is such a HTML form generator with which you can create stunning feedback form, contact form, signup form and order form etc.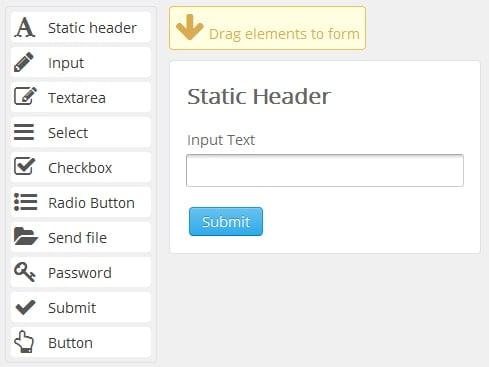 Key features of Formoid HTML form generator tool
Formoid HTML form generator comes up with drag and drop feature, all you need is to just drag and drop the form elements such as buttons, input box, text area, check box and radio buttons on the form.
All the form elements get arranged in a proper format automatically, you need not write a single CSS line for it.
You can specify form background color and font size
Formoid is available for both Windows and Mac operating systems.
How to create HTML form with Formoid?
Formoid is in beta stage and hence it can be used to beautify form elements, once you are done with form designing, click on the publish button from the toolbar and further you can write PHP code in Notepad++ or any other PHP editor to make your form work as per your needs.
Download Formoid HTML form generator tool here.