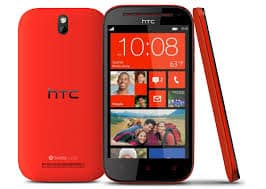 HTC the Taiwanese manufacturer is reportedly working on a new Windows Phone 8 device called 'Tiara'. Tiara is siad to be the first device to run the GDR2 Windows Phone 8 upgrade. This device is not a flagship but a new mid range device to compete with the Nokia Lumia 720 which the Finish Company Announced at the recently concluded Mobile World Congress(MWC). Off late HTC is losing hopes on Windows Phone 8 as it's 8x couldn't compete with the Nokia Lumia 920.
Earlier they were said to be working on a new flagship Windows Phone 8 Device called 'Zenith' but have dropped the plan owing to less demand for the 8x. While Nokia has bet on Windows Phone with an exclusive agreement with Microsoft other mobile giants don't have much hope on it. Instead they are betting on the highly successful Android OS. There is nothing to boost about in HTC Tiara as it is a mid range device with decent performance.
The HTC Tiara has an 1.2 GHZ Qualcomm Snapdragon processor. May be krait based S4 plus as in Lumia 720, RAM is 1 GB as compared to 512 MB in Lumia 720, 8 GB internal storage with an 4.3 inch 800×480 Super LCD2 Display. It will have an 8 MP Rear camera & A 1.6 MP front camera. HTC Tiara comes with Beats Audio sound enhancement. The device will go up against the Lumia 720 while other manufacturers are yet to announce a Windows Phone 8 device. If the reports are to be believed it might hit the stores in May. HTC doesnt want to loose too much by investing in a flagship Windows Phone 8 device. Microsoft hopes it's new OS will offer some competition to the market ruler Android. So what do you think about this device? share your views
      Key Features & Specifications of HTC Tiara 
Processor -: 1.2 GHZ Dual core Snapdragon CPU.
RAM -: 1 GB.
Internal Storage -: 8 GB.
Rear Camera -: 8 MP, Front Camera 1.6 MP.
Display -: 4.3 inch 800×480 WVGA Super LCD2.
Battery -: 1800 mAH.
OS -: Windows Phone 8 GDR2.
Audio Enhancement -: Beats Audio.