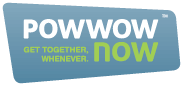 As the technology is growing beyond our expectations, our world is becoming a small village and also serving the new possibilities to this new generation.  Telecommunication is such an industry where the price is getting cheaper every day. People who used to spend hundreds of bucks for making a conference call in the past can now make it absolutely for free. Powwownow is such a major Conference Call free conference call Providers which is providing this service for free. In this service you and your guests only pay the price for the call.
Features of Powwownow Conference Call
Powwownow Conference Call provides the innovative service to the clients. With the 24X7 service you can make instant conference calling without booking or billing. With the Powwownow you just pay the cost of your own 0844 call. The primary features of Powwownow include-
Free Mobile App for all platforms: Powwownow has developed multi-platform apps to start the conference with one-touch button which is capable to run in iPhone, Android, Blackberry and Nokia smartphones. This simple app let you easily join the calls, set automatic call alerts and store and manage your personal details as well.

Free web conferencing:

Powwownow Web is client app which can be downloaded and used for web conferencing systems. It has a simple interface so that everyone could work with ease, it allows you to show your computer screen to the connected members. Your viewers need not required to install this app as they can view it in their browsers itself.

Free scheduler tool to invite participants:

You can schedule the time to invite the participants once you sign-up for the free account. After specifying the details about the participants scheduler automatically sends the invitation with given details. Powwownow allows you to have up to 50 participants on a call at any one time without having to book in advance and you should inform them if you are about to invite more members.

International dial-in access @ cheapest price:

Powwownow has set the cheapest price for international dial-in access. This helps to join your overseas conference in a very low budget.
Fetch your PIN by specifying your email address
Make a schedule for conference and provide your pin to other participants
Dial the Powwownow's dial-in-number and start talking!.. That's it.
Final Words
Powwownow provides the secure service and allows you to have the full control on your conference call, you can lock the conference, count the members or roll call the participants. The free package is enough and has almost all the basic features for standard conference. Corporates who need more services and features can go for Powwownow's premium service. In all the aspects Powwownow stands first comparing to other conference call providers.
Link: Powwownow