Is it taking ages to start the download of your favorite app on Google Play Store? Are you tired of 'google play update pending or download pending google play' issue? We can help you to resolve if your google play stuck on download pending. As per the statistics from Down detector, 50% issues arise while downloading apps from Google Play. Surprisingly, Google has not addressed this matter specifically but has provided general solutions for all Google Play related problems on Google support. We will discuss the most common "Google Play download pending" issue and help you to circumvent it by giving some robust full-proof solutions.
What are the possible causes of 'Google Play store download pending' error?
Before changing any settings on your device to forcibly start the download process you need to check these ten ambiguous causes of the 'download pending' problem.
1. Devices connected to VPN or any DNS changing app hinders the downloading process.
2. Modifying the Android version on your device sometimes stops Google Play to work smoothly.
3. Play Store updates sometimes can be the cause of download failure. Rolling back to the previous version of the Play Store helps to resolve this type of problem.
4. Corrupt SD cards can mysteriously obstruct downloading action.
5. An unhealthy internet connection can be a primary reason (Fix slow internet issue).
6. The heap of apps awaiting download running in the background.
7. Google server unable to sync with Date and Time settings on your device.
8. Failure of Google Play service.
9. Shortage of storage space in your device.
10. Restricted permission for data usage.
If any reason from the above list is acting as a barrier for downloads or play store says download pending on your device for a long time, then you can relax now as we have solutions to fix it. Here's how to fix download pending issue.
Possible solutions to fix Google Play store download pending issue.
Go through the below-given workarounds carefully to get rid of the notorious google play download pending google play error.
1. Fix the Google Play store download pending error by Changing VPN settings.
Many VPN users frequently complain about Google Play store download pending issues, so it is preferable to deactivate VPN before downloading anything from the Play Store. You can follow the below-given steps to inactive it.
Select Settings from your app list.
Tap on Connections and choose More connection settings.
Tap on a VPN.
Tap on the cog icon next to the VPN name.
Tap on Delete to deactivate the VPN.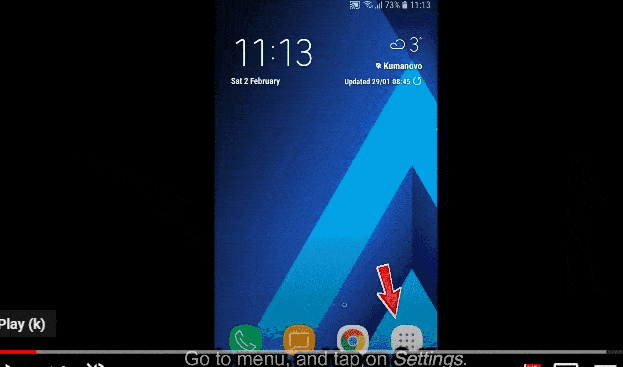 2. Check for Android updates to solve Google Play store download pending issue.
Google Play may function smoothly if it is running on an updated Android version and may not show download pending android issue. It does not work correctly on Android 2.2 and below. You can check for updates in the following way:
Tap on the Settings icon on your Android tablet or phone.
Tap on System and then choose Advanced.
Tap on System Update to check if an update is available.
Note: Sometimes, Android update changes system files and has the reverse effect, hampering apps like Google Play and ends up getting google play apps download pending android issue. In such scenarios, you need to contact the device manufacturer to get the solution.
3. Check whether the SD card is corrupted to resolve the Google Play store download pending problem.
You won't believe it, but the corrupted SD card might be the reason behind the play store download pending issue. SD card is accessed sometimes while downloading an app from the Play Store on an Android device. If your card is defective, then it will always interrupt your downloading process leaving your google play update pending. You can replace it or repair it following steps given on this link. After dealing with the SD card issue check again if apps are getting downloaded from the Play store.
4. Fix an unstable internet connection to fasten the downloading process and resume Play Store download pending Apps.
Sounds silly, but this factor is non-negligible. You can check your internet speed by clicking here and switch between WiFi or mobile data to get a high-speed internet connection.
Other things which you can do to ensure that you have a strong internet connection is
Switch-On and Off Airplane mode on your device.
Restart your router.
Make sure to set App download preference as" Over any network." Here's how you can do that:
Tap on the Play Store in your Android tablet or phone.
Tap on the menu button in the upper left corner (3 lines).
Choose Settings from the list.
Tap on App download preference.
Select "Over any network" from the pop-up menu.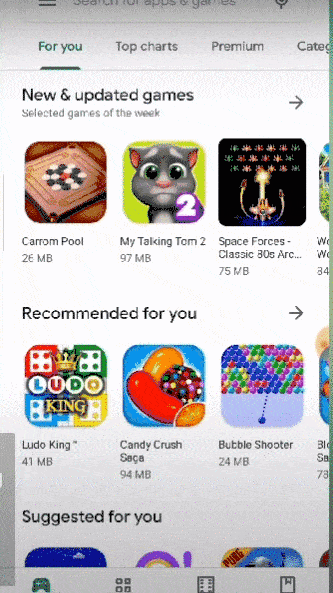 5. Clear the list of Apps, which are not downloaded completely.
Depending on the need for the hour, you can clear the queue of Apps pending to download before trying to download a new one. This can be done by following steps.
Tap on Google Play.
Go to Menu->My Apps & Games.
You will get the list of apps awaiting download.
Press on the Cancel icon beside the name of each App to cancel the downloading process.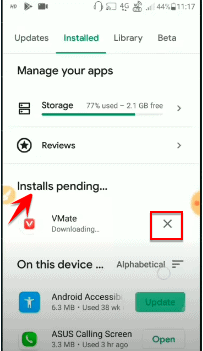 6. Roll-back Play store updates temporarily to fix Google Play Store download pending flaw.
Sometimes you may experience that Google Play Store was working fine, but suddenly, it has started giving problems. Play Store updates can be the culprit in this case. Many files get updated in the update process, so it is hard to diagnose which variable is causing problems. But you can uninstall the updates and again switch to the old Play store's version. Find out how you can uninstall Google Play updates.
Go to Settings of phone or Tablet->Apps->Google Play Store->Uninstall updates.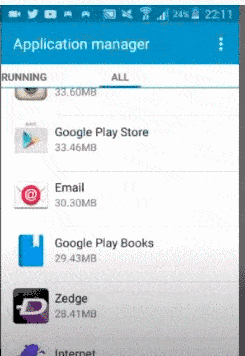 After uninstalling the Play Store update, try downloading the desired App again. You can easily install updates again anytime using Google Play Help.
7. Check for restricted background data to recover Google Play Store download pending error.
Background data usage may utilize quite a bit of MB, hence it is turned off, but it is essential to turn it on for downloading Apps from Google Play. It is worth checking the restricted data usage option for Google Play to spawn downloading Apps. You can check it on devices using Android 7.0 or higher by following these quick steps:
Open device's Setting App.
Tap on Network & Internet.
Tap on Data usage-> Data Saver.
If the Data saver is off, then no issues if it is on, then check step 5.
Tap unrestricted data access.
Please scroll down and tap the Google Play Store to turn it on.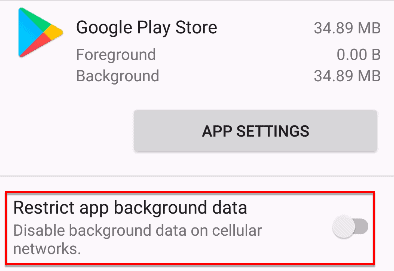 Note: Follow steps given in Google Play Help to turn background data on for versions of Android below 7.
8. Off auto-updates in the Play Store to restart the download pending in Google Play.
The auto-update feature of the Play Store automatically updates your apps to the latest version. But at the same time, this background process may slow down other operations on your device like downloading new Apps. You can try turning updates off till you download the desired App and this is how you can do it:
Go to Play store->Menu->Settings->General->Auto update apps->Do not auto-update Apps.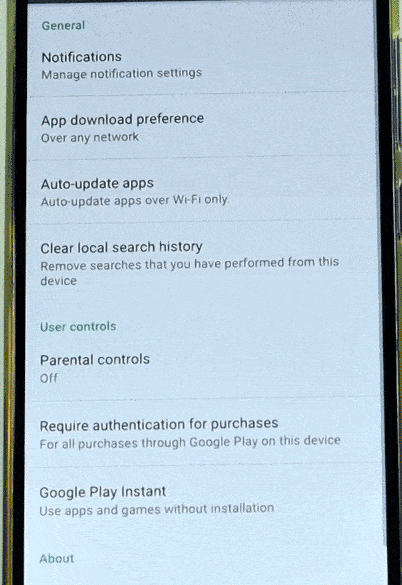 9. Use the browser to download Apps by Play store and avoid Google Play download pending bug.
You can try downloading Apps via mobile or PC browser. All you need to do is:
Open Google play website in your browser.(link is https://play.google.com/store?hl=en_IN)
Sign in your Google account.
Search the desired App and download it.
10. Lack of storage space in your device may cause Google Play download pending issue.
Lack of space is a very common hurdle while downloading Apps. If you don't have enough space in your device, you cannot successfully download any App. You can free some space on your device by these steps and try to re-attempt the downloading process.
11. Clear Cache and Data to overcome Google Play download pending flaw.
Clearing cache gives the App a fresh start and can help to resolve most of the issues. To resume download functionality in Google Play, you can clear the cache and data of the following three attributes.
Clear Cache & Data from the Play Store.
Clear Cache & Data from Google Play Service.
Clear Cache & Data from Download Manager.
You can do this easily like this:
Go to Device's Setting ->Apps & Notification-> Search for either Google Play Services/Play Store/Download Manager ->Storage and Cache->Clear Cache/Clear Storage.
You can view detailed steps here.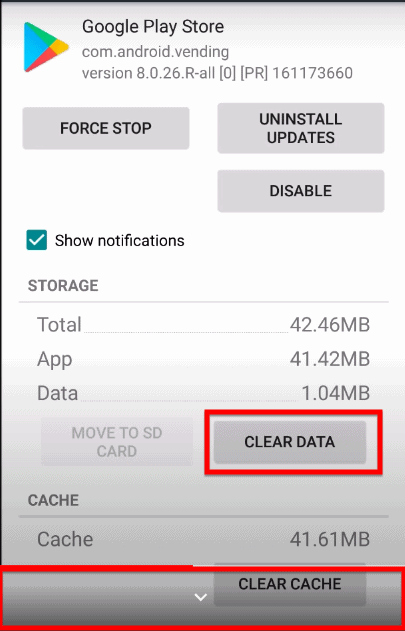 12. Remove the Google account and add it back to your device to resolve Google Play download pending fault.
After using all the above solutions, if google play apps download pending error is still obstinate to go from your device, you can try removing and re-adding your Google account. This will add some information and remove unwanted data and hence, resolve the issue. For more details, check this.
13. Forcibly closing Google Play Store can be a workaround for Google Play download pending error.
Sometimes simple force close can do a miracle and align all your processes. You can simply do this by following the steps given below:
Open device's Setting App.
Tap on Apps/Application Manager.
Scroll to All and tap on search Google Play store.
Tap on "Force Stop."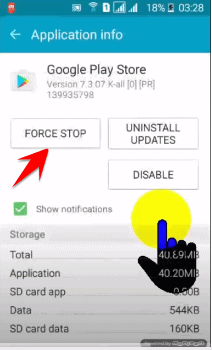 14. Restart your Device to resume download pending in Google Play.
Last but not least, if any of the above solutions don't work for you, then simply restart your device. Maybe that helps! You can't underestimate this step as most of the times we make changes in the application, but it reflects only when the device is restarted.
Wrapping Up:
We have listed 14 possible fixes to overcome awful google play apps download pending errors on your device and regain Play Store download functionality. You can study each solution to find the best method that suits your scenario. Hopefully this article provided you with the solution for download pending in play store error. Please share other solutions that worked for you.