Finance Technology which is generally known as Fintech is a new industry where technology applies to the services of finance to streamline the regular finance services. Fintech can be categorised in online banking and payment solution, online trading solution, personal wealth management solution and online insurance solution.
From the first ATM which was installed in 1967 to the 2017's smile to pay service, Fintech has come across a lot of innovation which today we are using in the form of Apple Pay and PayPal. Today, Fintech is a massive industry. According to the statista, business and finance app category have 30% of overall download in play store.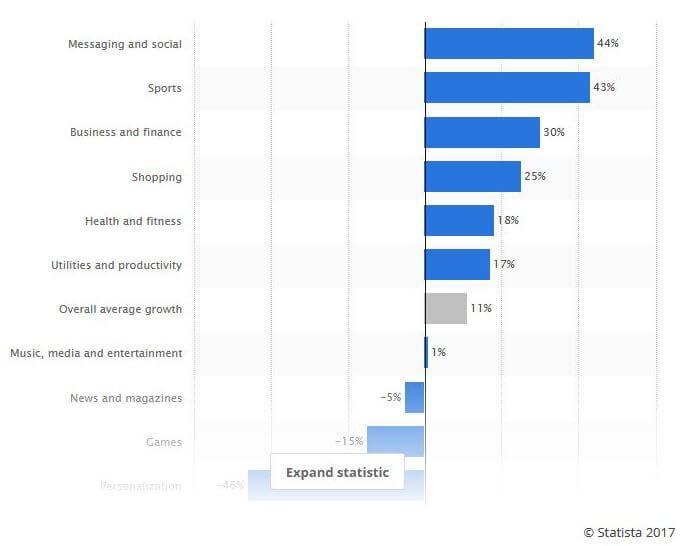 Few Astonishing Statistic of Fintech:
Fintech startups are attracting more investment than ever. According to Wikipedia, in 2008 the Fintech industry gets $930 Million global investment, and in 2015 it reached $22 Billion, 2,200% more than in 2008.   
According to a city of London workforce report, 40% of the people have been employed in financial and technology services.
A total of $12.4 billion has been raised by the Fintech companies of US in 2018.
The current leading category where all Fintech companies want to invest in mobile payment.  
Nevertheless, it is a big industry, only 14% of American citizens have a clear idea of Fintech Apps.
Payment is the top Fintech Apps category in terms of app's download, following credit monitoring apps and investment apps.  
Few Revolutionary Fintech Apps (Categorized) :
Banking Apps
Today, all tops banks of the planet have its own app which has been developed with a purpose to make different types of payments easy. Through the app, users can do the p2p payments, fund transfer, remote cheque deposits, get the invoices, generate the statements of accounts and overseas transfer. These services are 24 hours available and the users don't have to visit banks. This graph clearly shows the rate of increase in the number of people who are using mobile banking.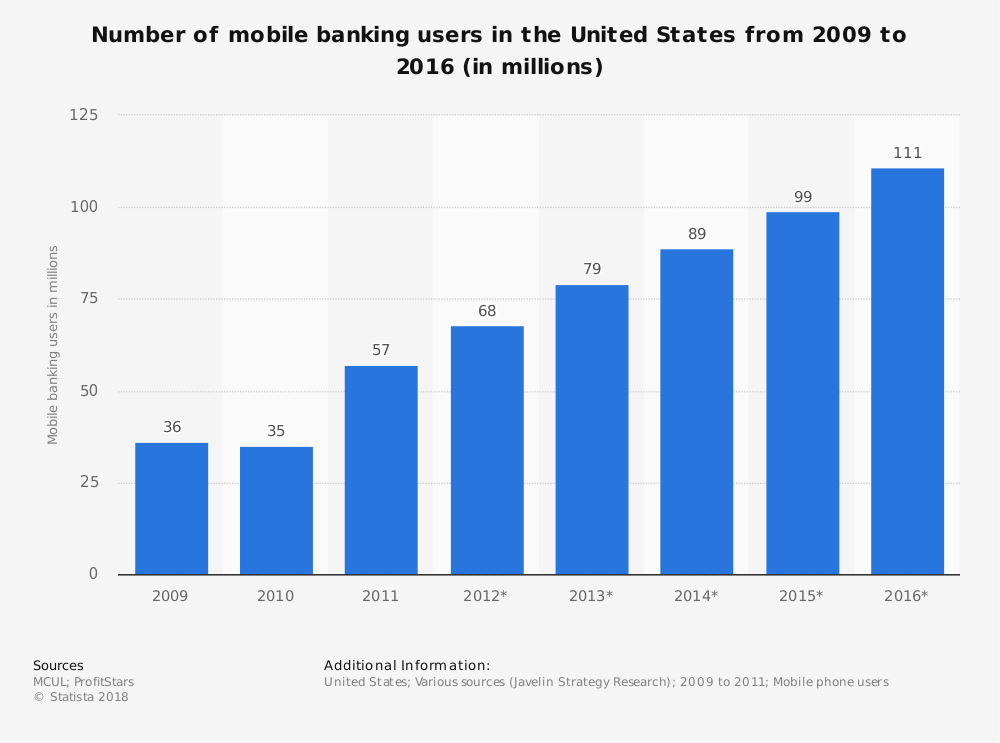 A Little History of Mobile Banking

In 1999 few European banks started a mobile banking service. They used to use SMS services for mobile banking. This legacy has been continued until 2010. But as Android OS becomes more secure, and with the advancement in the web technologies, it becomes easy to make secure mobile banking apps.

USAA
The United Service Automobile Association is Texas-based financial service provider group, highly involved only in banking services, but it is also offering services in insurance and investment. USAA has been founded in 1922 and until 2017, it had 12.4 million active members. The main reason why I am mentioning it here is the core purpose of it. They are offering financial services to the families of US soldiers. USAA has been also listed in the Fortune 500 list as the largest US corporation by total revenue.

USAA has a very responsive App for the android, IOS and even for windows platform. This app allows users to get quick and secure access to his account. Once he has the access of his account, the user can pay bills, send money, deposit cheque, calculate loan and also find the nearby ATM.

Apart from these banking services, users can also take insurance of his vehicle, request roadside assistance and report the claim.

A user is also able to get real-time stock quotes through an app and can also do trading.

Why Banks are Developing more and more Mobile Banking Apps:

It is a very obvious thing that for a bank, building a brick mortar store and then hire a staff to run it, is a very expensive thing. What they can do to reduce the expense is providing a mobile app to the users so users don't have to visits physicals banks and banks don't need to build one.

For the customer, it is the priority to utilize the service without feeling the pain. Previously, people had to visit the bank, then they needed to stand in the queue to get the operation done. Through the app, customers or users can perform operations related to their finance so easily. This is why, according to a survey done by Statista, visits to physical banks are down 30% since 2017.
Payment Apps
There were few people who thought why own a bank to make a payment app? Yes, it is right. There are so many companies which have developed payment apps even though they are not banks. In fact, they actually don't want to be a bank, they just want to be a platform which let people to do an electronic transaction. This thing is also called a digital wallet which has money which users have added through the linked bank account. Now when users need to pay someone, they simply need to open the digital wallet and pay through it. Apart from PayPal, Apple Pay, Samsung Pay, and Android Pay are the top payment apps. Following graph depicts the magnification in the users of payment apps.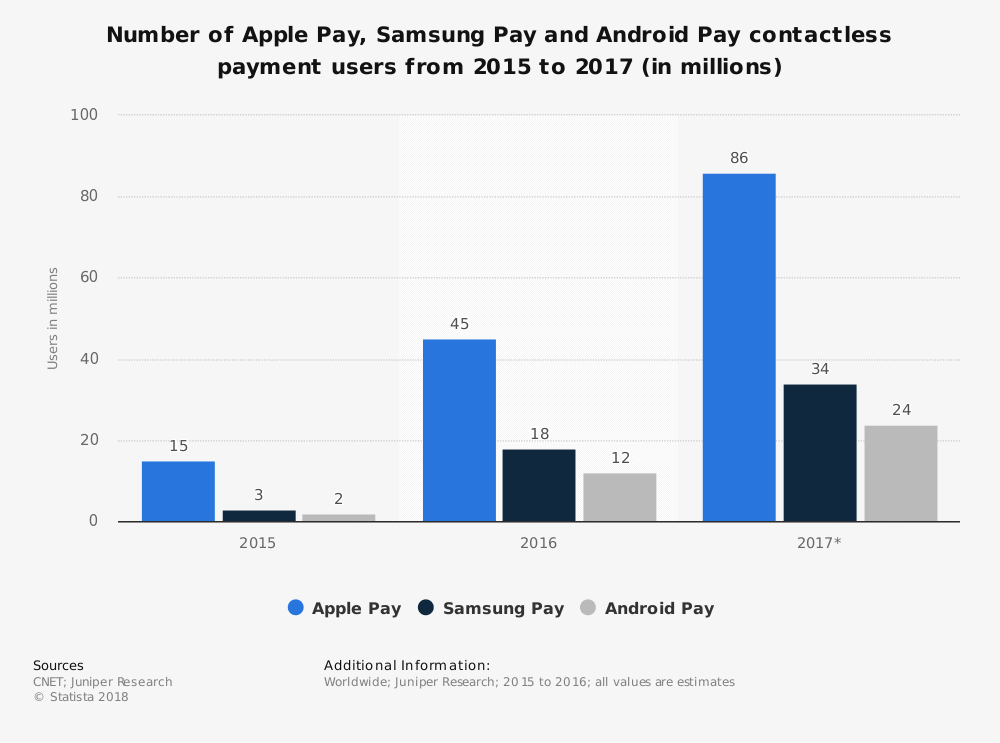 PayPal
PayPal is the online platform for receiving and sending money between individuals. It was started in 1998 by Ken Howery and his team of three people. During the initial days, the company has seen a very good success rate. In fact, the daily growth of the company was 10%. In just a few months of the year 2000, the company has received 5 million new users. In 2002, seeing the profit of Paypal, eBay has acquired it by paying $1.5 billion. It has remained under eBay for a decade. But in 2014, Carl Icahn, who was an investor and activist of PayPal started a public campaign to make it a public company again. And in a few months after that campaign, Paypal became a public company thanks to vast public support.

How Big PayPal is?   
Till 1/1/2019, Paypal has 267 million active personal accounts and 21 million merchant accounts.
In 2018, PayPal was successful to generate revenue of $15.45 billion. In 2014, it was $7.9 billion. Can you see the growth?
In 2018, a total of 9.9 billion payment has been made through PayPal, while in 2014, it was 4 billion.
PayPal is supporting 100 currencies.
Why PayPal becomes so popular?  
It has overcome the limitation of the credit card. A credit card is undoubtedly the best payment gateway when it comes to person to merchant payment. But when a person needs to do the payment to another person, he cannot use a credit card. Thus, people appreciated PayPal which lets the person pay to another person.
Also, the cost of the transaction is very less in PayPal than other payment gateways.
Additionally, as Payment is being transferred person to person, it is very less chance that fraud can occur.
Business Model of PayPal
Product
P2P ( Person to Person)
The majority of E-commerce website has been integrated with the PayPal payment gateway. So whenever a buyer pays a payment to the E-commerce website, PayPal charges 3.9% + fixed fee of the purchased price.
When a person transfers money in another person's PayPal account, PayPal takes a cut of 4.4% + fixed fee. The lesser the transfer amount, the sender needs to pay more commission.
Also Read: Personal Capital App Review: Free Mobile Application for Financial Portfolio
Trading Apps
Before the digital revolution, trading was being handled manually. But in January 1996, a company named trans terra (now, TD Ameritrade) launched software for windows for electronic trading. From this initiative, the trading industry has changed forever. Now, there are so many trading apps in the market which let people use market data, news, charts, and account management. These apps are so smart that they automatically do transaction based on trading strategy users have defined.
Let's take a look at Ameritrade app, its features and business model of it.

Ameritrade App
Ameritrade is the company which has launched its own app named Ameritrade, to perform trading of financial assets of people like stocks. As of September 2018, the company had 11,514,000 accounts with total client money of $1.297 trillion. Majority of its clients are using Ameritrade app for trading.

Features of Ameritrade App
Ameritrade app is available for both IOS and Android devices with few industry-defined features.
Through the app, users can see the real-time quote.
A user can see the graphs to study what is going on in the market.
There is no limit of money to keep in the trading app.
You can trade the stock directly from the app.
You can check balance, positions, and history of the transaction through the app.
Before investing, users can get the comprehensive idea of the company as there is a detailed company profile of each company.
Business Model of Trading Apps
To discuss the business model, here I would like to add a different trading app named Robinhood as it does have a more logical business model than any other trading apps.
Your unused money is earning for Robinhood. Yes, you heard it right. Suppose, there is 100$ of unused money is in your Robinhood account, the company gets the interest of 2% of that amount. So, from your account, the company earns 2$. The same thing happens with other 4 million accounts. Trading companies also making money from the subscriptions fees. But still, the major percentage of their income is coming from the unused money of yours.

Personal Finance App
We are living in an era where if your life has some problem, then the solution must be hidden somewhere in an IOS or Android mobile app. Managing personal finance – how much you have made, where you spend more, how you can invest to double the profit have always been crucial. No matter, how intelligent you are, you can not summarize your monthly finance report manually. Thus, there are so many personal finance apps to look after your personal finance.

Mint
Mint is the web and mobile-based personal finance service provider founded in 2006. it allows the user to track bank funds, loan balances, credit card investment, creates a budget and creates goals. Till 2010, Mint had 17 million individual user's account. And in 2016, that numbers reached 20 million.

Features of Mint App
You can easily sign in the app and connect your financial accounts in the app. It supports almost all banks and all other financial institutes.
Tracking your all bills is so easy in a mint app. You can check what is due and when to due.
You can create a goal for spending.
Mint app is so intelligent that by studying your previous spending, it suggest you personalize money-saving tips.
App has so many secured features like multi-factor authentication to protect privacy.
Mint app and Mint web can be easily synced.
How Apps like Mint Make Money?
Mint generates most of its revenue through ads. Also, it has the Credit report monitoring system which lets the customers know the credit score by paying a little amount. Apart from this, mint runs on a referrals business model. Mint refers to a few financial institutes to the users to buy the services, when a user buys some service of that suggested institute, mint gets the money.

Final Words
We have seen a few apps in their respective category which has changed the way people control finance. These are the apps which are responsible for the wave of innovation and change in the finance industry. But still, we have reached halfway – a parcel of things which still need to be achieved to make Fintech more effective, efficient and secured.

About Guest Author:

Vishal Virani is a Founder and CEO of Coruscate Solutions, a leading mobile app development company. He enjoys writing about the vital role of mobile apps for different industries, custom web development and the latest technology trends.