Blu-ray 3D Ripper is the first Blu-ray 3D converter  software which is capable of converting Blu-ray 3D to 3D video files like AVI, MP4, WMV, MKV, M2TS and TS for playback on 3D TV, glasses-free 3D smartphones, and other 3D display devices.  Blu-ray 3D Ripper provides various functions with outstanding quality and speed, it has a user-friendly interface where it is possible to rip the blu-ray in few clicks.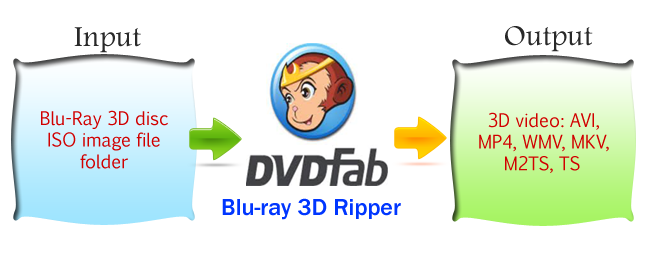 Features of Blu-ray 3D Ripper
Rip and convert 3D Blu-ray: Blu-ray 3D Ripper functions as a as a ripping software for Blu-ray 3D, DVDFab Blu-ray 3D Ripper removes all known AACS copy protections including the newly released MKB v26 and bus encryption, all types of known BD+ copy protections including newest 3D BD+ and 10th generation BD+, region code, BD-Live, and UOPs hence giving access to any kind of 3D Blu-ray content.
Output 3D video files: Blu-ray 3D Ripper can convert Blu-ray 3D content to various video files like AVI, MP4, WMV, MKV, M2TS and TS retaining all the 3D effect.
Playback on PC, 3D TV, glasses-free 3D smartphones: The output 3D video given by Blu-ray 3 D Ripper can be played on computer using certain software players like Stereoscopic Player and NVIDIA 3D Vision Video Player, directly on 3D TV, and can also be played on various glasses-free 3D smartphones like HTC EVO 3D, Sharp SH-12C Aquos 3D, and LG Optimus 3D P920 etc.
Real Time Preview:  This feature displays the preview of the work in real time to see the results and compare with the original one while editing.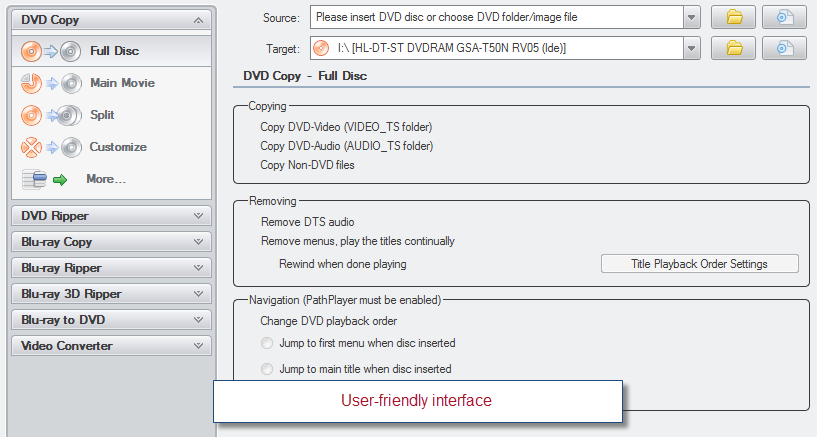 Advanced Features for Pros
Blu-ray 3D Ripper supports side-by-side 3D Blu-ray format which being the popular format for 3D Blu-ray content's transmission used by cable TV providers. One can set bit rate, frame resolution, aspect ratio, frame rate and more for video format, and bit rate, channel and volume for audio and also can select whichever audio and subpicture streams to be included in the output file. One can choose to directly render the subtitles into the video or export them as files and output 3D video can be set to use only forced subpicture. Also one can customize the video effect freely to make it as preferred. Resetting the frame resolution, crop the play region automatically or manually, remove black bars if there is any, and many other settings can be done.
Minimum System Requirements:
Windows 7/Vista/XP (32-bit/64-bit)
Pentium II 500 MHz
512 MB of RAM
100 GB of Free Hard Disk Space
A Blu-ray Drive
Internet Connection


Blu-ray 3D Ripper stands first amongst its field. This is the a complete package that provides all the basic as well as advanced functionalities and features to work with Blu-Ray disc. Apart from 3D Bluray Ripper, DVDFab also makes 2D to 3D Converter