Update : As of 2017,Quiqee has shut down their operation. Alternatively, read: 17 Top Adsense Alternatives for Making Money from Your Blog

Success of a blog is when users like your web page in terms of navigation and content and design. Bloggers use a bunch of plugins and widgets to add new features to their blog to make it more interactive for the users. But they end up in having huge number of junk plugins which cost loading time and compatibility issues with other plugins and finally crash the whole site.
Quiqee is a wonderful tool integrated with all the cool features required for a website to make an interactive experience for readers to find meaning of a text, share it on social networking sites, or find related articles and more by just double clicking on a text without leaving the page. I have checked this tool in my here in TechGyo and made sure that it is stable and meets all the requirements and features offered in their website. So I strongly recommend any blogger or website developer to use Quiqee Double click tool for add your site a unique visual identity and to earn money.
Why I strongly recommend every blogger to use Queqee Double click tool:

Reduce Bounce rate
The bounce rate is the measure or number of people who arrive at your site, then leave your site after viewing just one page. The lower number of bounce rate means your site is very helpful and visitors get the information they are looking for. The best way to reduce bounce rate is to show related posts and attract user to read more posts from your page. Using Quiqee tool, you can reduce bounce rate enormously. As they are staying, they will start to explore more contents from your site.
Tidy and small JavaScript code
Since Quiqee is a small and tidy code, it makes it easy for you to add the code to your website without any programming knowledge. ust takes 30 seconds to install and easy to use. And there is no signup required to get your code.
No delay in Loading time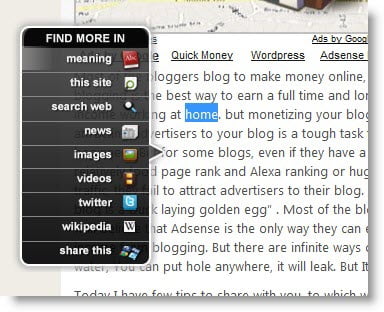 The Quiqee script starts loading only once your webpage is completely, so your page will load as it was loading before, and it has a cool floating icon which opens the dashboard.  When users double click on a word, a small menu appears with lots of search and share options for the users. You can try it here and check it yourself. It is unobtrusive, easy to use, clutter free and adds a bunch of cool user value-added services to your site all in one sexy dashboard.
Keep readers in your page
The main reason why users move out, is because they go in search of finding new things, and many go start to Google to find new thing which they didn't find yet. Using Quiqee, users just don't need to move out, because they just need to double click on a word to find the meaning or for definitions, news, images, videos and more for words on your site. And the side tab opens within your page, so that most probably they won't move away from your page.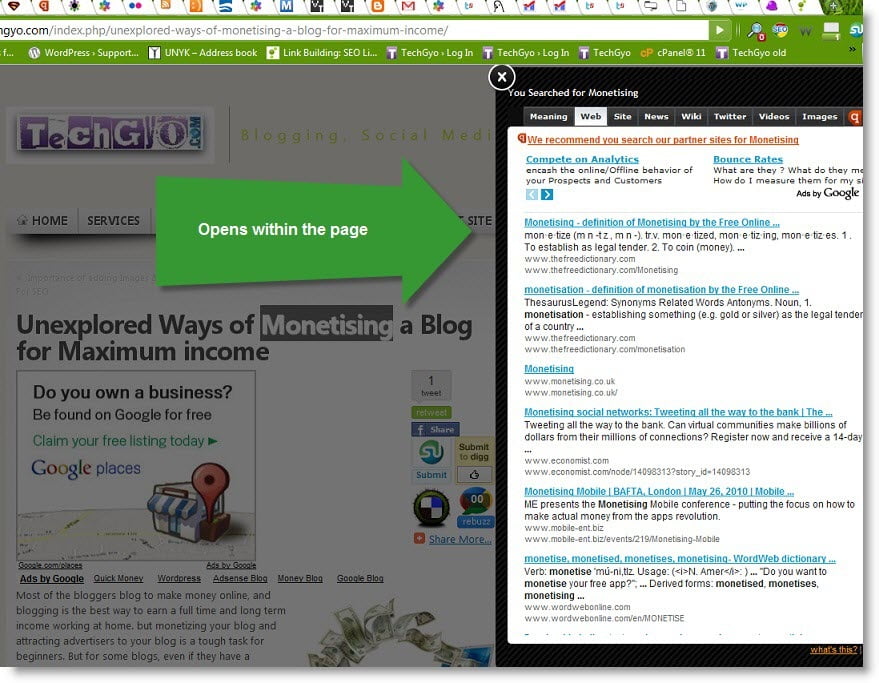 Absolutely free of charge.
The really interesting thing which makes this tool very attractive is that this service is absolutely free of charge and requires no maintenance fee or contracts. Quiqee is great for blogs, content sites, news sites, tech blogs, sports sites, movies/gossip sites… and more! Also fully compatible with blogger, wordpress, drupal, mambo, phpbb, vbulletin and all other CMS
Make money from Adsense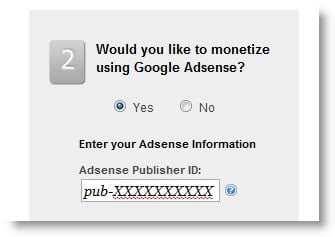 Not only that it makes interactive user experience, but also lets you earn some small income from ads shown in search results. You just need to enter the Adsense Publisher Id to monetize the search results page. And they take a decent 50% share of advertising impressions. Which is not bad at all in addition to many great features and services.
Increase traffic from Social Networking Sites
In addition to many cool features, this site lets users share your content on their favorite social networking sites. Which becomes and a good number of traffic to your site.
Find resources & get Feedback
This tool has built-in site search and web search option in addition to Image search, Video Search and even Twitter, Wiki, News Search and users can also give their feedback via this tool.
You don't have to change anything on your site to accommodate quiqee. Quiqee sits in the background until the user calls it.