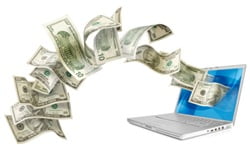 Most of the bloggers blog to make money online, and blogging is the best way to earn a full time and long term income working at home. but monetizing your blog and attracting advertisers to your blog is a tough task for beginners. But for some blogs, even if they have a relatively food page rank and Alexa ranking or huge traffic, they fail to attract advertisers to their blog.  "A blog is a Duck laying golden egg" . Most of the bloggers wtill believe that Adsense is the only way they can earn an income from blogging. But there are infinite ways of earning money from a blog. It is like a Bottle full of water, You can put hole anywhere, it will leak. But It is up to you, how you collect the leaking water.
Today I have few tips to share with you, to which will surely help you to collect all all source of income from your blog and to attract advertisers to your blog.
Ways of monetizing a blog which you know:
PPC– Pay Per Click advertisements like Adsense, Bidvertiser, Chitika and others.
In Text – Infolinks and Kontera
CPM – Banner ads such as Adtegrity and others
Private Ads
Link Selling (Google really hates link selling- So I strongly recommend you "not" to use them)
Sponsored Posts
Things you must have missed:
Adding advertisement in Feeds.
Using Adsense for search.
Using widgets and addons like "Quiqee Double click".
Offering services like WordPress services. (Or what ever you are expert at).
Using affiliate programs.
Have you found any new way to monetize your blog and extra income from your blog? Do let us know.