Post by Guest Author.
Purchasing ink for your printer can be a challenging task as there are many available in the market to confuse you – laser toner, inkjet cartridge, remanufactured ink cartridges and OEM (Original Equipment Manufacturer) are the ones that are utilized for printing purposes. It is always hard to know which one is best suitable for you. Worry not, what are we here for? In this article, we will discuss about the remanufactured ink cartridges, OEMs and the environmental benefits of the former so as to help you make a right decision. Here we go.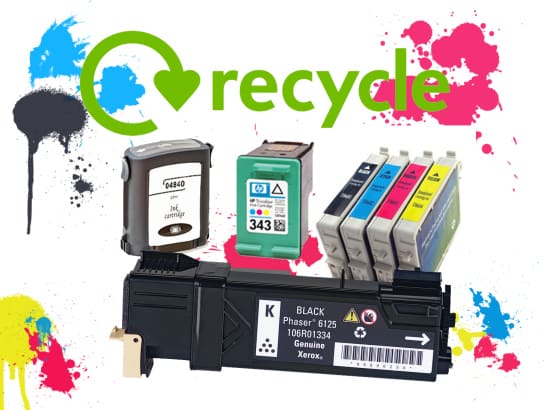 What are Remanufactured Ink Cartridges?
Remanufactured cartridges start out as OEM only but instead of throwing a perfectly durable and useful plastic away to sit in a landfill, they are sent to another manufacturers for recycling. A good manufacturer will dissemble, clean, replace the worn out parts, test the cartridge and refill the toner. After this refurbishing process, the cartridges become ready to use. They are considered environment friendly too.
What is an OEM Cartridge?
OEM stands for Original Equipment Manufacturer. They are printer manufacturers who produce the replacement ink cartridges for inkjet printers and put their name on the product like Canon, HP, IBM, Sharp and Lexmark. These cartridges are comparatively expensive and demands higher repairing cost. Although HP 1050 Ink cartridges are just as recyclable as others, brand name cartridges are often simply not recycled properly. No doubt, their use ensures better quality prints but the fact that they are a threat to the environment makes them less desirable sometimes.
Why there is a Need to Recycle Cartridges and How Remanufactured Ones can Prove Beneficial?
Inkjet cartridges are made out of plastic and that is a petroleum based product. Do you know that it takes about 1,000 years to decompose the same? As per data, every year millions of empty cartridges are thrown into the refuse bins and this waste may end up sitting in landfills for years. Again enormous amount is spent on the landfills for their management as they are filling up on very faster rate.
On the other hand recycling used inkjets is easy and needless to mention, prove beneficial to the environment. This process also is very profitable if we talk about in financial sense. Recycling also helps reduce the amount of solid waste gathered and conserves our raw material.
Why are Remanufactured Cartridges Better for our Environment?
The energy and raw material needed to produce new cartridges is way higher than the amount used in recycling an old one. According to certain studies, only 20 to 40% are empty cartridges are recycled that simply means that the other 60 to 80% end up in a landfill harming the environment. This is the reason why the use of recycled ones should be encouraged more.
Recycle more because…
Three pounds of resources are needed to produce a newer one and when you are recycling, you directly save the quantity
An average cartridge utilizes up to 3.5 oz of oil during production, now imagine the quantity saved a million times over
1000 years is what it takes to decompose the cartridges and every year 300 million of these are thrown away. Imagine the harm from 75,000 tons of trash
Remanufactured cartridges are not only environment friendly but they are as good as older ones. Moreover, you would be saving more on purchasing them
So, play your part in saving the environment by choosing the right thing for you.