When someone plans to buy a new internet connection, usually most of the people thinks of ADSL broadband connection or USB dongle, of course these are the most popular connection types that comes in mind quickly. A new connection type has been introduced in the recent years which provides the internet through communication satellites i.e. Satellite Internet.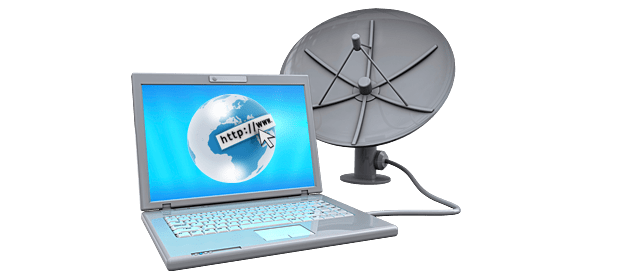 How Satellite Internet Works?
Satellite Internet is usually provided by geostationary satellites which offers high speed internet connection up to 15 Mbps. Satellite Internet does not use ADSL, rather it utilize satellite dish to establish the communication. If you are more tech savvy, you can find more on how it works.
What are the Advantages of Satellite Internet?
There are many advantages of satellite internet, here we have listed a few-
Satellite internet let you access high speed internet from everywhere, you can browse the internet from an isolated place, satellite internet is ideal for rural areas where telephone lines are not available.
Satellite internet let you use the internet from remote areas where mobile network is not available
It does not require you to have an existing telephone line to connect to the internet, Satellite internet is the best alternative for ADSL
Satellite internet requires minimal installation which consist of a small parabolic antenna and a modem, no bulky wiring at all.
Top Satellite internet services
While there are many companies, when it comes to satellite internet one must pay attention at Tooway Satellite Internet who is the leader in satellite communication and the world's third largest operator. And top based on customer satisfaction.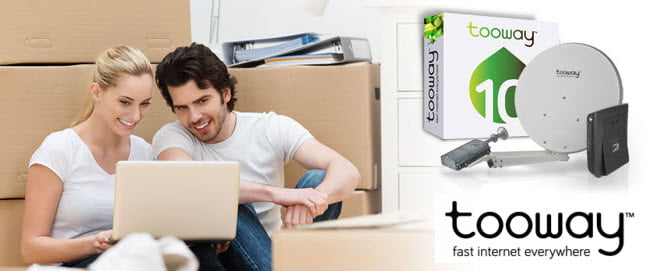 Tooway satellite internet offers high speed internet connection in an affordable price tag with four different packages, Tooway offers connections with download speeds of up to 20 mbps and upload speeds of 6 mbps that let you download your favorite music in seconds and HD movies within hour.
Tooway is a best alternative to ADSL that brings internet direct to your home with minimal installation. All it needs is a small parabolic antenna on the top of your home or apartment and a modem. Tooway satellite internet relies upon KA-SAT which is the first European satellite built absolutely for the Internet. Tooway transmits and receives the internet with just the same power as a mobile phone i.e. 2W.