Since last few weeks, I was curious observing how Adsense displayed ads on my blog which were very closely matching with the background and started collecting couple of screenshots of those adsense blocks under the post.  After posting it on my Facebook profile, I got couple of good comments. And I thought its worth sharing with here with my loyal readers. After watching this, you'd agree that Adsense bots are not only smarter but creative too.
So here you go, below is the screenshot of those Adsense ads which I found most blending with my footer block background color.  I designed it with CSS3 Gradient and if I'm right, it was placed there at the end of last year 2010.  But I started observing the ads only few weeks ago.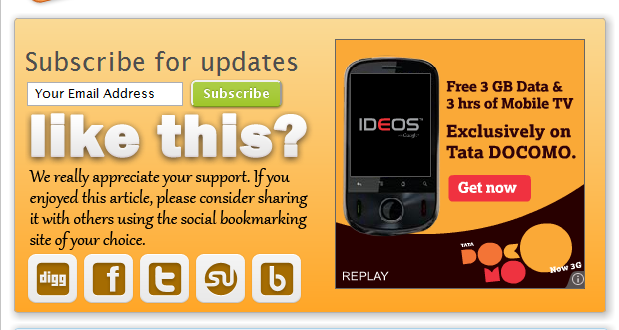 Which one do you think is the most blending adsense block? Drop your comments below 😀
If you are not a subscriber, please do subscribe to our email, and click on the confirmation link from your mail account, to make sure you get all the future updates delivered first to your inbox.